INTERVIEW
/
TSMC's E-2 visa applications will be judged on merit: U.S. senator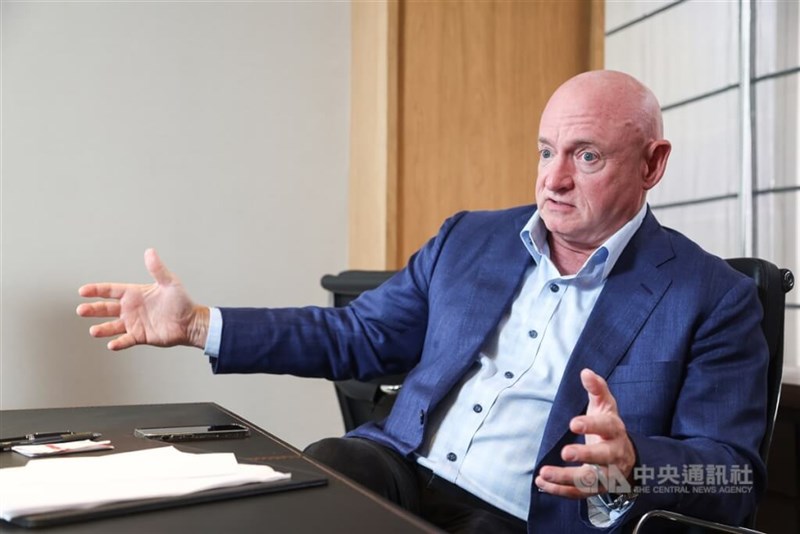 Taipei, Aug. 18 (CNA) U.S. Senator Mark Kelly on Friday said TSMC's application to bring in around 500 Taiwanese workers on E-2 visas to the chipmaker's under-construction production facility in Arizona will be judged according to existing laws and procedures.
In an interview with CNA in Taipei, Kelly, the junior senator from Arizona, emphasized that the United States had "a set of laws about who is eligible to receive visas -- until those laws change, there's a process."
Kelly's comments come after the Arizona Pipe Trades 469 Union filed a petition urging U.S. lawmakers to reject TSMC's application to bring in 500 Taiwanese workers on temporary E-2 visas.
While TSMC has said that the E-2 workers are required to train American workers, this argument has been rejected by labor groups in Arizona.
In an op-ed published by the Arizona Republic and Phoenix Business Journal, Aaron Butler, president of the Arizona Building and Construction Trades Council, accused TSMC of "blaming its construction delays [on American workers] and using that as an excuse to bring in foreign workers who they can pay less."
Regarding the issue, Kelly said there was "access to different types of visa programs for different types of workers under different circumstances -- it's not a matter of somebody going in there and saying, 'Hey, don't do that.' It's not the way it works."
Kelly added that TSMC and union leaders had engaged in "direct" and "very productive" conversations" over plans to bring in Taiwanese workers.
According to the senator, the E-2 workers will consist of a relatively small cohort of professionals doing training and "very sophisticated" work, including installing specific machinery.
"At this point, TSMC and the unions both understand what the situation is, and it's moving forward very productively," Kelly said.
Kelly said that he had met with TSMC CEO C.C. Wei (魏哲家) while in Taipei to discuss the current situation at the chipmaker's under-construction fab in Phoenix.
"His [Wei's] goal is to have this small number of individuals train on very specific tasks, so [when] we get to the point where the next fab, and if there's one after that, it's not going to require workers coming from Taiwan," Kelly said.
Asked about TSMC's recent announcement that the date for the 4-nanometer fab to begin mass production had been pushed back from late 2024 to 2025 due to a shortage of skilled labor, Kelly acknowledged there had been some delays.
However, Kelly said facilities such as TSMC's Arizona fab were "very complicated factories to build -- I would argue that they are the most complex factories there are."
Following comments from TSMC Chairman Mark Liu (劉德音) that some of the conditions for securing subsidies under the CHIPS Act were "unacceptable," Kelly said that while he was not aware of the specific requirements, he was confident TSMC's application would be successful.
"My sense is this is moving along as we intended in Congress and the way that the Commerce Department has planned to implement it. And I don't get a sense that there have been any major surprises that TSMC has encountered," Kelly said.
Kelly said TSMC had been working very closely with the U.S. Department of Commerce on its application, and that he believed the department would be fair in deciding whether to approve the application and the subsidy amount.
Kelly is visiting Taiwan from Aug. 15-18 with a delegation that includes Greater Phoenix Economic Council CEO Chris Camacho.
The delegation attended a roundtable meeting with about 20 Taiwanese drone and aerospace companies to learn about their technologies on Friday.
On Thursday, delegation members signed a memorandum of understanding (MOU) with Startup Island Taiwan, overseen by the National Development Council, which pledged to help Taiwanese set up a presence in the United States.
View All