Battery maker ProLogium continues to expand in Taiwan: CEO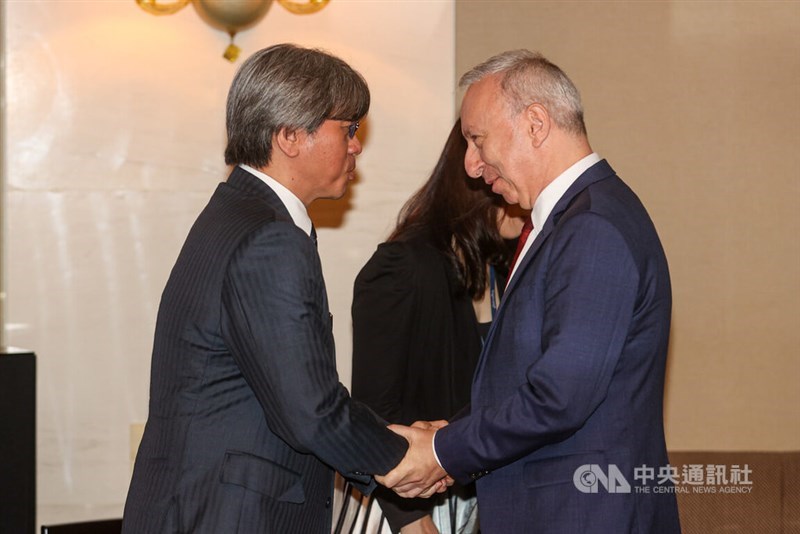 Taipei, June 9 (CNA) Electric vehicle battery maker ProLogium Group will continue to expand its operations in Taiwan despite recently announcing it would build a new gigafactory in France, company founder and CEO Vincent Yang (楊思枏) said Friday.
"It is clear that we are rooted in Taiwan, and [we are] expanding overseas on a foundation built in Taiwan," Yang said at a press conference co-hosted by the French Office in Taipei.
The company's first gigafactory in Taoyuan will be ready for mass production at the end of 2023, he said, adding that it would serve as a "demonstration model" as ProLogium seeks to expand its production overseas.
ProLogium has also doubled its workforce in Taoyuan to more than 800 employees over the past year, and that number is expected to surpass 1,000 by the end of 2023, he said.
Yang sparked controversy in Taiwan when announcing an investment of US$5.7 billion in France last month in the presence of French President Emmanuel Macron.
Reuters and other media quoted him as saying that "we are not a Taiwanese company anymore" and that "because of political issues, our board does not want to enlarge too much capacity there (in Taiwan)."
The comments were perceived in Taiwan as Yang abandoning his home base, but the CEO disagreed with that interpretation at the time and again on Friday.
"What I was saying is that we will become more than just a Taiwanese company," he said, and stressed that the decision to invest in France was based on commercial considerations, not political ones.
The solid-state battery manufacturer founded in Taiwan in 2006 will build a factory with 48 GWh production capacity and a research and development center in Dunkirk in a part of northern France that is home to several electric carmakers and battery solutions providers.
By expanding its presence in France, Yang said, the company will be able to provide batteries to EV and non-EV manufacturers in Europe and get easier access to raw materials provided by European suppliers.
According to Yang, the construction of the gigafactory in Dunkirk, which will be ProLogium's first overseas plant, is expected to commence in 2024, with production of next-generation batteries projected to begin in 2027.
At the press conference Friday, Yang also thanked the central and local governments in France for providing support to the company, specifically mentioning an "excellent subsidy program" among other resources.
He declined, however, to provide details on the subsidies to be provided by the French government, saying talks on the issue were still being finalized.
Jean-François Casabonne-Masonnave, head of the French Office in Taipei, said the French government had always provided subsidies to foreign companies investing in France in accordance with European Union law.
The financial support provided by the French government to ProLogium's project in Dunkirk "abide by" EU practices, said Casabonne-Masonnave, whose office represents France's interests in Taiwan in the absence of diplomatic relations between the two countries.
François Cotier, director of Business France Taiwan, told CNA later that France welcomes Taiwanese investment in France, especially investment focused on biotechnology, e-mobility and other advanced technologies.