Hon Hai May sales up 5% from April, but down year-on-year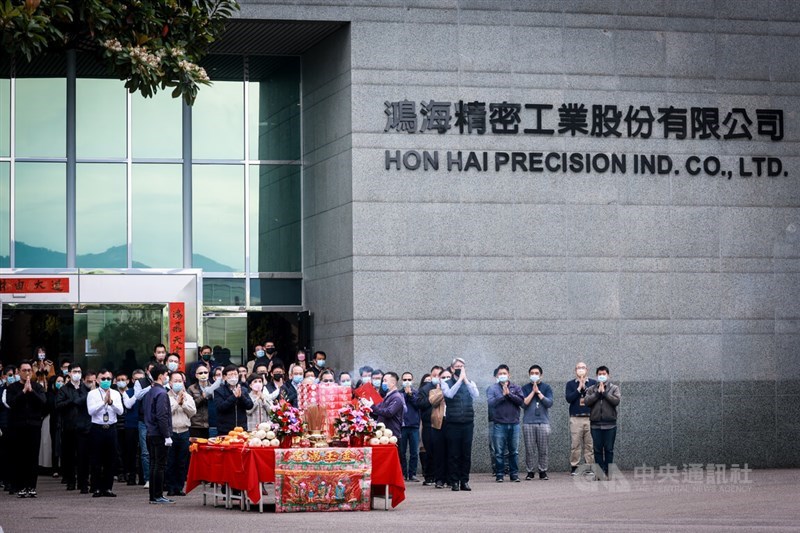 Taipei, June 5 (CNA) The consolidated sales of Taiwan-based manufacturing giant Hon Hai Precision Industry Co. rose by 5 percent in May from a month earlier because of shipment growth in smart consumer electronics devices.
In a statement Monday, the iPhone assembler, known as Foxconn internationally, said it posted consolidated sales of NT$450.73 billion (US$14.68 billion) in May, up 5.01 percent from April, but down 9.45 percent from May 2022.
Hon Hai's smart consumer electronics division saw sales rise by double digits in May from a month earlier as clients began to rebuild their inventories.
But revenue generated by the company's computing products, cloud and networking products, and electronics component divisions remained little changed from April, the statement said.
On a year-over-year basis, sales posted by the company's cloud and networking and electronics component divisions were little changed, but computing product and consumer electronics revenue fell as sales of PCs and smart consumer devices could not meet the high base of comparison set in May 2022.
In the first five months of 2023, Hon Hai's consolidated sales fell 2.08 percent from year earlier to NT$2.34 trillion, the second highest level for the five-month period in the company's history, according to the statement.
During that period, revenue from its smart consumer electronics and cloud and networking divisions was little changed from a year earlier while revenue from its electronic components and computing product divisions was down slightly, the company said.
Hon Hai stood by its forecast of lower sales in the second quarter than in the first quarter because it is a traditionally slow quarter. It also expected second-quarter sales to be down year-over-year because of the high base of comparison set in 2022.
At an investor conference held in mid-May, Hon Hai Chairman Liu Young-way (劉揚偉) expressed caution toward the second quarter, saying inventory adjustments in the global tech industry were expected to continue to affect demand.
According to Liu, the tech industry has entered a slow season and faces a transition period for new products, especially as the boost received from shipments of tech gadgets driven by demand during the COVID-19 pandemic has ended.
In the first quarter, Hon Hai saw its net profit tumble 68 percent from a quarter earlier and 56 percent from a year earlier to NT$12.83 billion, the second lowest for any quarter since the global financial crisis in 2008.
The poor performance was driven mainly by losses in non-core businesses, the company said, including a loss of NT$17.3 billion from its investment in Japanese electronics maker Sharp Corp., which reported a full-year loss of about US$1.9 billion ending in March.