Taiwan shares hit near one-year high as TSMC soars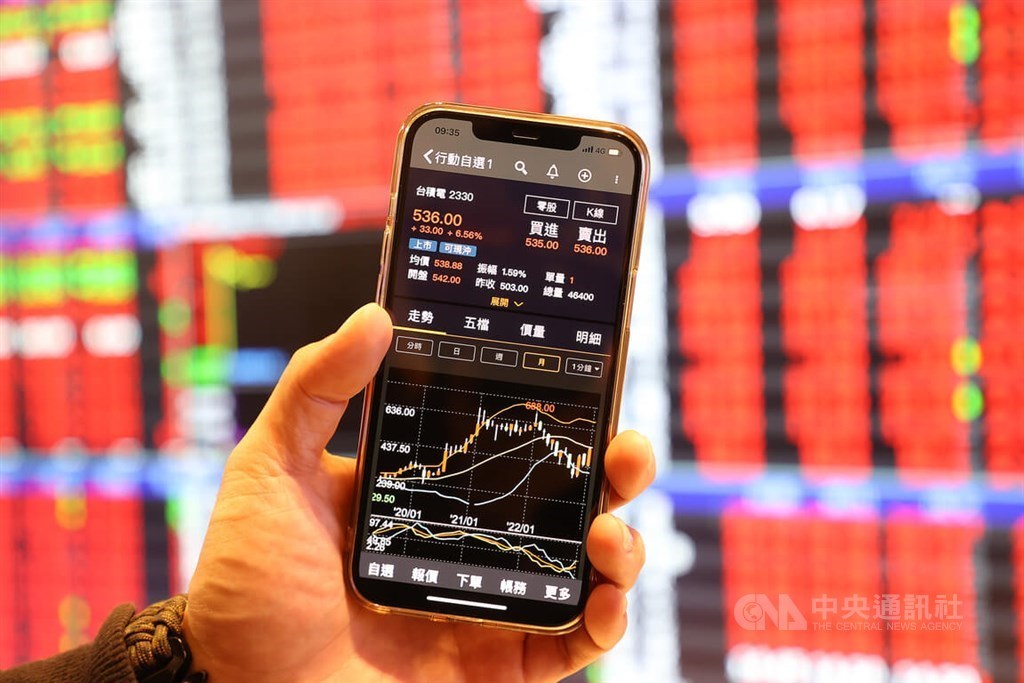 Taipei, May 26 (CNA) Taiwan Semiconductor Manufacturing Co. (TSMC) continued momentum saw shares in Taiwan rise by over 200 points Friday to hit their highest point since June 2022, dealers said.
The Taiex, the Taiwan Stock Exchange's (TWSE) weighted index, ended up 213.05 points, or 1.31 percent, at 16,505.05 after moving between 16,457.74 and 16,537.79. Turnover totaled NT$375.41 billion (US$12.21 billion).
Friday's close was the highest since June 9, 2022, when the main board closed at 16,621.34, after the market opened up 2.14 percent on follow-through buying from on Thursday, when the Taiex ended 0.82 percent.
Nvidia's improved guidance, TSMC
After its American depositary receipts surged 12 percent on the U.S. markets overnight in the wake of Nvidia's 24.4 percent increase, TSMC, the local market's most heavily weighted stock, continued to be bolstered by the release of client Nvidia's improved second-quarter guidance on Wednesday, rising 4.24 percent on Friday to close at NT$566.00.
Nvidia's forecast suggested that its second-quarter sales would reach around US$11 billion, more than 50 percent higher than the market's estimate of US$7.15 billion, on the back of increased demand for AI products.
TSMC gained 7.81 percent over Thursday and Friday to push up the Taiex by 2.14 percent.
"Nvidia's optimism toward AI optimism has served as a lead for investors at home and abroad to pick up TSMC as the Taiwanese chipmaker, which commands the lead over its peers in technology development, is the only manufacturer in the world that can provide the chips needed for Nvidia's AI products," Hua Nan Securities analyst Kevin Su said.
"Based on Nvidia's estimate, the market has embraced high hopes that AI development is becoming a tech trend in the world, which is expected to offset the impact resulting from weakness in the consumer electronics segment," Su said.
However, following TSMC's strong showing over the last two sessions, the chipmaker's shares are moving closer to stiff technical resistance ahead of NT$600.00, Su added.
"I do not think it will be easy for the stock to jump over the hurdles very soon since the global semiconductor industry remains bothered by inventory adjustments," Su said.
TSMC's gains spread to other semiconductor stocks with United Microelectronics Corp., a smaller contract chipmaker, rising 3.07 percent to end at NT$50.40, and smartphone IC designer MediaTek Inc. adding 3.11 percent to close at NT$730.00.
Other tech stocks
IC packaging and testing services provider ASE Technology Holding Co. ended up 1.84 percent to close at NT$110.50, and Global Unichip Corp., TSMC's application-specific integrated circuit (ASIC) design subsidiary, gained 3.24 percent to end at NT$1,435.00.
On the over-the-counter market, M31 Technology Corp., a silicon intellectual property (IP) provider that has also benefited from strong demand for AI chips, soared 10 percent, the maximum daily increase, to end at NT$74.00.
"I think buying in tech heavyweights largely came from foreign institutional investors rushing to rebuild their holdings today after Thursday's Taiex comeback," Su said.
According to the TWSE, foreign institutional investors bought a net NT$43.27 billion worth of shares on the main board Friday.
Outside of semiconductors, contract electronics maker Quanta Computer Inc., another stock expected to follow Nvidia and benefit from rising demand for AI products, rose 1.76 percent to close at NT$115.50 as the stock drew buying from iPhone assembler Hon Hai Precision Industry Co., the world's largest contract electronics maker, which ended unchanged at NT$102.50.
Nonteck stocks
"While TSMC and other semiconductor heavyweights attracted most of the funds on the local main board, many nontech stocks in the old economy sector and financial sector largely moved in weakness," Su said.
"So, under such uneven buying, the so-called 'military concept stocks' lost their luster throughout the trading session as investors took profit from their gains built in recent sessions amid rising tensions across the Taiwan Strait," Su added.
Among them, Lungteh Shipbuilding Co. lost 3.46 percent to close at NT$58.64, and aviation component supplier Aero Win Technology Corp. also fell 4.49 percent to end at NT$117.00.
Elsewhere in the old economy sector, the paper and pulp index lost 2.82 percent with Chung Haw Pulp Corp. falling 3.94 percent to close at NT424.40, and YFY Inc. shedding 3.88 percent to end at NT$32.20.
The paper industry had been previously boosted by hopes that its constituents would rake in profits from large carbon credits they own after Taiwan opens a carbon exchange later this year, dealers said.
In the financial sector, which also underperformed the broader market to end down 0.08 percent, Fubon Financial Holding Co. rose 0.17 percent to close at NT$60.50, but Cathay Financial Holding Co. fell 0.34 percent to end at NT$43.90.
"Investors should pay heed to the U.S. April personal consumption expenditures price (PCE) index due later in the day as the Federal Reserve will take into account the data when it makes a decision at its next policymaking meeting scheduled for June," Su said.