Taiwan shares close higher on liquidity-driven buying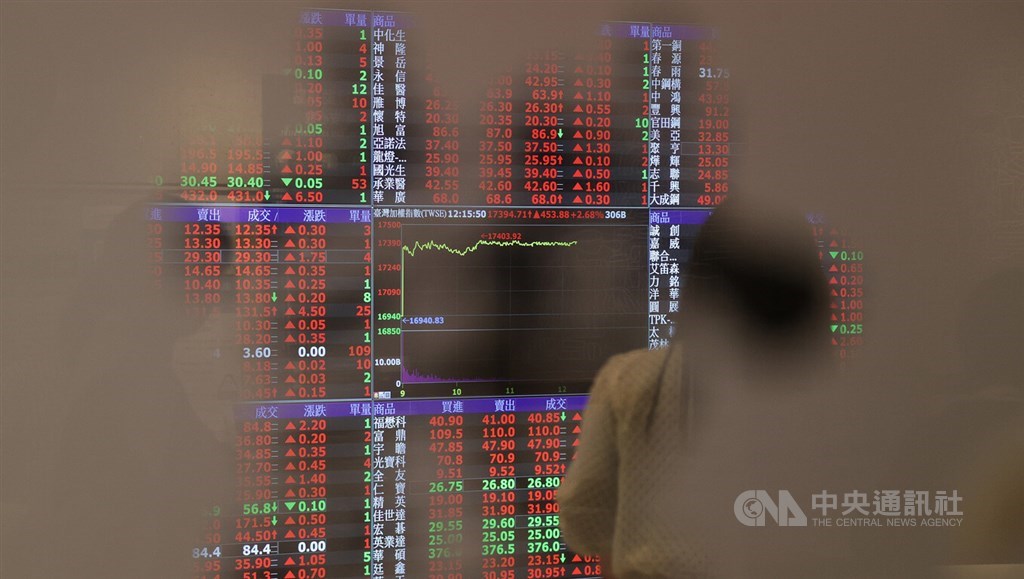 Taipei, Nov. 30 (CNA) Shares in Taiwan moved higher to close above 14,800 points, the highest level in two and a half months, Wednesday on liquidity-driven buying as investors ignored a lackluster performance on the U.S. markets overnight, dealers said.
As foreign institutional investors have returned to the local stock market, bringing in more funds, ample liquidity sparked rotational interest with IC design heavyweights, as well as select old economy and financial stocks in focus, helping the main board gain for the second consecutive trading session, dealers added.
The Taiex, the weighted index on the Taiwan Stock Exchange (TWSE), ended up by 169.91 points, or 1.16 percent, at 14,879.55 after moving between 14,687.23 and 14,879.55. Turnover totaled NT$271.93 billion (US$8.81 billion).
Wednesday's closing level was the highest since Sept. 13, when the Taiex closed at 14,894.41.
The market opened down by 0.21 percent and fell to the day's low in the early morning session, but the main board soon regained its footing despite a 0.59-percent fall on the tech-heavy Nasdaq index and a 0.01-percent increase on the Dow Jones Industrial Average overnight, dealers said.
MSCI index adjustments
Buying accelerated during the mid-morning trading session and became more apparent in the late trading session, although the latest quarterly index adjustments by global index provider MSCI Inc. led to a cut in Taiwan's weighting in the MSCI Emerging Markets Index by 0.02 percentage points to 13.35 percent, dealers added. MSCI Inc. would become effective after Wednesday's market close.
"Compared with the Dow, the Taiex is still a market laggard so investors remained willing to pick up bargains, especially as market sentiment improved with more investors thinking that the U.S. Federal Reserve will slow down the pace in its rate hike cycle," MasterLink Securities analyst Tom Tang said.
"The cut in Taiwan's weighting in the major MSCI index was minor and did not deter buying in the local equity market, where rising liquidity lent support as the Taiwan dollar trended higher against the U.S. dollar amid eased concerns over an aggressive Fed," Tang said.
Despite a weighting cut in the MSCI Emerging Markets Index, Taiwan's weighting was raised in two other MSCI indexes. According to the Financial Supervisory Commission, the quarterly index adjustments are expected to lead to a fund flight of only US$70 million.
TSMC, tech stocks
"Buying, again, focused on the bellwether electronics sector but interest rotated to IC design heavyweights as contract chipmaker Taiwan Semiconductor Manufacturing Co. (TSMC) moved in a narrow range throughout the trading session," Tang said.
Benefiting from the last-ditch buying, TSMC, the most heavily weighted stock in the local market, rose by 0.62 percent to close at NT$490 after coming off a low of NT$482.50.
Despite a small fluctuation with TSMC's shares, buying was more apparent with smaller contract chipmakers as United Microelectronics Corp. rose by 2.58 percent to close at NT$45.80, and Powerchip Semiconductor Manufacturing Corp. increased by 2.15 percent to end at NT$33.30.
"More significantly, large-cap IC designers played catch-up with TSMC to enable the electronics sector to rise higher," Tang said.
Among them, smartphone IC designer MediaTek Inc. rose by 2.81 percent to close at NT$733, and application-specific integrated circuit (ASIC) designer Alchip Technologies Ltd. increased by 2.77 percent to end at NT$927.
Also in the electronics sector, which rose by 1.07 percent with the semiconductor sub-index up 0.93 percent, iPhone assembler Hon Hai Precision Industry Co. edged up by 0.50 percent to close at NT$100.50, while smartphone brand HTC Corp. soared by 10 percent, the maximum daily increase, to end at NT$57.60 on strong optimism about its efforts in developing its metaverse business.
"As it remains too early to say whether and when its metaverse efforts would pay off, the gains enjoyed by HTC showed active speculative buying as more investors have become willing to make purchases due to ample liquidity," Tang said.
Old economy, financial stocks
Tang said buying was also seen with old economy and financial stocks as investors rushed to park their money.
The petrochemical sector rose by 1.68 percent on a spike in international crude oil prices overnight with Formosa Plastics Corp. up by 1.46 percent to close at NT$90.20, and Formosa Chemicals & Fibre Corp. up by 2.84 percent to end at NT$76.10. In addition, Taita Chemical Co. surged by 10 percent to close at NT$22.25, and Asia Polymer Corp. jumped by 7.29 percent to end at NT$28.70.
In the oil price-sensitive textile sector, which rose by 1.36 percent, Far Eastern New Century Corp. rose by 1.09 percent to close at NT$32.50, and Makalot Industrial Co. increased by 3.56 percent to end at NT$233.
The financial sector rose by 1.33 percent with Fubon Financial Holding Co. up by 2.01 percent to close at NT$60.80 and Mega Financial Holding Co. up by 1.59 percent to end at NT$32. In addition, Shanghai Commercial & Savings Bank jumped by 6.28 percent to close at NT$50.80.
"Investors should keep a close eye on a speech scheduled by Fed Chair Jerome Powell later in the day for more clues about how the central bank will act in December and whether foreign institutional investors will continue to move their funds into the region," Tang said.
According to the TWSE, foreign institutional investors bought a net NT$20.21 billion worth of shares on the main board Wednesday.