Taiwan shares end higher on U.S. gains amid eased rate hike concerns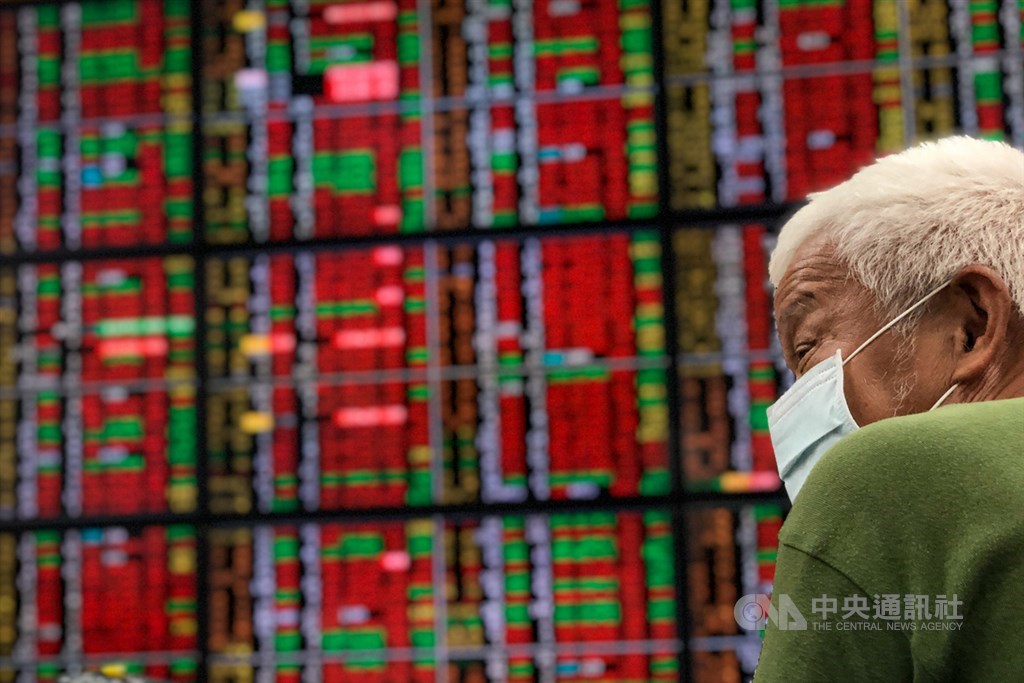 Taipei, Nov. 23 (CNA) Shares in Taiwan moved higher Wednesday with buying prompted by gains enjoyed on the United States markets overnight in the wake of eased worries over an aggressive U.S. Federal Reserve, dealers said.
The bellwether electronics sector continued to move higher but came off its earlier high, while buying rotated to the financial sector and select old economy stocks throughout the trading session, dealers added.
The Taiex, the weighted index on the Taiwan Stock Exchange (TWSE), ended up 66.34 points, or 0.46 percent, at 14,608.54, after moving between 14,573.41 and 14,647.98. Turnover totaled NT$187.43 billion (US$6.01 billion).
The market opened up 0.37 percent and soon rose to the day's high, rising 105 points in the early morning session as large semiconductor stocks gathered momentum in the wake of a 1.18 percent increase on the Dow Jones Industrial Average and a 1.36 percent rise on the tech-heavy Nasdaq index overnight after a fall in the benchmark U.S. 10-year treasury yield, indicating reduced fears over the Fed's hawkishness, dealers said.
With the Taiex breaching the 14,600-point mark at one point, some investors shifted to the sell side to lock in gains recently built in tech heavyweights. However, support from financial and old economy stocks helped the local main board fend off profit-taking to end above the previous closing level, dealers said.
MasterLink Securities analyst Tom Tang said many investors at home and abroad have high hopes that the Fed will slow down the pace of its on-going rate hike cycle and now expect a 50-basis point hike at the next policymaking meeting scheduled for December, instead of the 75 basis point increase the market previously anticipated.
"The Dow extended its strength, giving local investors a hint to buy today," Tang said. "However, buying on the local main board was capped, in particular among large cap semiconductor stocks, amid fears over a major technical pullback after their recent rally."
Before Wednesday's gains, the Taiex had soared almost 2,000 points or more than 15 percent from 12,629 points, an intraday low seen on Oct. 25, with the semiconductor sector serving as the major driver to solid gains, led by contract chipmaker Taiwan Semiconductor Manufacturing Co. (TSMC), which has surged over 32 percent since Oct. 25.
After coming off a high of NT$496.00, TSMC, the most heavily weighted stock on the local market, closed up 0.20 percent to close at NT$492.00, while profit taking also affected the entire electronics sector and the semiconductor sub-index, which added 0.20 percent and 0.11 percent, respectively.
Among other semiconductor stocks, Powerchip Semiconductor Manufacturing Co., a smaller contract chipmaker, gained 3.45 percent to end at NT$32.95, and IC packaging and testing services provider ASE Technology Holding Co. rose 1.05 percent to close at NT$95.80.
Bucking the upturn, United Microelectronics Corp., a smaller contract chipmaker, ended unchanged at NT$46.10, while smartphone IC designer MediaTek Inc. lost 1.12 percent to close at NT$705.00, and power management solution IC designer Silergy Corp. shed 3.53 percent to end at NT$465.00.
Underperforming the broader market, iPhone assembler Hon Hai Precision Industry Co. closed flat at NT$100.50, and Yageo Corp., the world's third largest multi-layer ceramic capacitor (MLCC) supplier, lost 1.97 percent to end at NT$449.00.
"While some tech heavyweights suffered profit-taking, investors sitting on large funds turned their attention to financial and old economy stocks so these non-tech stocks played catch-up," Tang said. "But, their gains were technical in nature."
Boosted by large financial holding firms, the financial sector rose 1.32 percent, beating the tech sector Wednesday.
Among gaining financial stocks, CTBC Financial Holding Co. soared 4.16 percent to close at NT$22.55, Fubon Financial Holding Co. rose 2.15 percent to end at NT$57.10, Cathay Financial Holding Co. added 1.30 percent to close at NT$42.75, and E. Sun Financial Holding Co. ended up 1.05 percent at NT$24.00.
Tang said the biotech sector was also favored by bargain hunters, rising 3.50 percent, with drug developer Lotus Pharmaceutical Co. jumping 10 percent, the maximum daily increase, to close at NT$217.50, and test kit brand Panion & BF Biotech Inc. surging 4.55 percent to end at NT$172.50.
In addition, shares in medical equipment supplier Maxigen Biotech Inc. gained 3.69 percent to close at NT$42.20, and Sinphar Pharmaceutical Co., another drug brand, rose 2.39 percent to end at NT$30.05.
In the transportation sector, which ended up 1.74 percent, bulk cargo shippers Sincere Navigation Corp. and Tze Shin International Co. rose 4.62 percent and 2.38 percent, respectively, to close at NT$19.25 and NT$12.90, while Evergreen Marine Corp., the largest container cargo shipper in Taiwan, rose 1.99 percent to end at NT$153.50.
"Today's turnover fell, indicating caution among investors," Tang said. "Many of them stayed alert over on-going inventory adjustments in the global electronics industry."
"The Taiex is likely to encounter the nearest technical hurdles as it moves closer to around 15,000 points," Tang said.
According to the TWSE, foreign institutional investors bought a net NT$2.13 billion worth of shares on the main board Wednesday.