Taiwan shares rebound, led by TSMC, but turnover remains thin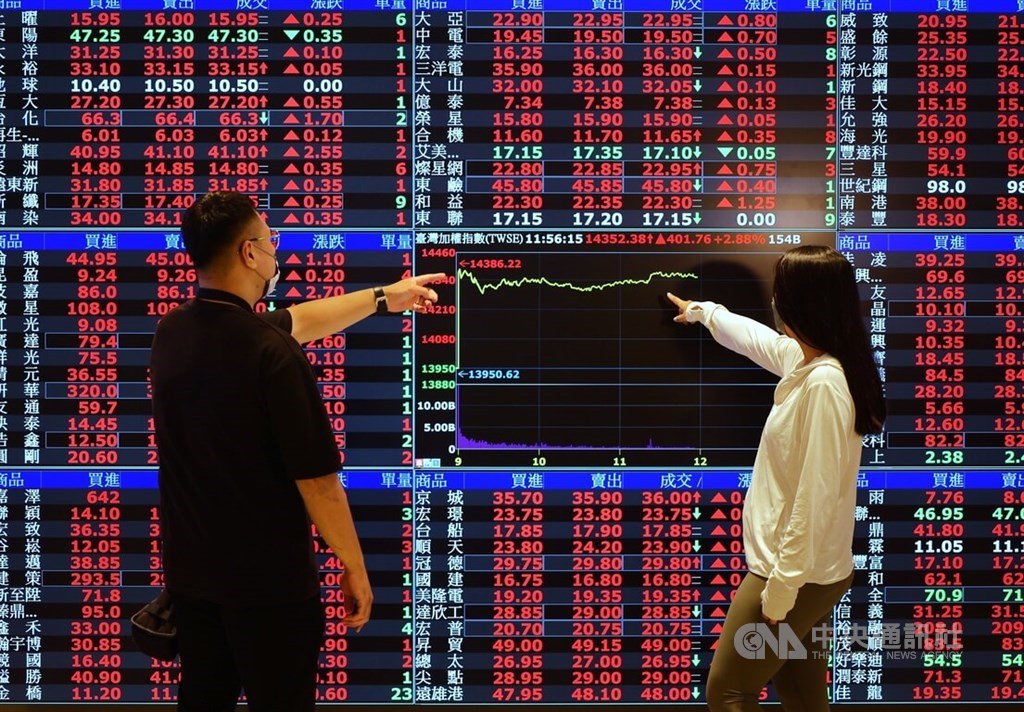 Taipei, Sept. 20 (CNA) Shares in Taiwan staged a technical rebound Tuesday as contract chipmaker Taiwan Semiconductor Manufacturing Co. bounced back from earlier weakness on the back of gains posted on the United States markets overnight, dealers said.
Despite the upturn, turnover remained low as many investors preferred to sit on the sidelines, waiting for the conclusion of a two-day U.S. Federal Reserve policymaking meeting which starts later in the day, they said.
The Taiex, the weighted index on the Taiwan Stock Exchange (TWSE), ended up 123.62 points, or 0.86 percent, at 14,549.30, after moving between 14,461.39 and 14,558.72. Turnover totaled NT$165.32 billion (US$5.27 billion).
On Monday, the Taiex fell 0.93 percent.
On Tuesday the market opened up 0.34 percent on a mild technical rebound from a session earlier and buying continued as large cap electronics stocks, in particular TSMC, the most heavily weighted stock on the local market, regained its footing after Monday's weakness, dealers said.
The rebound came after a 0.64 percent increase on the Dow Jones Industrial Average and a 0.76 percent rise on the tech-heavy Nasdaq index overnight, they added.
Momentum accelerated in the afternoon session as old economy stocks in the shipping and tourism industries followed the lead of their tech counterparts to move higher, pushing the Taiex above 14,500 points at the end of the session, dealers said.
"Today's gains were just technical in nature as investors took their cue from a rebound on U.S. markets overnight," Mega International Services Corp. analyst Alex Huang said.
"With many investors reluctant to trade before the Fed meeting concludes, turnover was low so that it was easy for bargain hunters to buy select heavyweights like TSMC, to boost the entire Taiex," Huang said.
TSMC rose 2.03 percent to close at NT$476.50 after a 1.06 percent drop on Monday. The stock's gains contributed almost 80 points to the Taiex's increase, and led the electronics sector and semiconductor sub-index to move higher by 1.10 percent and 1.57 percent, respectively.
"Hon Hai (Precision Industry Co.) served as another pillar to today's gains in the electronics sector as well as on the broader market due to its large weighting, with the iPhone 14 Pro series receiving a strong welcome on the market," Huang said.
Shares in iPhone assembler Hon Hai, next to TSMC in terms of market capitalization, gained 1.40 percent to end at NT$108.50. Hon Hai is believed to be in charge of rolling out the advanced iPhone 14 Pro and iPhone 14 Pro Max, which command a higher profit margin.
Other semiconductor stocks appeared mixed with United Microelectronics Corp. (UMC), a smaller contract chipmaker, adding 0.50 percent to close at NT$40.15 and smartphone IC designer MediaTek Inc. rising 0.17 percent to end at NT$605.00.
However, dynamic random access memory (DRAM) chip supplier Nanya Technology Corp. lost 1.95 percent to close at NT$47.65, and UMC's display IC design subsidiary Novatek Microelectronics Corp. fell 2.40 percent to end at NT$243.50.
Also in the electronics sector, PC brand Acer Inc. rose 0.46 percent to close at NT$21.90, but rival Asustek Computer Inc. lost 0.39 percent to end at NT$253.50.
Huang said the shipping industry also attracted bargain hunters, pushing up the transportation sector by 1.56 percent, bouncing back from Monday's 5.71 percent drop.
Evergreen Marine Corp., the largest container cargo shipper in Taiwan, rose 2.07 percent to close at NT$172.50, and rivals Yang Ming Marine Transport Corp. and Wan Hai Lines Ltd. gained 0.74 percent and 1.35 percent, respectively, to end at NT$68.50 and NT$75.10.
"In the transportation sector, airline stocks kept steaming ahead on hopes that the government will further ease border controls soon amid COVI-19," Huang said. "Such buying also spread to tourism stocks."
In the airline industry, EVA Airways rose 3.39 percent to close at NT$35.10, and China Airlines gained 1.11 percent to end at NT$22.70.
Among tourism stocks, Formosa International Hotels Corp. soared 7.00 percent to close at NT$183.50, and Lion Travel Service Co. gained 4.15 percent to end at NT$97.90.
In addition, Wowprime Corp., a steak house chain operator, surged 10 percent, the maximum daily increase, to close at NT$136.00, and dumpling brand Bafang Yunji International Co. rose 8.54 percent to end at NT$178.00.
"If the Fed raises its key interest rates by 75 basis points as the market expects, U.S. markets could rise further with the Taiex expected to follow as market uncertainty is removed," Huang said.
"However, the main board is likely to see stiff technical resistance ahead of 14,824 points, the 60-day moving average during its rebound," he said.
According to the TWSE, foreign institutional investors bought a net NT$3.24 billion worth of shares on the main board Tuesday.