TSMC discusses its U.S. investment with American lawmakers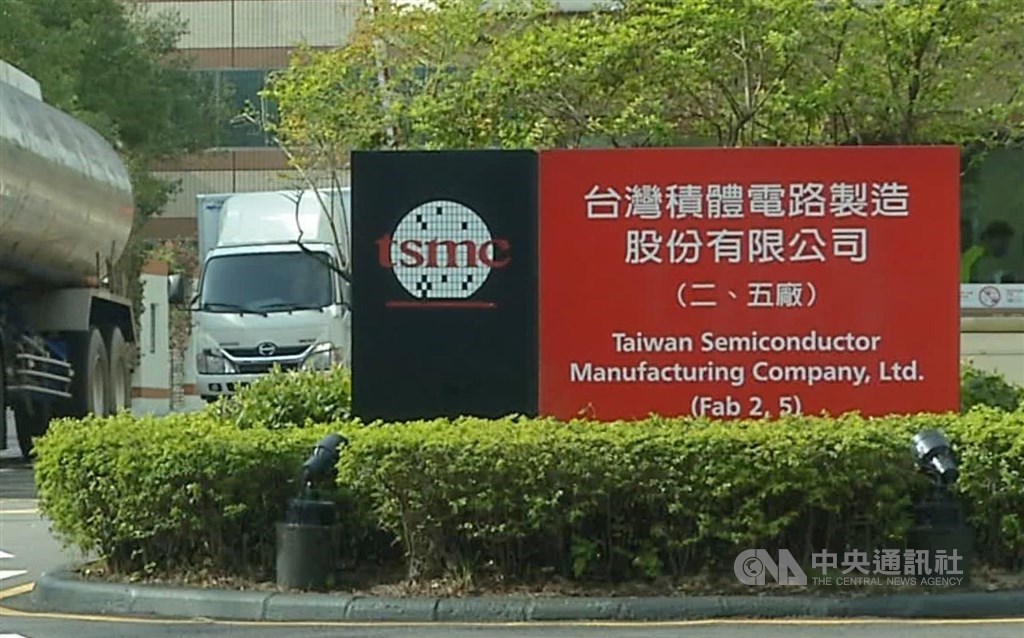 Taipei, Aug. 16 (CNA) Taiwan Semiconductor Manufacturing Co. (TSMC), the largest contract chipmaker in Taiwan, on Tuesday confirmed company officials met the visiting U.S. congressional delegation led by Democratic Senator Ed Markey, with talks focusing on the company's investment in the U.S. market.
In response to an inquiry from CNA, TSMC said its overseas investment team met with the five-member delegation and both sides exchanged views about the chipmaker's current investment in the U.S., specifically its efforts to build an advanced wafer fab in Arizona.
However, TSMC did not provide any other details about the meeting with the U.S. lawmakers. The other four members in the delegation were representatives John Garamendi (D-CA), Alan Lowenthal (D-CA), Don Beyer (D-VA) and Aumua Amata Coleman Radewagen (R-AS).
The U.S. congressional delegation arrived in Taiwan on Sunday for a 21-hour visit, wrapping up on Monday, the first by U.S. lawmakers since U.S. House of Representatives Nancy Pelosi landed in Taipei on Aug. 2 for a 19-hour visit.
China responded to the visits by Pelosi and the Markey-led delegation with military drills around Taiwan.
TSMC, previously kept mum on the meeting with Markey's delegation, while the U.S. lawmaker on Monday confirmed in a statement that he met with TSMC representatives "to discuss partnerships to improve semiconductor supply chains and investment in the United States," at a time when semiconductors are playing a key role in escalating technology competition between Washington and Beijing.
Markey also said Washington remains committed to continuing its support for Taiwan's meaningful participation in the international community and helping Taiwan withstand coercion from China and avoid any conflict and miscalculation in the Taiwan Strait.
During Pelosi's stay in Taiwan, TSMC founder Morris Chang (張忠謀) and Chairman Mark Liu (劉德音) were among the guests at a luncheon held on Aug. 3, which welcomed the U.S. house speaker.
Ker Chien-ming (柯建銘), ruling Democratic Progressive Party (DPP) legislative caucus whip, told reporters on Aug. 3 that Pelosi and Liu met to discuss chip-related issues.
While TSMC said Pelosi and Liu did not have a private meeting, it is believed they talked at the luncheon hosted by President Tsai Ing-wen (蔡英文) in honor of Pelosi.
Before Pelosi's visit, Liu said on Aug. 1 in an interview with CNN that a Chinese invasion of Taiwan would render TSMC's factories "non-operable" and create "great economic turmoil" on both sides of the Taiwan Strait.
To boost U.S. competitive edge in the global semiconductor market, President Joe Biden signed the CHIPS (Creating Helpful Incentives to Produce Semiconductors) and Science Act of 2022 into law last week. This authorizes the U.S. government to provides US$52 billion in subsidies to increase domestic semiconductor production, and more than US$100 billion over five years for research and development.
Liu Pei-chen (劉佩真), a researcher at the Taiwan Industry Economics Database under the Taiwan Institute of Economic Research, said the CHIPS Act is expected to lower the financial burden shouldered by Taiwanese semiconductor firms as they invest or plan to invest in the U.S. markets.
For its part, TSMC is investing US$12 billion to build a wafer plant in Arizona, using the advanced 5 nanometer process. According to the company, the investment plan is proceeding smoothly and commercial production will start as scheduled in 2024 with initial monthly capacity of 20,000 units.
Related News
Aug. 16: China 'overreacting' to peaceful visits to Taiwan: U.S. official
Aug. 16: MOFA condemns Chinese sanctions on Taiwan's U.S. envoy, others
Aug. 15: U.S. senator praises Taiwan for restraint amid Beijing coercions
Aug. 10: TSMC July sales hit new high, up over 6% from June
Aug. 3: Pelosi, TSMC Chair Liu discuss semiconductor chips: Legislator
Aug. 1: TSMC 'non-operable' if China invades Taiwan: Chairman
U.S. House speaker's visit and following developments
Aug. 15: Taiwan military reviewing PLA tactics applied in recent drills
Aug. 14: U.S. Congressional delegation arrives in Taiwan for two-day visit
Aug. 11: Taiwan not seeking conflict escalation but will defend sovereignty: Tsai
Aug. 11: Government to spend NT$200 million on marketing food amid China bans
Aug. 10: MAC slams 'wishful thinking' and 'lies' in China's Taiwan white paper
Aug. 9: 45 warplanes, 10 warships spotted near Taiwan as PLA drills continue
Aug. 6: U.S., Japan, Australia urge China to stop military drills
Aug. 6: Defense ministry says China simulating attack on Taiwan
Aug. 5: China's drills a 'new normal' aimed at changing status quo: Experts
Aug. 4: President Tsai calls China's live-fire drills 'irresponsible act'
Aug. 4: China fires 11 Dongfeng ballistic missiles into waters off Taiwan: MND
Aug. 4: China cannot stop world leaders from visiting Taiwan: Pelosi
Aug. 3: China's military exercises aimed at blockading Taiwan: defense ministry
Aug. 3: China imposes new trade restrictions on Taiwan as Pelosi visits
Aug. 2: Visit to honor 'unwavering' U.S. commitment to Taiwan: Pelosi