International flights avoiding Taipei FIR due to China drills: Official
Taipei, Aug. 5 (CNA) The number of flights that passed through the Taipei Flight Information Region (FIR) on Thursday was only 150, half the normal daily average, due to the live-fire military drills being conducted by China, Taiwan authorities said Friday.
One of the busiest aviation hubs in Asia, the Taipei Flight Information Region normally sees an average of 300-plus flights per day, but about half of them took alternative routes on Thursday, Transportation and Communications Minister Wang Kwo-tsai (王國材) told reporters Friday.
The alternative routes were either in the Fukuoka Flight Information Region or Manila Flight Information Region, according to the ministry's Civil Aeronautics Administration (CAA).
The diversions were due to China's live-fire military exercises, which began Thursday in six maritime areas around Taiwan, in what has been described a "blockade" of Taiwan following a short visit to Taipei by U.S. House of Representatives Speaker Nancy Pelosi that concluded Wednesday.
Meanwhile, there were no major changes in the number of flights and ships arriving in and departing from Taiwan, as the transportation ministry had made preparations for them to use alternative routes, Wang said, on the sidelines of a Taiwan Culinary Exhibition being held to promote tourism.
He said more than 150 flights took off or landed in Taiwan on Thursday, which is the normal daily average.
A total of 74 passenger planes and 35 ships took alternative routes in and out of Taiwan Thursday, between noon and 4 p.m., according to the CAA.
Update
Aug. 8: China's Yellow Sea drills won't affect Taiwan int'l flights: MOTC
Aug. 7: China sends 66 warplanes, 14 warships around Taiwan Sunday
Aug. 6: 20 Chinese warplanes, 14 warships deployed around Taiwan: MND
Aug. 6: U.S., Japan, Australia urge China to stop military drills
Aug. 6: Taiwan companies told to abide by China's labeling rule: MOEA
Related News
Aug. 5: 68 Chinese warplane, 13 warship sorties recorded around Taiwan: MND
Aug. 5: China's drills a 'new normal' aimed at changing status quo: Experts
Aug. 4: President Tsai calls China's live-fire drills 'irresponsible act'
Aug. 4: China fires 11 Dongfeng ballistic missiles into waters off Taiwan: MND
Aug. 4: China cannot stop world leaders from visiting Taiwan: Pelosi
Aug. 4: Flights, ships rerouted to avoid Chinese military drills
Aug. 3: Alternative air routes arranged, China drills impact limited: minister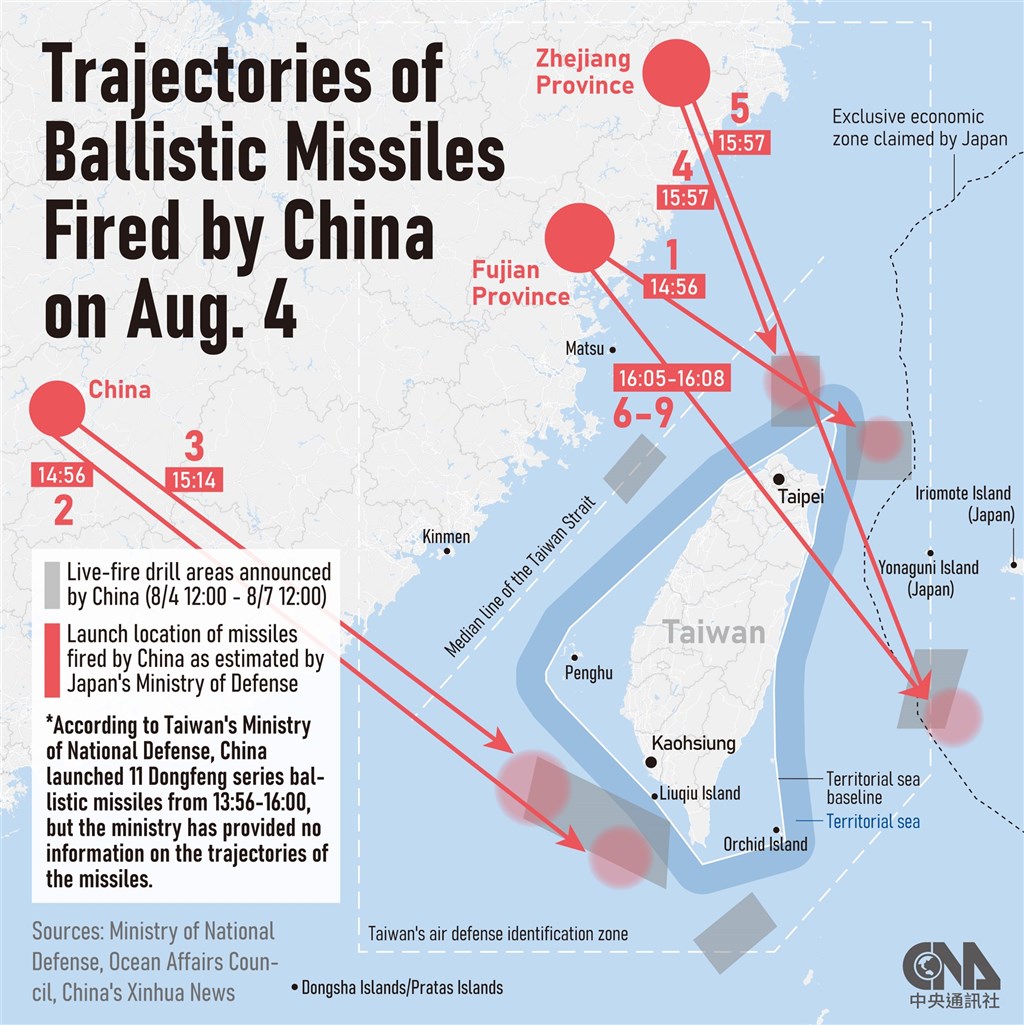 Aug. 3: China's military exercises aimed at blockading Taiwan: defense ministry
Aug. 3: China imposes new trade restrictions on Taiwan as Pelosi visits
Aug. 2: Visit to honor 'unwavering' U.S. commitment to Taiwan: Pelosi