U.S. dollar gains momentum amid cross-strait tensions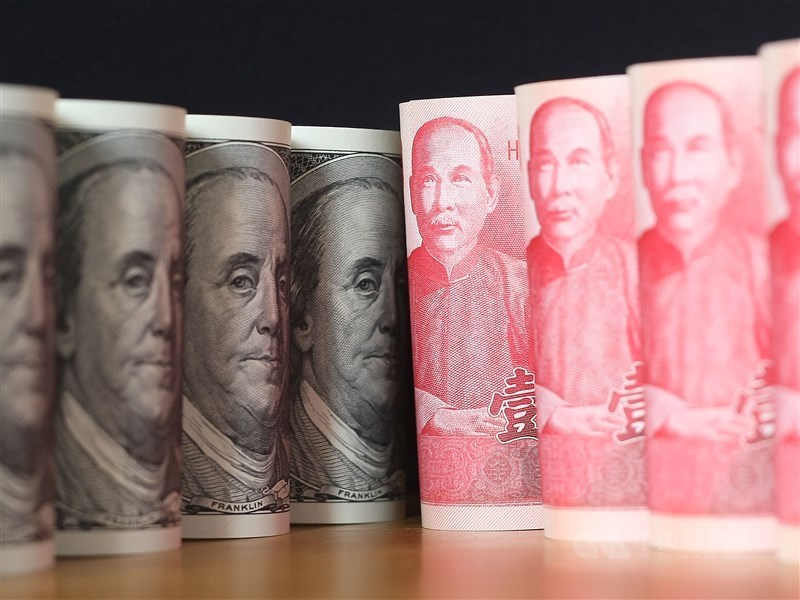 Taipei, Aug. 2 (CNA) The U.S. dollar rose against the Taiwan dollar Tuesday, breaching the NT$30 mark at one point, as investors continued to cut their holdings in the local currency, amid escalating tensions across the Taiwan Strait ahead of a visit by U.S. House Speaker Nancy Pelosi, dealers said.
The political tensions also sent the local equity market plunging, which put more pressure on the Taiwan dollar and boosted the American currency, before the central bank intervened late in the trading session, helping to cap the greenback's gains, dealers said.
At the end of the session, the U.S. dollar had gained NT$0.016 against the Taiwan dollar, to close at NT$29.996.
The greenback opened at NT$30.000, and fluctuated between NT$29.996 and NT$30.062 before the close. Tuesday's intraday high was the highest the American currency had reached against the Taiwan dollar in 26 months.
It was also the second consecutive session that the U.S. dollar broke the NT$30 mark during trade, after it was reported that Pelosi, who is second in line to the U.S. presidency, was about to visit Taiwan, dealers said.
Since the first report of a planned visit to Taiwan by Pelosi was published on July 19 in the Financial Times, China has been issuing strong warnings against such a trip and has been conducting a series of military exercises off its coast. The U.S. House Speaker is expected to arrive in Taiwan late Tuesday night.
On Tuesday, the Taiex, the benchmark weighted index on the Taiwan Stock Exchange, plunged 234.46 points or 1.56 percent, as foreign and local institutional investors sold a net NT$20.51 billion worth of shares on the main board, further boosting the U.S. dollar, dealers said.
While political factors like Pelosi's visit may not have any lasting effects on the local foreign exchange market, dealers said, the U.S. dollar will keep hovering around the NT$30 mark in the short term, if foreign institutional investors continue to move funds out of Taiwan amid rising interest rates in the U.S.
Since May, the U.S. Federal Reserve has raised its key interest rates by 225 basis points, while Taiwan's central bank has hiked its interest rates by only 37.5 basis points.