Taiwan shares tumble as TSMC sheds over 4.7%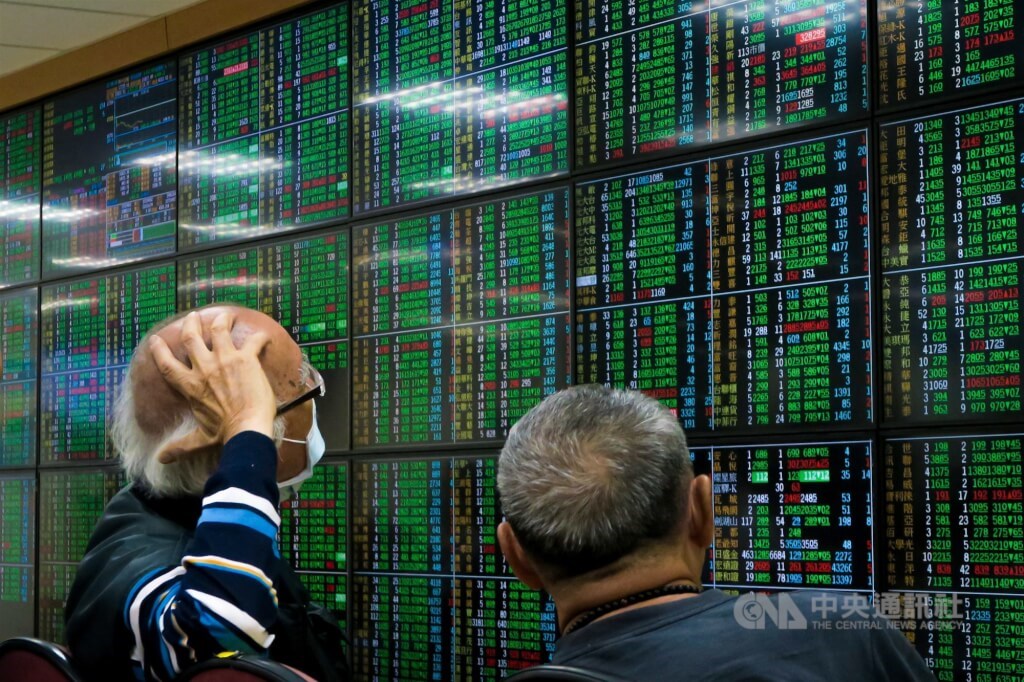 Taipei, July 1 (CNA) Shares in Taiwan moved sharply lower, falling by more than 480 points Friday as investors took cues from a plunge by tech stocks on the United States markets overnight in the wake of the latest unfavorable data pointing to high inflationary pressure, dealers said.
Contract chipmaker Taiwan Semiconductor Manufacturing Co. (TSMC), the most heavily weighted stock on the local market, fell by more than 4.7 percent, pushing down the bellwether electronics sector as well as the broader market, as investors remained haunted by an aggressive Federal Reserve after the June consumption expenditures price data, they said.
The Taiex, the weighted index on the Taiwan Stock Exchange (TWSE), ended down by 482.65 points, or 3.26 percent, at 14,343.08 after moving between 14,336.03 and 14,812.13. Turnover totaled NT$300.1 billion (US$10.07 billion).
The market opened down by 13.60 points and moved in a narrow range in the early morning session before selling escalated after 10 a.m., focusing on large-cap semiconductor stocks, in particular TSMC, and spreading to non-tech stocks across the board to push the Taiex below the 14,400-point mark, dealers said.
Dealers said the sell-off largely reflected the weakness on the U.S. markets, where the Dow Jones Industrial Average lost 0.82 percent and the tech-heavy Nasdaq index fell by 1.33 percent overnight.
The drops came after the U.S. Department of Commerce reported that the core PCE price index, the Fed's preferred inflation measure, rose by 4.7 percent in May, which was 0.2 percentage points less than that in April but still hovered around levels last seen in the 1980s.
"The latest PCE price index shocked the markets, prompting many investors to think the Fed will act aggressively in the next policy-making meeting scheduled for late July," Hua Nan Securities analyst Kevin Su said.
"The market has widely anticipated the Fed will raise its key interest rates by an additional 75 basis points after a 0.75-percentage point hike in June," Su said.
The Fed kicked off a rate-hike cycle in March by raising interest rates by 25 basis points to tackle inflation, and again in May by 50 basis points.
"With interest rates on the rise, large-cap tech stocks, in particular in the semiconductor industry, have lost their luster as their dividend yields were shy of growing bond yields," Su said. "Again, TSMC came under heavy pressure, leading other tech stocks to trend lower throughout the session."
TSMC fell by 4.73 percent to close at NT$453.50. The stock's losses contributed 187 points to the Taiex's decline and were a major factor in the electronics sector and the semiconductor sub-index falling by 4.07 percent and 4.85 percent, respectively.
"In addition to fears over rising interest rates, the global semiconductor industry got hit by concerns over growing inventories as the consumer electronics market showed signs of slowing down on rising inflation," Su said.
Among other large-cap semiconductor stocks, United Microelectronics Corp., a smaller contract chipmaker, fell by 2.81 percent to end at NT$38.05, while smartphone IC designer MediaTek Inc. plunged by 5.99 percent to close at NT$612.00 on falling smartphone demand.
In addition, dynamic random access memory chipmaker Winbond Electronics Corp. plunged by 7.60 percent to end at NT$20.05 after its American counterpart Micron Technology Inc. on Thursday cut its sales guidance for the current quarter.
Also in the tech sector, iPhone assembler Hon Hai Precision Industry Co. fell by 2.75 percent to close at NT$106.00, while power management solution provider Delta Electronics Inc. appeared resilient, ending unchanged at NT$221.50 as the company has entered the automotive electronics business.
While the main board took a beating, investors rushed to park their money in telecom stocks with Chunghwa Telecom Co. rising by 1.64 percent to close at NT$124.00, and Far EasTone Telecommunications Co. increasing by 2.27 percent to end at NT$85.50.
"The transportation sector remained in the doldrums as there are growing fears that freight rates will fall in the second half of this year as the U.S. government aims to curb shipping costs to rein in inflation," Su said.
In the transportation sector, which fell by 5.53 percent, Evergreen Marine Corp., the largest container cargo shipper in Taiwan, fell by 5.67 percent to close at NT$79.80. Yang Ming Marine Transport Corp. and Wan Hai Lines Ltd. dropped by 5.47 percent and 6.72 percent, respectively, to end at NT$77.80 and NT$111.00.
Elsewhere in the old economy sector, many stocks were affected by worries over weaker demand in an economic slowdown. Among them, Chung Hwa Pulp Corp. plunged by 8.06 percent to close at NT$17.10, and Cheng Loong Corp. fell by 3.26 percent to end at NT$25.20.
"Looking at today's expanded turnover, I think many institutional investors scrambled to cut holdings and stop their losses in a panic," Su said. "As long as a hawkish Fed continues to weigh on the market, there are no signs that the Taiex will soon find its technical support with TSMC likely to fall further."
According to the TWSE, foreign institutional investors sold a net NT$11.86 billion worth of shares on the main board Friday.