Taiwan shares end down as U.S. losses spark selling in tech sector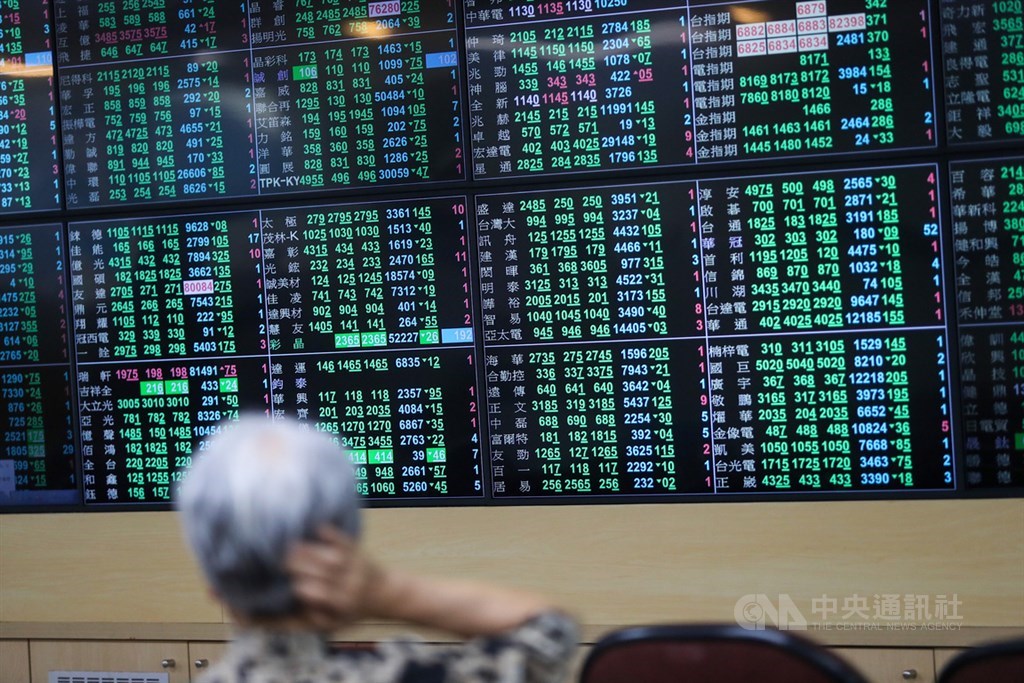 Taipei, April 22 (CNA) Shares in Taiwan came under pressure Friday, particularly in the bellwether electronics sector, as investors cut their tech holdings, following a plunge of tech stocks on the United States markets the previous day, dealers said.
The financial and transportation sectors attracted rotational buying, lending some support to the broader market, as the U.S. Federal Reserve prepared to raise interest rates again, dealers said.
The Taiex, the weighted index on the Taiwan Stock Exchange (TWSE), ended down 102.86 points, or 0.60 percent, at 17,025.09, after moving between 16,923.87 and 17,088.76. Turnover totaled NT$268.20 billion (US$9.17 billion).
17,000-point mark
The market opened down 0.23 percent, and selling soon escalated in the electronics sector, with semiconductor stocks in the spotlight, pushing the Taiex to the day's low, below the 17,000-point mark, early in the session.
The selling followed a drop of 1.05 percent on the Dow Jones Industrial Average and 2.07 percent on the tech-heavy Nasdaq overnight, in the wake of a spike in U.S. treasury yields, dealers said.
After 10 a.m., however, bargain hunters turned active on the Taiwan market, taking advantage of recent declines in non-tech stocks, especially financial and shipping stocks, which helped the Taiex recoup some of its earlier loses and end above 17,000 points, dealers said.
"The U.S. markets, again, dictated the movement of the local main board, as worry over the Fed's rate hikes returned to haunt market sentiment," Hua Nan Securities analyst Kevin Su said, referring to the latest hints by Fed Chair Jerome Powell of a bigger rate hike in May, following an increase of 25 basis points in March to tackle inflation.
Hawkish U.S. Fed
"It seems that the Fed's rate hike cycle has become more aggressive," Su said. "It was no surprise, therefore, that the benchmark U.S. 10-year treasury yield continued to rise, knocking down many tech stocks, as rising interest rates tend to make them less attractive.
Furthermore, a hawkish Fed will mean a depletion of liquidity on the Taiwan market, as investors will move out large chunks of funds."
Tech sector
Amid the rate hike concerns, the local electronics sector plunged 1.25 percent, with the semiconductor sub-index falling 1.45 percent, led by contract chipmaker Taiwan Semiconductor Manufacturing Co. (TSMC).
TSMC, the most heavily weighted stock on the local market, dropped 1.24 percent to close at NT$558.00, following a 1.36 percent fall in its American depositary receipts on the U.S. market overnight.
"In addition to the interest rate concerns, the local electronics sector has also been faced with worry over weakening demand for consumer electronics," Su said.
Among the falling semiconductor stocks, contract chipmaker United Microelectronics Corp. fell 0.83 percent to end at NT$47.65, smartphone IC designer MediaTek Inc. dropped 1.61 percent to close at NT$854.00, and application specific IC manufacturer Alchip Technologies, Ltd. tumbled 8.52 percent to end at NT$859.00.
In the wider electronics sector, iPhone assembler Hon Hai Precision Industry Co. bucked the downturn, rising 0.49 percent to close at NT$103.50, while Largan Precision Industry, a supplier of smartphone camera lenses to Apple Inc., also appeared resilient, finishing only 0.29 percent lower at NT$1,695.00.
Financials, transportation stocks
"The bright spot today was the financial sector's recovery from its earlier losses, as rate hikes cut both ways," Su said. "The buying in that sector indicated optimism that a wider interest rate spread will help banks strengthen their bottom lines."
The financial sector finished 1.29 percent higher, with Mega Financial Holding Co. gaining 1.34 percent to close at NT$41.55, Fubon Financial Holding Co. adding 1.74 percent to end at NT$75.90, CTBC Financial Holding Co. rising 2.43 percent to close at NT$29.45, and E. Sun Financial Holding Co. ending up 2.48 percent at NT$33.00.
Su said the transportation sector also benefited from bargain hunting, after the recent consolidation among shipping stocks.
Evergreen Marine Corp., the largest container cargo shipper in Taiwan, rose 1.37 percent to close at NT$147.50, and rival Yang Ming Marine Transport Corp. gained 1.20 percent to end at NT$126.50, while bulk cargo shipper Tze Shin International Co. soared by the daily maximum 10 percent to finish at NT$26.80. Wan Hai Lines Ltd., however, closed down 0.95 percent at NT$156.00.
"The global supply chain has been affected by lockdowns in major Chinese cities due to a spike in COVID-19 cases," Su said. "I think the local electronics sector will continue to feel the effects of those disruptions."
According to the TWSE, foreign institutional investors sold a net NT$21.59 billion worth of shares on the main board Friday.