Taiwan shares end higher as tech stocks rebound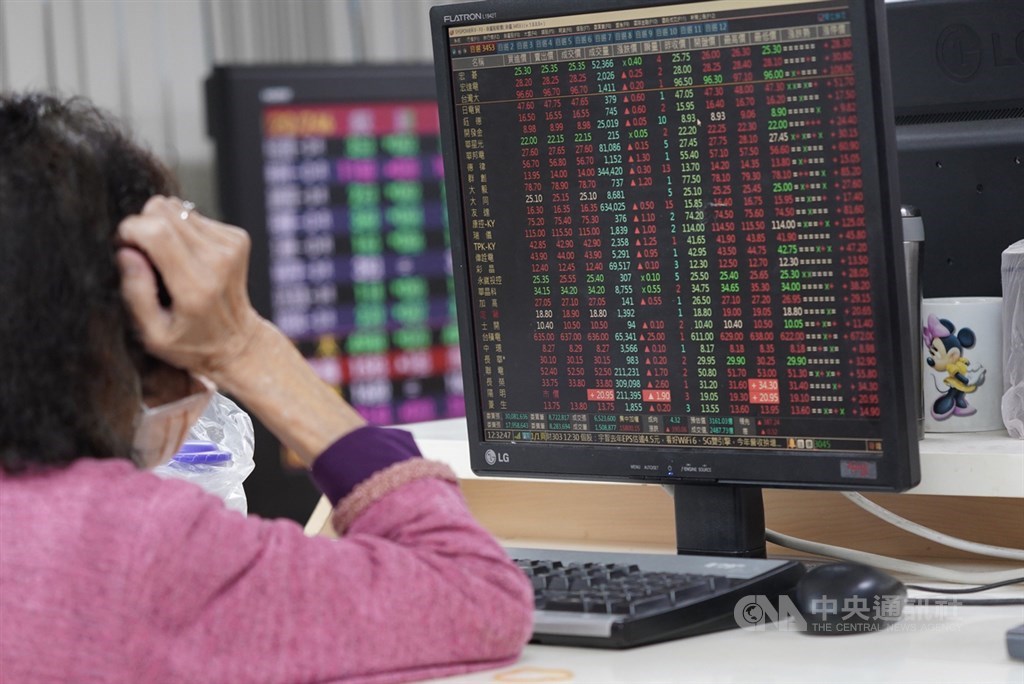 Taipei, April 19 (CNA) Shares in Taiwan staged a rebound Tuesday as investors were encouraged by a rally in semiconductor stocks on U.S. markets overnight and put funds into the bellwether electronics sector, dealers said.
Buying also extended to old economy stocks, especially in the shipping and commodities sectors, as China began easing lockdowns in major cities amid COVID-19, leading to hopes of improved demand, they said.
The Taiex, the Taiwan Stock Exchange's benchmark index, ended up 94.53 points, or 0.56 percent, at 16,993.40, after moving between 16,926.34 and 17,106.26. Turnover totaled NT$226.69 billion (US$7.75 billion).
The market opened up 0.16 percent and buying accelerated, in particular in the semiconductor sector, after the Philadelphia Semiconductor Index rose 1.88 percent overnight, outperforming the 0.14 percent fall on the Dow Jones Industrial Average.
Interest in old economy stocks later pushed the Taiex above the 17,100-point mark at one point, but late profit-taking capped the upturn by the end of the session, they said.
Tech stocks
"Today's buying in tech heavyweights simply reflected bargain hunters reacting to the Philadelphia Semiconductor Index's gains to buy into these stocks that had suffered recent losses," Mega International Investment Services Corp. analyst Alex Huang said.
"With the U.S. Federal Reserve becoming more aggressive on interest rates to take on inflation, caution over tech stocks in Taiwan and in the United States could return as higher interest rates have made them less attractive," Huang said.
After a 0.47 percent increase in its American depositary receipts (ADRs) on Monday, contract chipmaker Taiwan Semiconductor Manufacturing Co. (TSMC) rose 0.71 percent to close at NT$565.00.
Led by TSMC, the electronics sector rose 0.55 percent, and the semiconductor sub-index closed 0.61 percent higher.
Among other semiconductor stocks, United Microelectronics Corp., a smaller contract chipmaker, gained 0.97 percent to end at NT$46.65, and smartphone IC designer MediaTek Inc. added 0.60 percent to close at NT$838.00.
Power management IC designer Silergy Corp. fell 3.20 percent to end at NT$2,720.00.
Also in the electronics sector, printed circuit board suppliers Gold Circuit Electronics Ltd. and Compeq Manufacturing Co. rose 3.67 percent and 1.82 percent, respectively, to close at NT$81.90 and NT$47.55, while iPhone assembler Hon Hai Precision Industry Co. lost 0.49 percent to end at NT$102.00.
"Despite the gains in the electronics index, the sector accounted for less than 50 percent of total turnover Tuesday, and the low ratio indicated many investors remained reluctant to chase prices," Huang said.
Huang said buying also rotated to old economy stocks as "investors thought a move by China to ease its restrictions amid COVID-19 would boost demand for commodities and push up freight rates."
Commodity suppliers
Among the sectors that benefited, paper stocks rose 1.12 percent, with Longchen Paper & Packaging Co. closing 2.70 percent higher at NT$20.90 and Baolong International Co. gaining 2.30 percent to end at NT$20.35.
In the petrochemicals sector, Formosa Plastics Corp. rose 0.96 percent to close at NT$105.50, and Formosa Chemicals & Fibre Corp. gained 0.89 percent to end at NT$79.70.
In the steel sector, Tung Ho Steel Enterprise Corp. added 1.43 percent to close at NT$71.10, and Ta Chen Stainless Pipe, Ltd. rose 1.70 percent to end at NT$53.90.
Transportation sector
The transportation sector, where the major shipping companies are traded, rose 2.65 percent.
Evergreen Marine Corp., the largest container cargo shipper in Taiwan rose 2.54 percent to close at NT$141.50, and rivals Yang Ming Marine Transport Corp. and Wan Hai Lines Ltd. gained 1.65 percent and 3.31 percent, respectively, to end at NT$123.00 and NT$156.00.
Meanwhile, China Airlines soared 6.45 percent to close at NT$28.90, and EVA Airways rose 2.61 percent to end at NT$35.35 on hopes that Taiwan will ease its COVID-19 border controls.
"Investors should keep a close eye on the value of the U.S. dollar during the current rate hike cycle. If it continues to strengthen, foreign investors are expected to move more funds out of the region, which is the last thing the market wants to see," Huang said.
According to the TWSE, foreign institutional investors bought a net NT$2.13 billion in shares on the market Tuesday after a net sell of NT$19.41 billion on Monday.