Taiwan shares under heavy pressure after U.S. plunge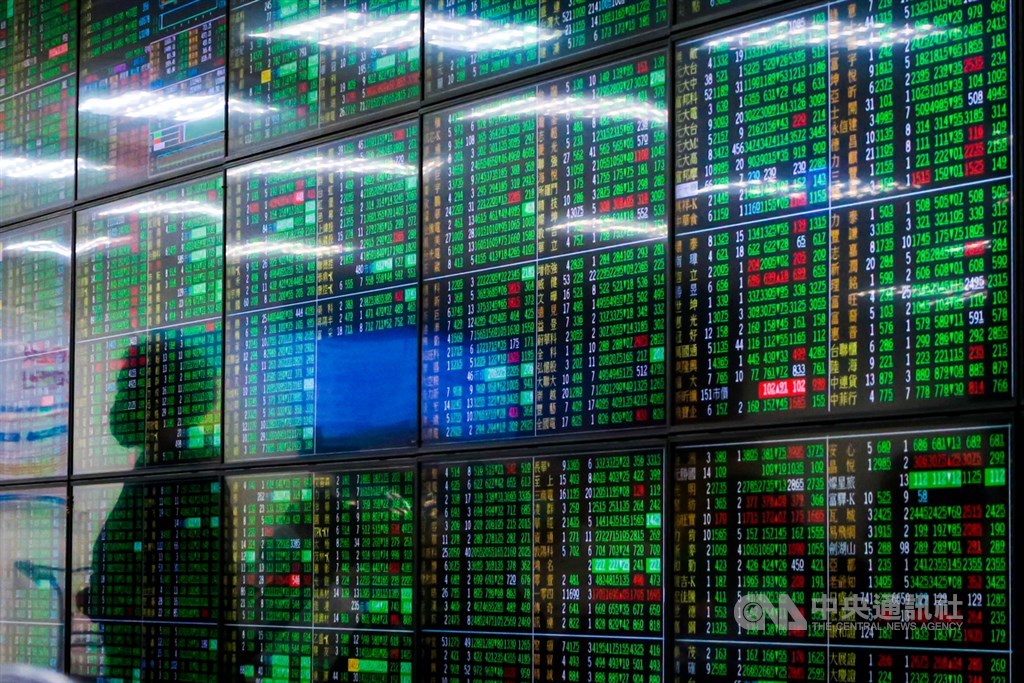 Taipei, Jan. 19 (CNA) Shares in Taiwan came under heavy pressure Wednesday with selling sparked by steep losses on U.S. markets overnight after a spike in the benchmark 10-year treasury yield, indicating fears over higher interest rates, dealers said.
The higher U.S. treasury yield led highly priced tech stocks to lose their luster with contract chipmaker Taiwan Semiconductor Manufacturing Co. (TSMC), the most heavily weighted stock on the local market, in focus, pushing the broader market below the 20-day moving average of 18,257 points at the end of the session, they said.
The Taiex, the weighted index on the Taiwan Stock Exchange (TWSE), ended down 151.18 points, or 0.82 percent, at 18,227.46, after moving between 18,199.35 and 18,359.14. Turnover totaled NT$255.683 billion (US$9.26 billion).
The market opened down 0.56 percent in a knee-jerk reaction to heavy losses on U.S. markets, where the Dow Jones Industrial Average dropped 1.51 percent and the tech-heavy Nasdaq index tumbled 2.60 percent after the 10-year treasury yield topped 1.87 percent, a two year high, dealers said.
While the Taiex recouped some of its earlier losses in the morning session, selling increased in the afternoon session as TSMC faced further volatility, causing the main board to drop by more than 150 points by the end of the session, they said.
TSMC
Shares in TSMC fell 1.21 percent to close at NT$654.00 after hitting a low of NT$651.00, and the stock's downturn contributed about 67 points to the Taiex's decline and led the electronics sector and the semiconductor sub-index to move down by 0.84 percent and 1.10 percent, respectively.
"While TSMC's fundamentals remain sound, its share price was simply affected by unfavorable leads from a spike in the U.S. 10-year treasury yield as its U.S. tech counterparts suffered overnight," Mega International Investment Services Corp. analyst Alex Huang said.
The surge in the treasury yield boosted the VIX (Cboe Market Volatility Index), which gauges fears among investors, by more than 18 percent overnight on U.S. markets, indicating interest rate concerns dominated trading.
"The higher treasury yield showed many investors widely anticipate the U.S. Federal Reserve will start a rate hike cycle in March," Huang said.
"It is possible TSMC will see more volatility down the road if U.S. markets continue to be unstable, but the stock could see strong technical support at around NT$645-NT$646 on the back of its promising outlook," Huang said, referring to the chipmaker's forecast which said the company's gross margin will be maintained at 53 percent or higher in the longer term.
Broader tech sector
Other major semiconductor stocks also faced headwinds from rate hike fears, Huang said. Among them, United Microelectronics Corp., a smaller contract chipmaker, lost 1.57 percent to end at NT$62.80, power management chip designer Silergy Corp. fell 2.05 percent to close at NT$3,820.00, and integrated circuit packaging and testing service provider ASE Technology Holding Co. dropped 2.33 percent to end at NT$105.00.
Bucking the downturn, select electronic component makers moved higher with power management solution provider Delta Electronics Inc. up 0.36 percent to close at NT$275.00, and printed circuit board supplier Compeq Manufacturing Co. up 1.14 percent to end at NT$44.20.
As a market laggard, iPhone assembler Hon Hai Precision Industry Co. also appeared resilient, closing unchanged at NT$103.50.
Financial and shipping stocks
Financial stocks felt the pinch resulting from the sell-off suffered by their U.S. counterparts after Goldman Sachs reported lower than expected earnings for the fourth quarter, dealers said.
In the financial sector, which lost 0.71 percent, Fubon Financial Holding Co. lost 0.76 percent to close at NT$78.80, Cathay Financial Holding Co. dropped 1.20 percent to end at NT$66.10, and China Development Financial Holding Co. shed 1.31 percent to close at NT$18.85.
Elsewhere, the transportation sector lost 2.85 percent after three major shipping companies traded on the main board were slapped with heavy fines by South Korea's Fair Trade Commission for their role in collusion to fix freight rates with 20 other shipping firms.
They are Evergreen Marine Corp., which lost 3.54 percent to close at NT$122.50 on Wednesday, Wan Hai Lines Ltd., which fell 2.71 percent to end at NT$161.50, and Yang Ming Marine Transport Corp., which dropped 2.35 percent to close at NT$104.00.
"As the Taiex fell below the 20-day moving average, the main board is expected to fall into consolidation mode," Huang said. "Investors had better continue to monitor fluctuations in the U.S. 10-year treasury yield, which could move global financial markets."
According to the TWSE, foreign institutional investors sold a net NT$1.95 billion worth of shares on the main board Wednesday.