Taiwan shares end lower as TSMC plunges over 3%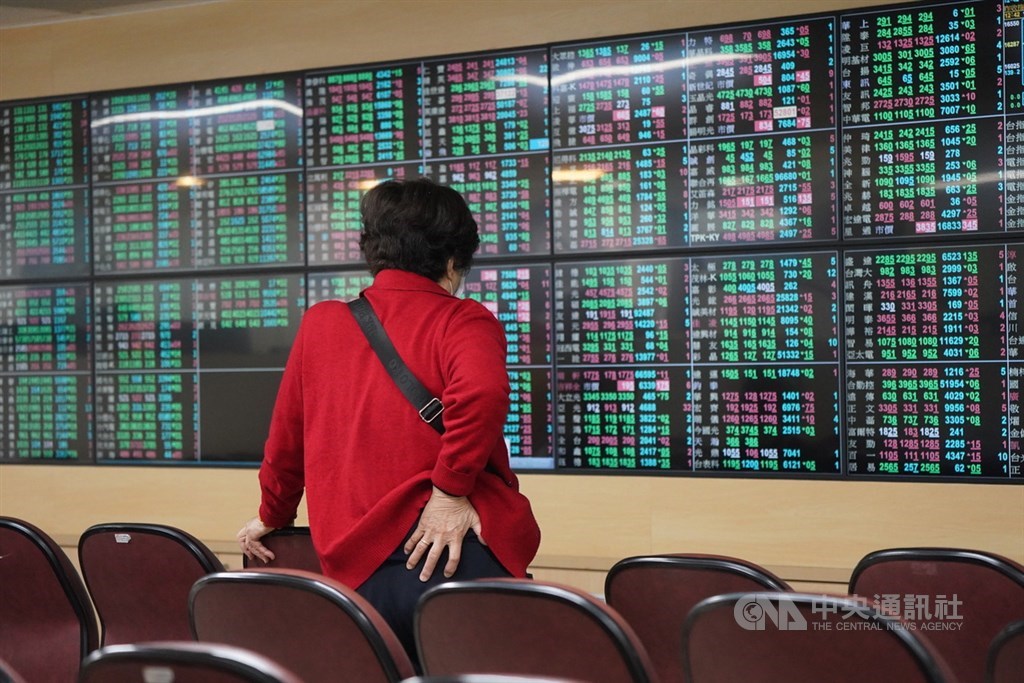 Taipei, Jan. 18 (CNA) Shares in Taiwan closed lower Tuesday as contract chipmaker Taiwan Semiconductor Manufacturing Co. (TSMC) came under pressure, falling more than 3 percent, as investors pocketed gains built up in recent trading sessions, dealers said.
The financial sector outperformed the broader market, rising more than 0.5 percent, on expectations the U.S. Federal Reserve will raise interest rates later this year, which would boost returns on financial institutions' overseas investments, they said.
The Taiex, the Taiwan Stock Exchange's benchmark index, ended down 146.8 points, or 0.79 percent, at the day's low of 18,378.64, after hitting a high of 18,575.41. Turnover totaled NT$261.86 billion (US$9.49 billion).
TSMC
TSMC closed 3.07 percent lower at NT$662.00, the day's low, after a 1.64 percent increase on Monday, when it hit its historical intraday high of NT$688.00. The stock had surged 15 percent to set the new high since closing at NT$597 on Dec. 21, 2021.
The electronics index and semiconductor sub-index were brought down by TSMC, finishing 1.36 percent and 2.29 percent lower, respectively.
"The selling resulted from concerns over a spike in the benchmark U.S. 10-year treasury yield, which has made tech stocks appear less attractive, and TSMC was simply one of them," Concord Securities analyst Kerry Huang said.
The 10-year treasury yield rose by 6 basis points to hit 1.855 percent overnight, reflecting expectations of a rate hike by the Fed.
But the stock's fundamentals remain strong, according to Huang.
"After TSMC's investor conference (held on Jan. 13), many investors were impressed by its strong guidance and massive capital expenditure, indicating the semiconductor industry will continue to boom," Huang said.
At the investor conference, TSMC said its gross margin -- the difference between revenue and cost of goods sold -- will range between 53 percent and 55 percent in the first quarter, which would be up from 51.3 percent in the previous quarter.
It will spend US$40 billion to US$44 billion in capital expenditure in 2022, sharply up from about US$30 billion in 2021, an indication of strong demand in the future.
"The stock was hurt today by rate hike concerns, with foreign institutional investors shifting to the sell side," Huang said. "But I expect TSMC will see some technical support ahead of NT$650."
Other tech stocks
TSMC's selling spread to other semiconductor stocks. United Microelectronics Corp. fell 0.78 percent to close at NT$63.80, and smartphone chip designer MediaTek Inc. closed 0.90 percent lower at NT$1,105.00.
Bucking the downturn, power management chip designer Silergy Corp. rose 1.17 percent to close at NT$3,900.00, and DRAM supplier Nanya Technology Corp. rose 0.94 percent to end at NT$75.10.
Also in the electronics sector, iPhone assembler Hon Hai Precision Industry Co. closed unchanged at NT$103.50, while Largan Precision Co., a supplier of smartphone camera lenses to Apple Inc., rose 1.20 percent to end at NT$2,105.00, bouncing back from recent losses after its disappointing 2021 earnings report.
Financial stocks
"With the tech sector in the doldrums, buying rotated to the financial sector as rate hike hopes cut both ways," Huang said.
"Financial institutions could see their bottom lines benefit from higher interest rates, so there is room for their share prices to go higher."
The financial sector as a whole rose 0.53 percent.
Cathay Financial Holding Co. finished 0.60 percent higher at NT$66.90, Fubon Financial Holding Co. gained 0.63 percent to end at NT$79.40, and China Development Financial Holding Co. added 1.06 percent to close at NT$19.10.
Also, SinoPac Financial Holding Co. rose 2.40 percent to end at NT$17.10.
Oil prices' impact, upcoming Fed meeting
Elsewhere, select petrochemical stocks moved higher as crude oil prices rose overnight, Huang said.
Among them, Formosa Petrochemical Corp. gained 0.72 percent to close at NT$98.00, and Formosa Plastics Corp. gained 0.47 percent to end at NT$106.50.
"Before the Fed meets next week, I think foreign institutional investors will remain cautious, waiting for more clues about when the Fed will start a rate hike cycle and cut its balance sheet," Huang said.
The Fed's two-day policymaking meeting will start on Jan. 25.
According to the Taiwan Stock Exchange, foreign institutional investors sold a net NT$6.86 billion in shares on the market Tuesday.