Over 4,000 Porsche cars sold in Taiwan in 2021, up 4% despite IC shortage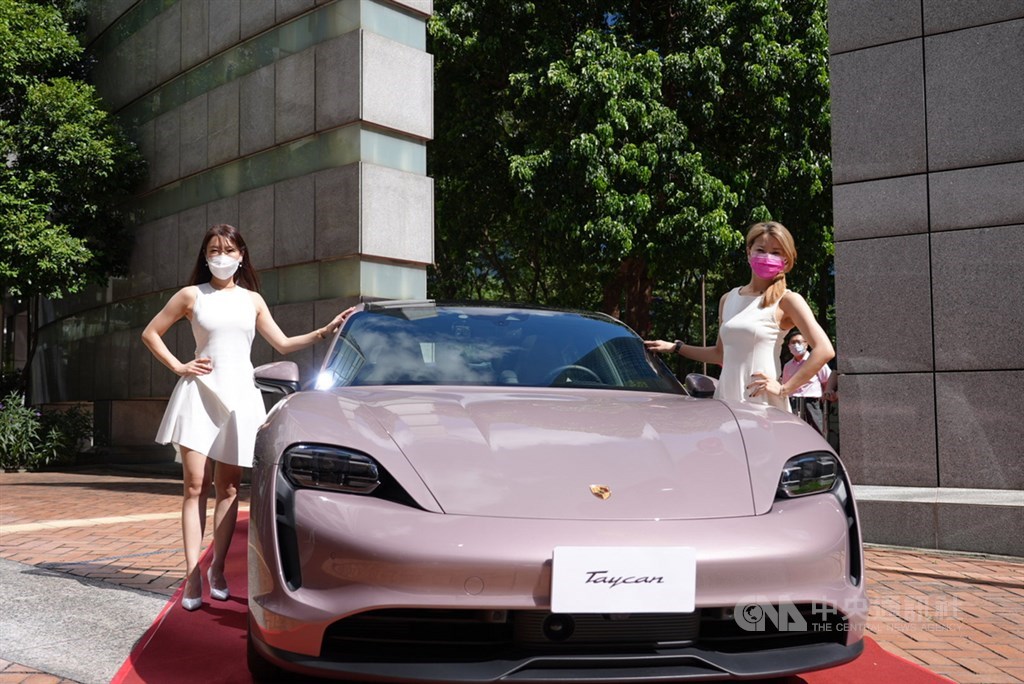 Taipei, Jan. 15 (CNA) More than 4,000 Porsche cars were sold in Taiwan in 2021, up 4 percent from a year earlier, despite the impact on production of a global chip shortage in the auto industry, according to the European luxury car brand.
Porsche Taiwan said the brand sold 4,022 cars in Taiwan, up 4 percent from a year earlier as the company fended off the headwinds resulting from the global chip shortage. The car brand expressed optimism toward the Taiwan market, expecting growth for this year.
Top-selling models
The European brand said its Cayenne and Macan models were in high demand among consumers and remained its top-selling models in 2021.
Meanwhile, the Taycan model - which, at its cheapest, would cost the average worker in Taiwan over three years' income - also received a warm welcome, selling more than 800 units in the local market last year.
Commenting on its sales, Mathisa Busse, head of Porsche Taiwan, said in addition to the chip shortage, Taiwan's Level 3 alert due to an outbreak of domestically transmitted COVID-19 cases in mid-May capped business activity, but added that the European carmaker still enjoyed growth in the local market.
Busse said the sales data showed Taiwan had the potential to grow and prompted Porsche to think positively about the current year.
Sales growth in Taiwan, however, still lagged behind Porche's global figures in 2021.
Worldwide, Porsche sold a record high of 301,915 units in 2021, up 11 percent from a year earlier with the United States the largest market, where a total of 70,025 cars were sold, up 22 percent from a year earlier, according to the European carmaker.
Porsche's sales growth in Taiwan outperformed all of its competitors in the local market as a whole.
Total car sales in 2021
In 2021, the total car sales in Taiwan hit about 449,859 units, down 1.7 percent from a year earlier, according to statistics compiled by local transportation authorities.
The 2021 sales were the second-highest in 16 years after 457,453 units sold a year earlier, but the latest annual sales figure came slightly short of an earlier market expectation of about 450,000 units.
In Taiwan, the Ministry of Transportation and Communications calculates a sale at the time a car is delivered and given a license plate, rather than when a sales contract is signed.
Toyota remained the top seller in Taiwan for the 20th consecutive year in 2021 after selling 146,687 units, including Lexus cars, on the back of a strong showing of the Corolla Cross model, which was the first sports utility vehicle model in Taiwan to post an annual sale of more than 40,000 units, the data showed.
Ford came in second with sales of 30,377 units with the Focus series in focus, ahead of Honda (28,533 units), Nissan (28,049 units), and Mercedes Benz (27,879 units) in 2021, the data indicated.
In December alone, Toyota sold 12,542 units, including Lexus cars, as the largest car vendor in Taiwan, taking a 31.1 percent share in the local market, after car sales in Taiwan totaled 40,307 units, down 11.42 percent from a year earlier due to a decline in imported cars caused by a chip shortage, according to the data.