Taiwan shares end lower on profit taking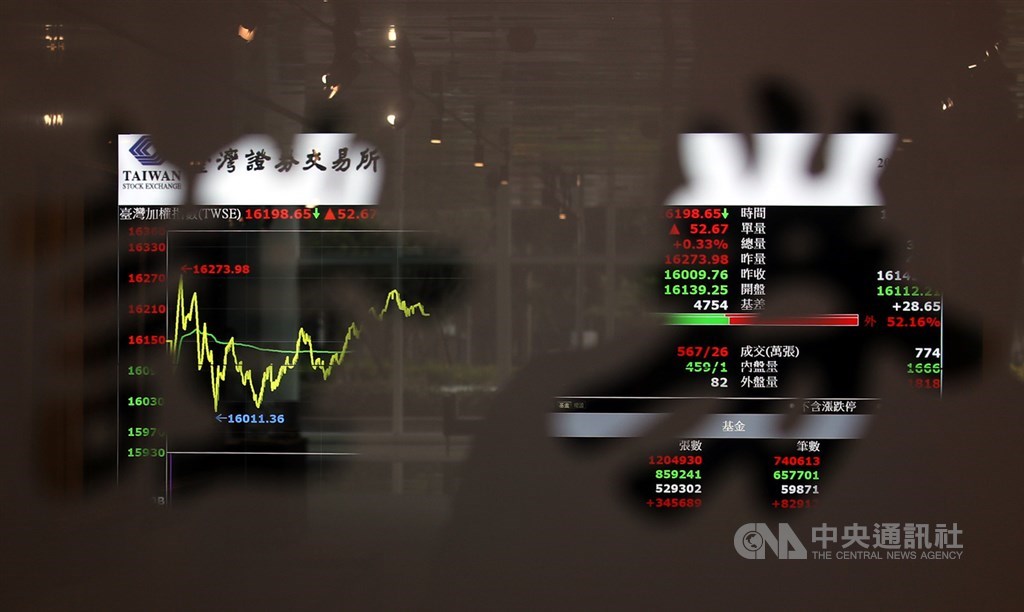 Taipei, Oct. 20 (CNA) Shares in Taiwan closed lower Wednesday as investors took advantage of the initial upturn to lock in profits, sending the main board lower ahead of stiff technical resistance at around 17,000 points, dealers said.
The bellwether electronics sector led the broader market in giving up earlier losses with large cap stocks in focus, while selling took place with most old economy and financial stocks with the exception of select stocks in the shipping and textile sectors, they said.
The Taiex, the weighted index on the Taiwan Stock Exchange (TWSE), ended down 12.85 points, or 0.08 percent, at 16,887.82 after moving between 16,855.81 and 16,973.86. Turnover totaled NT$265.24 billion (US$9.52 billion).
The market opened up 0.21 percent and soon rose to the day's high in the wake of an overnight 0.56 percent increase posted by the Dow Jones Industrial Average and a 0.71 percent rise in the tech-heavy Nasdaq index, which gave a boost to the local electronics sector in the early morning session, dealers said.
With the Taiex moving closer to 17,000 points, investors shifted to the sell side and cut their holdings in semiconductor heavyweights, in particular contract chipmaker Taiwan Semiconductor Manufacturing Co. (TSMC), to push the main board down into negative territory by the end of the session, they said.
"There have been high technical hurdles ahead of the 60-day moving average of around 17,077 points and it was not surprising that the Taiex changed course to move lower after the initial upturn," Cathay Futures Consulting analyst Tsai Ming-han (蔡明翰) said.
"Turnover remained thin as many investors appeared reluctant to chase prices despite the earlier gains amid fears over rising interest rates on the U.S. market," Tsai said, referring to the benchmark 10-year U.S. treasury yield, which surpassed 1.6 percent overnight.
Higher interest rates have made tech stocks look less attractive so investors in Taiwan rushed to lock in their profits for large cap stocks such as TSMC, dealers said.
TSMC, the most heavily weighted stock in the local market, lost 0.33 percent to close at NT$598.00 after coming down from a high of NT$604.00. Led by TSMC, the electronics index ended down 0.09 percent at 802.65 after hitting 807.77.
"Due to the light turnover, it was unlikely that tech heavyweights would make a breakthrough," Tsai said. "For TSMC, it seems hard for its shares to end above the NT$600.00 ceiling anytime soon."
Other large cap semiconductor stocks also came under pressure with United Microelectronics Corp., a smaller contract chipmaker, falling 0.51 percent to close at NT$58.70, and integrated circuit packaging and testing services provider ASE Technology Holding Co. declining 0.71 percent to end at NT$97.70.
Bucking the downturn, smartphone IC designer MediaTek Inc. rose 0.33 percent to close at NT$901.00.
"The silver lining was that rotational buying featured select electronics component stocks which lent some support to the entire sector," Tsai said.
Among them, Yageo Corp., the world's third-largest multi-layer ceramic capacitor (MLCC) supplier, rose 1.67 percent to end at NT$426.00, and printed circuit board maker Unimicron Technology Corp. gained 2.83 percent to close at NT$145.50.
In addition, smartphone brand HTC Corp. bounced back from a recent low, surging 10 percent, the maximum daily increase, to end at NT$43.90 after the company unveiled portable Vive Flow immersive glasses earlier this week.
Dealers said most old economy stocks moved into the doldrums in line with the broader market but the textile sector outperformed the main board on the back of higher crude oil prices.
The textile sector rose 0.40 percent with Far Eastern New Century Corp. increasing 0.34 percent to close at NT$29.80, and Nan Yang Dyeing & Finishing Co. rising 0.58 percent to end at NT$34.80.
Rising crude prices also boosted select petrochemical stocks. Among them, Nan Ya Plastics Corp. rose 0.22 percent to close at NT$89.10, and Formosa Chemicals & Fibre Corp. added 0.24 percent to end at NT$82.20. However, Formosa Plastics Corp. fell 0.44 percent to close at NT$113.50.
Meanwhile, shipping stocks also staged a technical rebound with Yang Ming Marine Transport Corp. rising 0.34 percent to close at NT$88.30, and Wan Hai Lines Ltd. increasing 0.95 percent to end at NT$159.50.
In the financial sector, Fubon Financial Holding Co. fell 0.67 percent to end at NT$74.30 after the company confirmed that its chairman Richard Tsai (蔡明興) had tested positive for COVID-19 after returning from overseas. However, the company said the chairman was in good condition and the company's operations remained normal.
"I expect the Taiex to continue to move in a narrow range ahead of 17,000 points," analyst Tsai Ming-han said. "In addition to worries over higher interest rates, market sentiment remains cautious about the ongoing earnings season in Taiwan and in the U.S."
According to the TWSE, foreign institutional investors sold a net NT$4.92 billion worth of shares on the main board Wednesday.