Taiwan shares end down below 16,400 points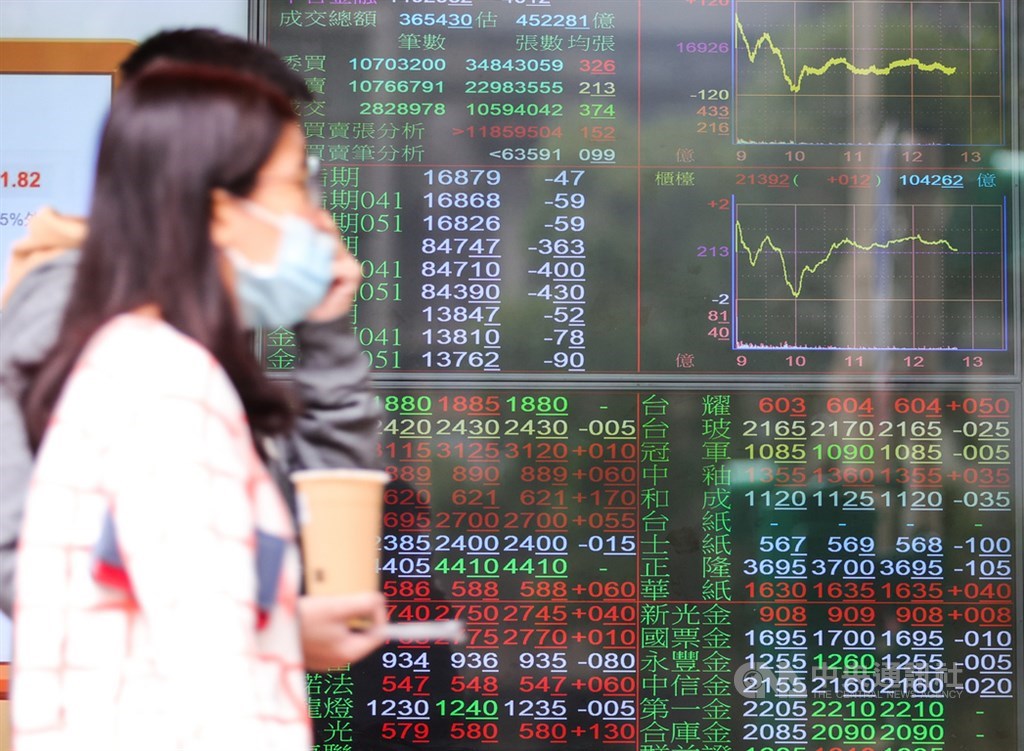 Taipei, Oct. 13 (CNA) Shares in Taiwan moved lower to close below the 16,400 point mark Wednesday in the wake of further losses on U.S. markets overnight, dealers said.
The bellwether electronics sector led the downturn on the local main board with investors concerned rising interest rates will make these stocks look less attractive. Selling was also seen among old economy stocks despite a rebound by select shipping heavyweights, dealers said.
The Taiex, the weighted index on the Taiwan Stock Exchange (TWSE), ended down 114.85 points, or 0.70 percent, at 16,347.99, after moving between 16,328.47 and 16,543.33. Turnover totaled NT$257.17 billion (US$9.14 billion).
The market opened up 0.11 percent and moved to the day's high by rising about 80 points in the early morning session on a mild technical rebound from a session earlier, but selling soon followed due to losses on the U.S. markets, where the Dow Jones Industrial Average lost 0.3 percent Tuesday, dealers said.
Large cap tech stocks, in particular in the semiconductor industry came under heavy pressure for the rest of the session in the run up to an investor conference being held by contract chipmaker Taiwan Semiconductor Manufacturing Co. (TSMC) on Thursday, dealers added.
"After recent losses on the main board, market sentiment has been hurt badly," Mega International Investment Services Corp. analyst Alex Huang said. "Even though the Taiex staged a rebound initially, the efforts were eventually dropped, in particular after investors saw the U.S. losses overnight."
The Taiex fell for the third consecutive session Wednesday after losing 1.50 percent in the previous two sessions. Before Wednesday, the index had shed 2.79 percent since the beginning of this month.
"Concerns over inflation have been growing on U.S. markets with the benchmark 10-year treasury yield on the rise," Huang said. "Selling in the tech sector today showed fears that tech stocks will lose their luster due to rising interest rates."
The electronics sector closed down 1.00 percent with the semiconductor sub-index down 1.19 percent after TSMC, the most heavily weighted stock on the local market, lost 0.70 percent to end at NT$571.00.
"Recent selling has seen TSMC's valuation fall to a relatively low level but the stock still failed to attract bargain hunters today as market sentiment is now so weak," Huang said, referring to an intraday high of NT$679.00 seen on Jan. 21.
"I expect TSMC will give strong guidance for the fourth quarter at Thursday's investor conference as it just raised product prices (in August)," Huang said.
Among other semiconductor stocks, United Microelectronics Corp., a smaller contract chipmaker, shed 3.59 percent to close at NT$56.40, integrated circuit designer MediaTek Inc. lost 2.82 percent to end at NT$862.00, and IC packaging and testing services provider ASE Technology Holding Co. dropped 1.18 percent to close at NT$92.40.
Bucking the downturn, PC brand Asustek Computer Inc. rose 1.63 percent to close at NT$343.50, and contract notebook computer maker Quanta Computer Inc. gained 0.65 percent to end at NT$77.40.
Also in the electronics sector, iPhone assembler Hon Hai Precision Industry Co. rose 0.48 percent to close at NT$105.50, while Largan Precision Co., a smartphone camera lenses maker for Apple Inc., ended unchanged at NT$2,050.00.
"Raw material stocks largely moved lower despite rising product prices, which provided further evidence of fragile market sentiment," Huang said.
Among raw material stocks, Tung Ho Textile Co. lost 4.50 percent to close at NT$15.70, and Tainan Spinning Co. fell 2.11 percent to end at NT$20.85, while textile brand Far Eastern New Century Corp. closed unchanged at NT$29.25.
While crude oil prices continued to move higher, Formosa Plastics Corp. lost 1.70 percent to close at NT$115.50, and Formosa Chemicals & Fibre Corp. fell 0.84 percent to end at NT$82.40. In contrast, Formosa Petrochemical Corp. gained 0.98 percent to close at NT$103.00.
Large container cargo shipping stocks bounced back from Tuesday's heavy losses with Evergreen Marine Corp. up 2.65 percent to end at NT$92.90, Yang Ming Marine Transport Corp. up 1.26 percent to close at NT$88.50, and Wan Hai Lines Ltd. up 0.98 percent to end at NT$155.00.
"The earnings season in the U.S. will kick off later today and their third quarter results and fourth quarter outlook could move the global markets," Huang said.
"In addition, investors should pay close attention to the U.S. consumer price index for September due later today for more clues about inflationary pressures and possible moves by the U.S. Federal Reserve to adjust its monetary policy."
According to the TWSE, foreign institutional investors sold a net NT$8.53 billion worth of shares on the main board.