Singapore Airlines resumes Taipei-Los Angeles flight services
Taipei, Aug. 25 (CNA) Singapore Airlines (SIA) resumed non-stop flight service between Taipei and Los Angeles on Wednesday, after a 13-year hiatus.
The A350-900 aircraft that was about to start on the route flew into Taiwan from Singapore earlier Wednesday and received a water salute at Taoyuan International Airport when it landed.
It was the first time in months that such a ceremony was held at Taiwan's main airport, and many of the ground staff members seemed excited at the event.
A few hours later, at 5:50 p.m., Singapore Airlines Flight SQ36 departed Taiwan for Los Angeles, for the first time in 13 years, and was scheduled to arrive in Los Angeles at 3:20 p.m. Wednesday (California time).
Chua Kian Hwa (蔡建華), SIA General Manager in Taiwan, said the launch of the non-stop services between Taipei and Los Angeles was an indication of the carrier's commitment to expanding its network of Taiwan routes.
"We will remain nimble and flexible during this time and be alert to all possible revenue and growth opportunities in passenger and cargo," he said.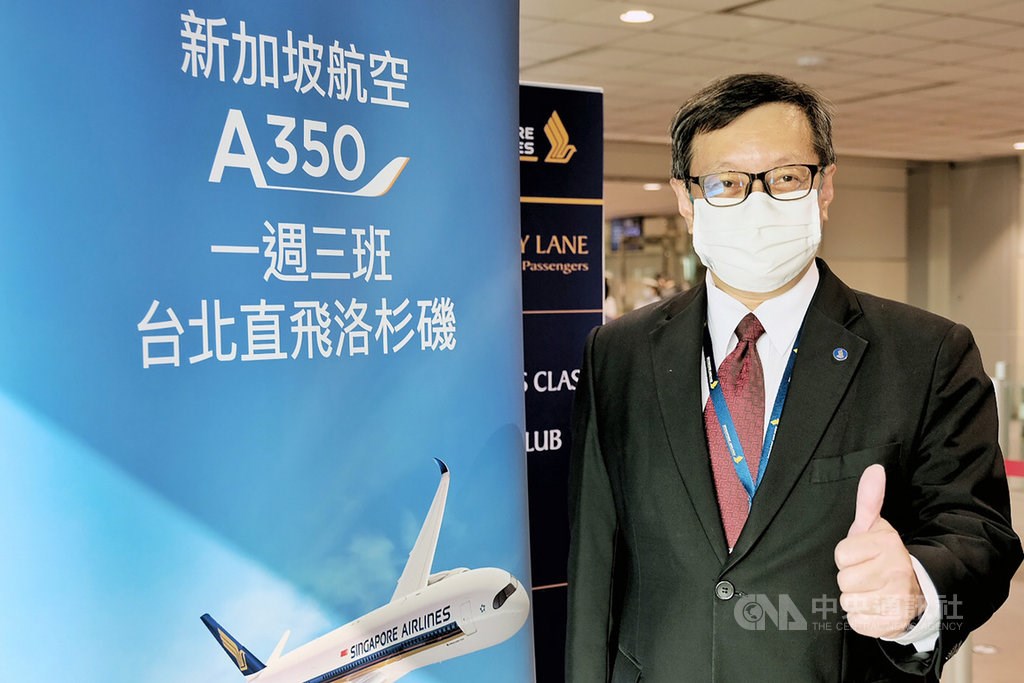 The airline operates seven flights per week between Singapore and Taipei, and three of those will now go to Los Angeles, on Wednesdays, Fridays, and Sundays.
The A350-900 aircraft being used on the Taipei-Los Angeles route has 42 seats in business class, 24 in premium economy, and 187 in economy.
Due to COVID-19 restrictions, however, the number of passengers on the Taipei-Los Angeles flights is likely to be limited, as in-transit travel is not permitted through Taiwan.
Passengers arriving on the flights from Singapore will be those staying in Taiwan, while the flights to Los Angles will be carrying only travelers between Taiwan and United States.
On the return flight, the airline will depart Los Angeles at 12:40 a.m. every Monday, Thursday and Saturday and arrive in Taipei at 6:10 a.m. the next day.
Known for its high-quality flight services, SIA is rated as one of the world best carriers. In October 2008, it suspended its Taipei-Los Angeles service, citing flight route adjustments.