Taiwan shares surge; tech, shipping stocks attract strong interest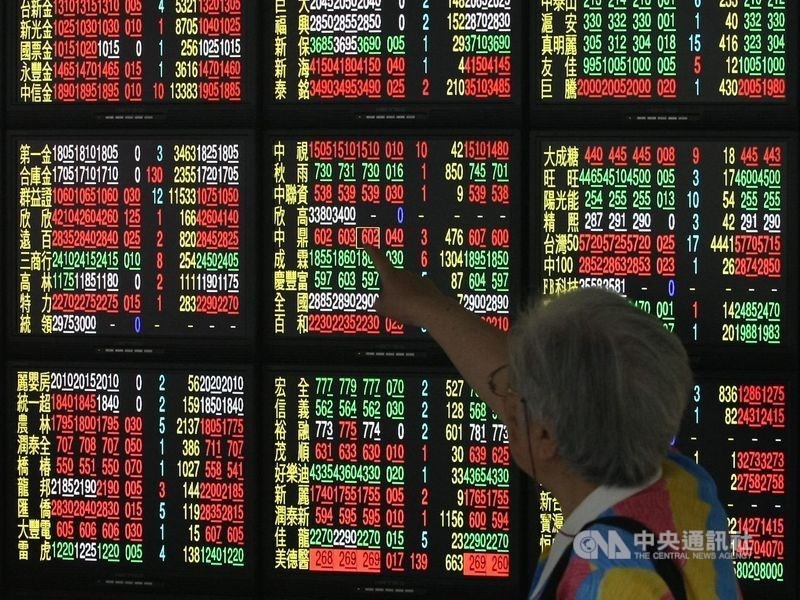 Taipei, Aug. 2 (CNA) Shares in Taiwan soared by more than a percent Monday as the electronics sector staged a technical rebound, led by large cap semiconductor stocks, dealers said.
Shipping stocks emerged from their recent doldrums and buying also spread to other old economy stocks, in particular in the petrochemical sector, lending additional support to the broader market, dealers said.
The Taiex, the Taiwan Stock Exchange's (TWSE) benchmark weighted index, ended up 255.87 points, or 1.48 percent, at the day's high of 17,503.28, off a low of 17,231.22. Turnover totaled NT$436 billion (US$15.59 billion).
The market opened up slightly higher, as large semiconductor stocks drew interest following a 0.70 percent rise in the Philadelphia Semiconductor Index on Friday, dealers said.
But with the Taiex slipping to the day's low at around 10:15 a.m. on falls in old economy stocks, bargain hunters turned active to pick up shipping stocks, and momentum in the tech sector accelerated, eventually pushing the Taiex above the 17,500-point mark, dealers said.
The transportation sector, where many large shipping stocks are traded, closed up 4.12 percent at 269.39, while the bellwether electronics sector ended up 1.34 percent, including a 1.77 percent rise in the semiconductor sub-index.
"The early slide that sent the Taiex closer to the 60-day moving average of around 17,200 triggered bargain hunting, in particular in shipping stocks," Mega International Investment Services Corp. analyst Alex Huang said.
Among the gaining container cargo shipping stocks, Evergreen Marine Corp. rose 7.20 percent to close at NT$141.50 after hitting a low of NT$123.50.
Rivals Wan Hai Lines Ltd. gained 3.80 percent to end at NT$232.00, and Yang Ming Marine Transport Corp. added 2.56 percent to close at NT$120.00.
Such buying spread to bulk cargo shipping stocks with U-Ming Marine Transport Corp. closing 3.04 percent higher at NT$64.50.
"These shipping stocks are on a cyclical recovery, with freight rates on the rise," Huang said. "Their recent volatility was technical in nature, and because they are mainly held by retail investors, their volatility came as little surprise."
Huang said the shipping industry's fundamentals are improving, and Evergreen Marine, Yang Ming Marine and Wan Hai Lines should rake in NT$34-NT$35 in earnings per share this year.
The petrochemical sector was also boosted by bargain hunting, up 1.75 percent, on hopes that a spike in international crude oil prices will strengthen their bottom lines this year, dealers said.
Formosa Plastics Corp. rose 2.20 percent to close at NT$102.00, and Formosa Petrochemical Corp. gained 2.47 percent to end at NT$99.70.
"Throughout the trading session, semiconductor stocks largely benefited from the upturn of the Philadelphia Semiconductor Index," Huang said.
"In addition to Taiwan Semiconductor Manufacturing Co. (TSMC), today's buying focused on integrated circuit designers as the industry enters its traditional peak season."
TSMC, the most heavily weighted stock in the local market, rose 1.72 percent to close at NT$589.00 as investors shifted their funds from United Microelectronics Corp. (UMC) to the world's largest contract chipmaker in the afternoon.
Bucking the upturn, UMC, a smaller contract chipmaker, lost 0.52 percent to end at NT$57.50, off a high of 59.70.
IC designer MediaTek Inc. rose 2.64 percent to close at NT$934.00, and Novatek Microelectronics Corp., a supplier of drive ICs for flat panel use, soared 5.87 percent to end at NT$541.00.
Also in the electronics sector, iPhone assembler Hon Hai Precision Industry Co. rose 2.73 percent to close at NT$113.00, while Largan Precision Co., a supplier of smartphone camera lenses to Apple Inc., fell 0.34 percent to end at NT$2,920.00.
"If tech stocks on the U.S. markets continue the uptrend, local counterparts could follow and the Taiex could challenge 17,629 points, the 20-day moving average, soon," Huang said.
According to the TWSE, foreign institutional investors bought a net NT$23.97 billion in shares Monday.