Taiwan a 'critical,' 'reliable' partner in global economy: AIT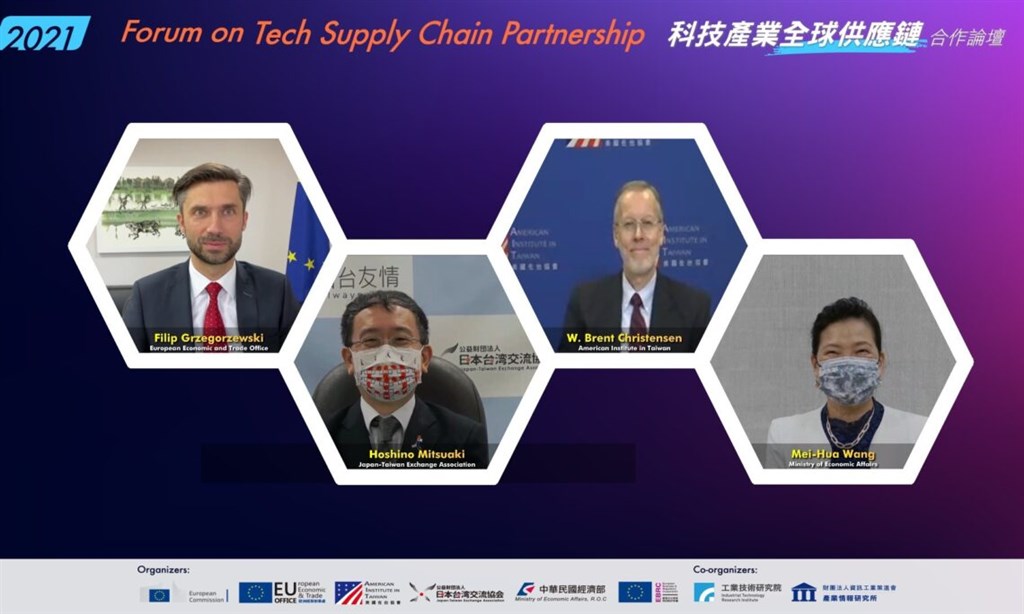 Taipei, June 22 (CNA) Brent Christensen, director of the American Institute in Taiwan (AIT), Washington's de facto embassy in Taipei, on Tuesday called Taiwan a "critical" and reliable" partner in the global economy and said he expected more bilateral cooperation.
Addressing the virtual Forum on Tech Supply Chain Partnership for 2021 in Taipei, Christensen said since first visiting Taiwan four decades ago he has witnessed first hand how the country has successfully built information communications technology, and set up strong industry clusters and complete ICT value chains.
From silicon wafers and semiconductors to components in the latest consumer electronic gadgets, Taiwan has become the central node for global trade in ICT products with the country's semiconductor industry "the envy of the world," he added.
"As we evaluate what changes to global supply chains are necessary, one thing is certain: Taiwan has demonstrated time and again that it is a reliable partner and a critical player for moving towards a more sustainable global economy," the AIT director said.
Praising Taiwan's accomplishment in high tech development, Christensen said it was no wonder that the country's tech strength continued to attract investment from such American heavyweights as Microsoft Corp., Google Corp., Micron Technology Inc. and Intel Corp.
"Whether as a provider of trusted medical equipment or as a supplier of semiconductors for automotive assembly lines, Taiwan is an indispensable partner," Christensen said. "Through all of these efforts, Taiwan companies continue to play a pivotal role in promoting and implementing global supply chain resiliency and creating new supply chains for the future."
At a critical time for Taiwan, which faces a surge in indigenous COVID-19 cases, Christensen said the U.S. was delighted to donate 2.5 million doses of the Moderna vaccine, which arrived in Taiwan on Sunday as both sides have long cooperated in pandemic prevention work.
Also speaking at the forum, Filip Grzegorzewski, chief of the European Economic and Trade Office in Taiwan, which represents 15 EU countries, said the COVAX program is a good example of how to provide COVID-19 vaccines to countries in need based on global cooperation.
Taiwan has signed contracts to purchase nearly 20 million vaccine doses from abroad, including 5.05 million doses of Moderna, 10 million of AstraZeneca, and 4.76 million doses of unspecified brands through the COVAX program.
Like the vaccine sharing mechanism, Grzegorzewski said, a strong global supply chain also needs cooperation worldwide instead of unilateralism.
In addition to the vaccines donated by the U.S., Japan has also donated 1.24 million doses of AstraZeneca.
At the forum, Hoshino Mitsuaki, deputy director of the Japan-Taiwan Exchange Association (JTEA), said building a strong global supply chain has become the top priority of many countries, and his country will work closely with like-minded partners including the U.S., Taiwan and Europe to maintain a stable supply chain.
Expressing gratitude to the U.S., the EU and Japan for their vaccine supplies, Economics Minister Wang Mei-hua (王美花) said that Taiwan looks forward to cooperating with these partners to build a safe supply chain.
Wang said Taiwan is able to protect trade secrets and has many flexible small and medium sized enterprises that can respond quickly to the changing markets.
In addition, Wang said, Taiwan's high tech industry has been highly competitive in the global market and Taiwanese companies have extended their global reach.
She said Taiwan and the U.S. have become good partners in the global semiconductor ecosystem, with many Taiwanese companies importing production equipment from the U.S. and many American firms buying chips from their Taiwanese suppliers.
Wang said Taiwan and the EU have long forged close ties in machinery manufacturing, and in recent years both sides have also made major efforts in green energy development, adding she looks forward to more cooperation. As for Japan, Wang said, the country has become one of the most important sources for tech materials in Taiwan, with many Japanese semiconductor raw materials firms coming here to invest.
In addition, Wang said, Taiwan and Japan have also worked together to develop small base stations for 5G applications.