Taiwan shares end up as TSMC breaches NT$600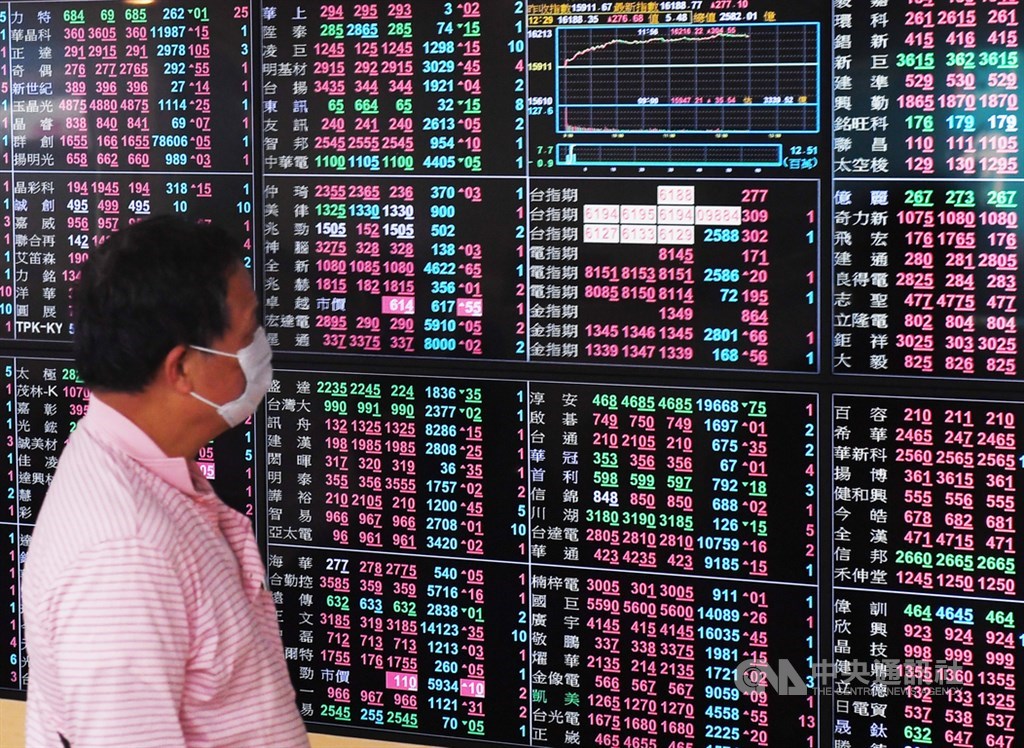 Taipei, June 11 (CNA) Shares in Taiwan moved higher Friday, closing above 17,200 points, as investors continued to pick up large-cap tech stocks, and Taiwan Semiconductor Manufacturing Co. topped NT$600.00 amid optimism toward its business prospects, dealers said.
The old economy sector, meanwhile, appeared mixed, and buying rotated to shipping stocks on continued shortage of cargo services, while steel stocks steamed ahead on higher product prices, dealers said.
The Taiex, the weighted index on the Taiwan Stock Exchange (TWSE), ended up 54.3 points, or 0.32 percent, at 17,213.52, after moving between 17,193.61 and 17,278.55. Turnover totaled NT$407.77 billion (US$14.77 billion).
The market opened up 0.24 percent on follow-through buying from the previous day, when the Taiex rose 1.14 percent, and the momentum continued until the end of the session, dealers said.
Investors took cues from a rally Thursday on the United States markets, where the S&P 50 index hit a record high despite a 5 percent increase in the U.S.' latest consumer price index, dealers said.
"Although the May CPI soared, many investors think it will be short-lived and that the U.S. Federal Reserve will not tighten its monetary policy anytime soon," Taishin Securities Investment Advisory analyst Tony Huang said. "So the U.S. markets rallied overnight, and buying followed on the Taiex."
He noted that contract chipmaker TSMC continued to lead the bellwether electronics sector, rising past NT$600.00 and becoming technically healthier.
"As semiconductor companies will enter their peak season, optimism toward their business has been on the rise," Huang said.
TSMC, the most heavily weighted stock on the local market, rose 0.50 percent to close at NT$602.00, off a high of NT$603. 00.
Led by TSMC, the electronics sector and the semiconductor sub-index rose 0.30 percent and 0.31 percent, respectively.
Among other semiconductor stocks, chipmaker United Microelectronics Corp. gained 0.58 percent to end at NT$51.80, and memory chip supplier Winbond Electronics Corp. rose 2.09 percent to close at NT$34.20.
Integrated circuit packaging and testing services provider King Yuan Electronics Co., which has been hit by a recent COVID-19 outbreak among its workers, ended up 1.78 percent at NT$42.90.
Also in the electronics sector, iPhone assembler Hon Hai Precision Industry Co. rose 2.71 percent to close at NT$113.50, while Largan Precision Co., a supplier of smartphone camera lenses to Apple Inc., lost 0.33 percent to end at NT$3,060.00.
"Today's gains remained liquidity driven, so buying rotated to select old economy stocks such as those in the shipping and steel industry, giving an additional boost to the broader market," Huang said.
In the shipping industry, which has benefited from higher freight rates amid a supply shortage, Wan Hai Lines Ltd. soared by the daily maximum 10 percent to close at NT$174.50, Evergreen Marine Corp. rose 9.25 percent to end at NT$124.00, and Yang Ming Marine Transport Corp. gained 4.98 percent to finish at NT$116.00.
Among the steel stocks, Chun Yuan Steel Industry Co. rose 4.31 percent to end at NT$21.80, and Tung Ho Steel Enterprise Corp. closed up 1.26 percent at NT$48.40, while China Steel Corp., the largest steel maker in Taiwan, ended unchanged at NT$36.15.
Elsewhere, Medigen Vaccine Biologics Corp. jumped 10 percent for the third consecutive session to close at NT$275.50, after it announced Thursday that it would seek Emergency Use Authorization (EUA) for its COVID-19 vaccine candidate based on its promising results in Phase 2 clinical trials.
Its parent company, Medigen Biotechnology Corp., also soared 10 percent to end at NT$86.60, boosted by that positive lead.
"Despite the significant gains, investors should stay alert while trading biotech stocks, which are usually volatile," Huang said.
Adimmune Corp., another vaccine developer, failed to catch the upturn and fell 3.65 percent to close at NT$55.40, off a high of NT$58.70.
"Amid ample liquidity, the Taiex is likely to see more gains in the short term, with the nearest technical resistance expected at around 17,500 points," Huang said.
According to the TWSE, foreign institutional investors bought a net NT$10.66 billion worth of shares Friday on the main board, which will be closed June 14 for the Dragon Boat Festival holiday.