Taiwan shares rebound led by tech stocks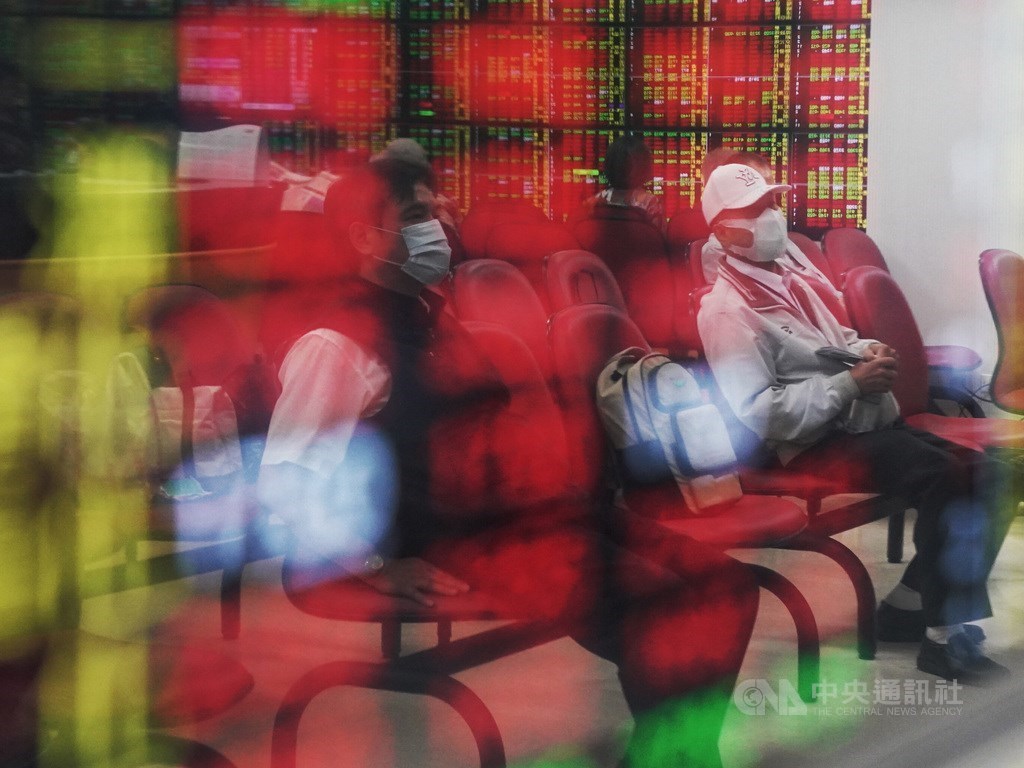 Taipei, May 14 (CNA) Taiwan shares staged a technical rebound Friday morning, as bargain hunters took advantage of the heavy losses in the previous three sessions to pick up large-cap tech stocks, dealers said.
The gains, however, were capped ahead of 16,000 points, as market sentiment remained haunted by worry over the growing number of domestic COVID-19 cases, dealers said.
As of 10:10 a.m., the Taiex, the weighted index on the Taiwan Stock Exchange (TWSE), was up 255.32 points, or 1.63 percent, at 15,925.42, after an earlier high of 16,075.48. The bellwether electronics sector had gained 2.19 percent.
The market opened 0.95 percent higher in the wake of a rally Thursday on the U.S. markets, where the Dow Jones Industrial Average rose 1.29 percent. The buying on the Taiex accelerated until it breached 16,000 points at one point, dealers said. "After the tumble in the last three sessions, it was not surprising that the main board staged a technical rebound this morning, particularly after investors here saw the bounce back of the major indexes on the U.S. markets Thursday," equity market analyst Andy Hsu said.
In the previous three sessions, the Taiex had plunged 1,565.51 points, or 9.09 percent, as many large tech stocks took a beating on massive profit-taking.
Hsu said the buying Friday morning was also sparked by President Tsai Ing-wen's (蔡英文) statement the previous day that the government will try its best to stabilize the financial markets, amid a rise in domestic COVID-19 cases and after a major power outage earlier in the day that affected many households in Taiwan.
"Today, market attention has been focused on the tech sector, in particular semiconductor stocks, after a 1.50 percent rebound on the Philadelphia Semiconductor Index," Hsu said.
In the semiconductor sector on the Taiex, contract chipmaker Taiwan Semiconductor Manufacturing Co. had climbed 2.01 percent to NT$558.00 as of 10:10 a.m., after its American depositary receipts (ADRs) gained 0.50 percent Thursday,
Led by TSMC, the most heavily weighted stock on the local market, the semiconductor sub-index was up 2.34 percent.
Buying was also seen among other semiconductor stocks like United Microelectronics Corp, which was up 1.68 percent at NT$48.35, after a 2.65 percent increase in its ADRs overnight. Integrated circuit designer MediaTek Inc. had risen 3.55 percent to 904.00.
In other sectors, Formosa Plastics Corp. was up 0.74 percent at NT$95.00, and Nan Ya Plastics Corp. had risen 0.89 percent to NT$79.70, while China Steel Corp. had dropped 3.69 percent to NT$35.25, as of 10:10 a.m.
"Judging from today's movement, it seems that the local main board is still facing stiff technical resistance ahead of 16,000 points, as investors are nervous about the spike in domestic COVID-19 cases," Hsu said.
"Furthermore, there are still fears over more volatility of tech stocks on the U.S. markets," he said. "If tech stocks in the U.S. drop, their Taiwanese counterparts will follow."