CORONAVIRUS
/
CAL estimates limited impact from Taiwan's stricter COVID-19 protocols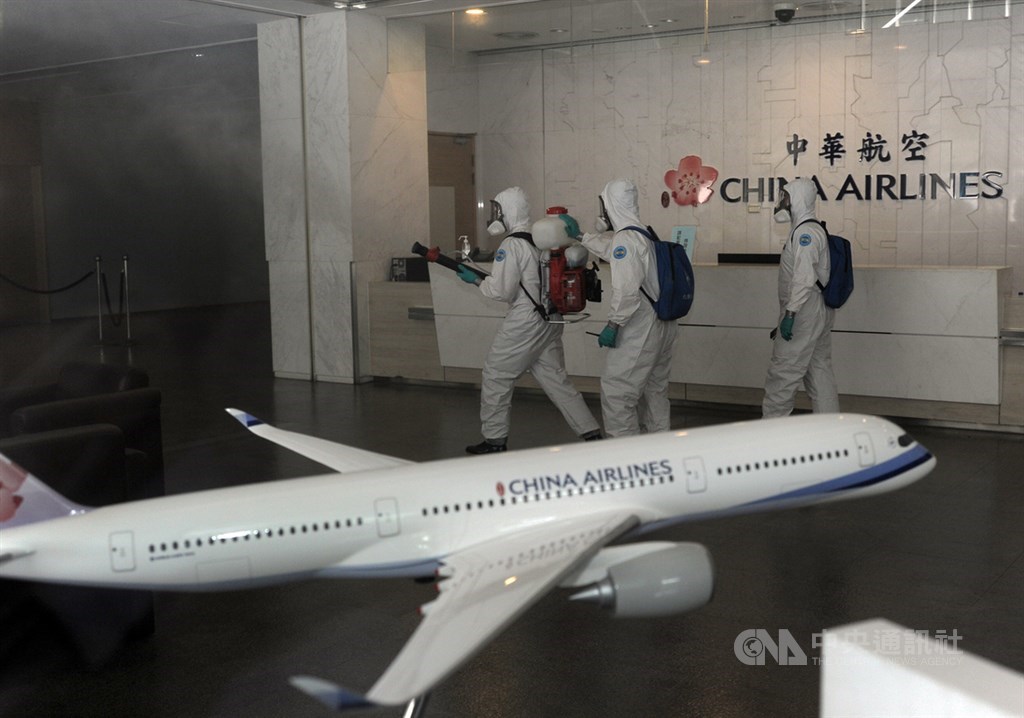 Taipei, May 11 (CNA) China Airlines (CAL) said Tuesday that only about 10 percent of its cargo services will be affected by a government order to bring home all its pilots for a 14-day quarantine period, amid a COVID-19 outbreak among its flight crews.
In compliance with the Central Epidemic Command Center's (CECC) order on Monday, CAL said, its flight crews will be recalled and those who complete the required 14-day quarantine and test negative for COVID-19 will be deemed as "safe" and will be separated from the others.
Under the CECC's new regulations, pilots arriving in Taiwan are not allowed to visit their family members or go to public places unless they complete the 14-day quarantine and test negative for COVID-19, but they will still be allowed to work.
However, while the pilots who do not meet those conditions will be deemed as posing a "risk," they will not be permitted to work with other crew members in the "safe" group, the CECC said.
Initially, the new protocols will result in an estimated 10 percent cut in cargo services, CAL said, adding that it will make every effort to ensure that Taiwan's exports of machinery, semiconductor chips and online purchases are delivered on time.
This means adjustments will have to be made to commercial passenger flights, said CLA, one of Taiwan's two major airlines.
The CECC announced the new order Monday, after the number of domestic COVID-19 cases in a cluster involving CAL pilots and workers at an airport hotel rose to 35.
On Tuesday, one new case related to the cluster was reported, involving a Taiwanese woman in her 40s who is a family member of a Taiwanese CAL pilot confirmed with the disease a day earlier.
Meanwhile, Taiwan Semiconductor Manufacturing Company (TSMC), the world's largest foundry chipmaker, and its smaller competitor United Microelectronics Corp. said their shipments are not likely to be significantly affected by CAL's reduced cargo flight capacity.
Advanced Semiconductor Engineering, Inc., a provider of independent semiconductor assembling and test manufacturing services, and Yageo Corp., an electronics component manufacturer, also expressed similar views, when contacted by CNA.
On Tuesday, Premier Su Tseng-chang (蘇貞昌) said the stricter protocols imposed on CAL to contain the domestic COVID-19 cluster will have little impact on the airline's operations.
Speaking to reporters prior to an inspection visit to the CECC, Su urged continued public support for CAL, saying the airline has been doing its best to prop up Taiwan's economy since the COVID-19 pandemic broke out at the end of 2019.
Despite the pandemic, Taiwan's exports have remained strong over the past year, with half of the shipments going by air, and CAL carrying 50 percent of those, Su said.
With the implementation of the new COVID-19 protocols, CAL will be forced to cancel some services for two weeks, mainly its passenger flights, so that it can direct its resources into its cargo flights to maintain the country's exports, Su said.
While the suspension of flights will cut CAL's overall operations by 10-20 percent, the airline will strive to help the country maintain its key role in the global supply chain, Su said.
CAL shares plummeted 7.87 percent on Tuesday to close at NT$16.5 on the Taiwan stock market.
View All