Taiwan shares plunge over 600 points; turnover hits high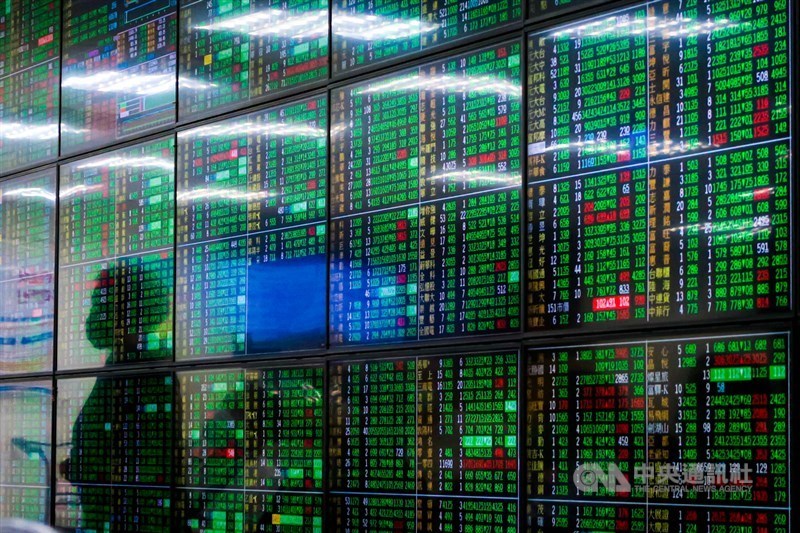 Taipei, May 11 (CNA) Shares in Taiwan took a beating Tuesday, led by the bellwether electronics sector, as selling was sparked by a plunge suffered by tech stocks on United States markets overnight, dealers said.
The heavy losses across the board also reflected cautious market sentiment amid escalating worries over an increase in domestically transmitted COVID-19 cases, which prompted the government to tighten its measures to fend off infections by banning large gatherings, the dealers said.
The Taiex, the weighted index on the Taiwan Stock (TWSE), ended down 652.48 points, or 3.79 percent, at 16,583.13, after moving between 16,460.87 and 17,137.19. Turnover totaled NT$714.84 billion (US$25.65 billion), the highest level in history.
Tuesday's losses in terms of Taiex points were the third steepest-ever, trailing only a plunge of 660.72 points (5.75 percent) seen on Oct. 11, 2018 and a dive of 696.97 points (6.31 percent) seen on Jan. 30, 2020.
The market opened down 0.57 percent and selling escalated, focusing on the electronics sector, sparked by a 2.55 percent plunge on the tech-heavy Nasdaq index and a 4.66 percent dive on the Philadelphia Semiconductor Index on the U.S. markets Monday, the dealers said.
While large tech stocks came under heavy losses, sell-offs were also seen among old economy and financial stocks, which pushed down the Taiex below 16,500 points at one point before some bargain hunters bought into non-tech stocks, helping the broader market recoup part of its losses by the end of the session, they said.
"Amid volatility among tech stocks on the U.S. markets, the local electronics sector followed suit to trend lower," Cathay Futures Consultant analyst Tsai Ming-han (蔡明翰) said. "Today's selling was also increased by worries over the COVID-19 infections in Taiwan on the back of an increase in domestic cases."
On Tuesday, Taiwan reported an additional seven domestic COVID-19 cases, with six of the infection sources remaining unclear. After the market closed, Minister of Health and Welfare Chen Shih-chung (陳時中) admitted that Taiwan has entered a community transmission stage.
"The volatile U.S. markets and worries about Taiwan's COVID-spread prompted many investors to dump their tech stocks, including Taiwan Semiconductor Manufacturing Co. (TSMC), which had gained significantly in recent sessions," Tsai said. "Looking at today's record turnover, the market was hit by panic-led sell-offs."
After its American depositary receipts (ADRs) fell 3.87 percent overnight, TSMC, the most heavily weighted stock in the local market, plunged 3.06 percent on the local main board to close at NT$571.00, pushing down its market capitalization below the NT$15 trillion mark.
Led by TSMC's losses, the electronics sector and the semiconductor sub-index ended down 4.37 percent and 4.13 percent, respectively.
Among other falling semiconductor stocks, United Microelectronics Corp. (UMC), a smaller contract chipmaker, fell 6.67 percent to end at NT$49.00 after its ADRs lost 4.25 percent.
Integrated circuit packaging and testing services provider ASE Technology Holding Co. lost 5.91 percent to close at NT$103.50 after a 5.49 percent fall in its ADRs.
In addition, IC designer MediaTek Inc. plunged 6.95 percent to end at NT$911.00 after a Hong Kong-based research institute downgraded its recommendation on the stock.
Also in the electronics sector, iPhone assembler Hon Hai Precision Industry Co. lost 5.31 percent to close at NT$107.00 and Largan Precision Co., a supplier of smartphone camera lenses to Apple Inc., fell 3.79 percent to end at NT$2,790.00.
"Select old economy stocks recouped part of their earlier losses on bargain hunting, in particular in the late trading session, as many investors shifted their attention from the hard-hit tech sector," Tsai said. "They were betting on rising product prices as global demand recovers."
Among the old economy stocks which came off an earlier low, Formosa Plastics Corp. fell 3.30 percent to close at NT$102.50 after hitting NT$100.50 and Nan Ya Plastics Corp. lost 3.48 percent to end at NT$85.90, off a low of NT$85.20.
In addition, China Steel Corp., the largest steel maker in Taiwan, lost 6.67 percent to close at NT$42.00 off a low of NT$40.55, while rival Yieh Hsing Enterprise Co. rose 7.39 percent to end at NT$18.90.
In the shipping sector, which saw rising freight rates, Evergreen Marine Corp. rose 2.25 percent to close at NT$95.60, while Yang Ming Marine Transport Corp. fell 2.89 percent to end at NT$97.60 off a low of NT$91.30.
"Judging from the movement of tech stocks on the U.S, markets, I expect more volatility, so the local electronics sector could continue to move in consolidation mode, with the Taiex possibly moving around the 16,550-point mark, the 60-day moving average in the short term," Tsai said.
According to the TWSE, foreign institutional investors sold a net NT$42.39 billion-worth of shares on the main board Tuesday.