Taiwan shares end below 17,000-point mark off early low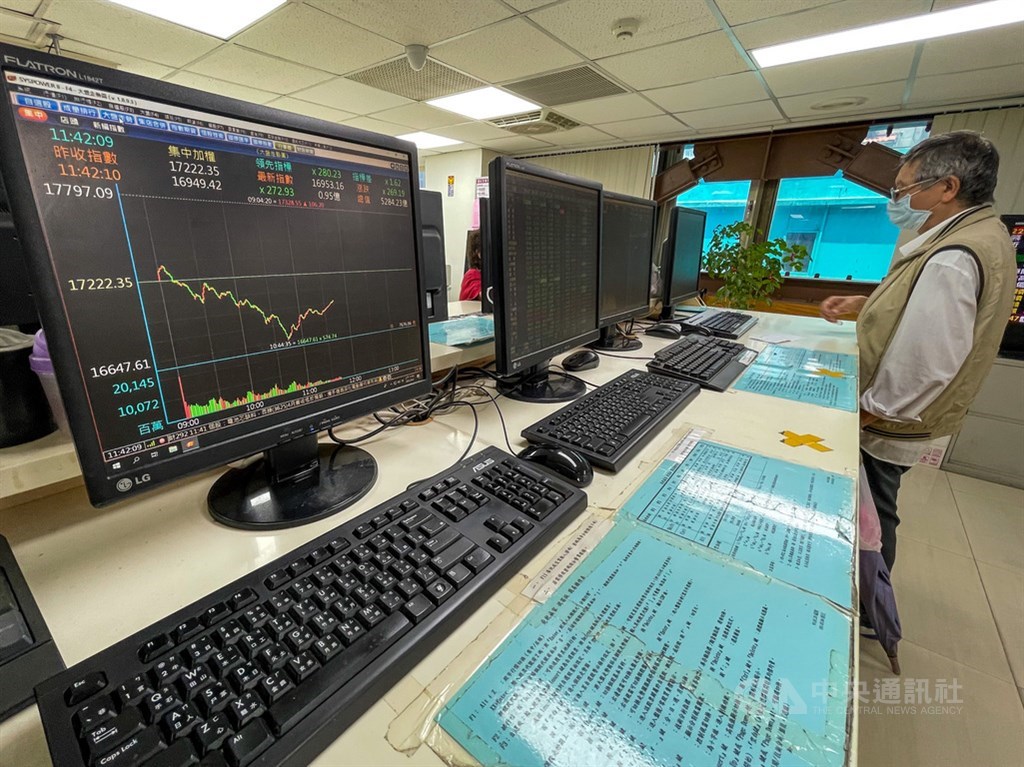 Taipei, May 4 (CNA) Shares in Taiwan extended their losses from a session earlier to close below the 17,000-point mark Tuesday off an early low, as investors rushed to lock in gains previously built for large-cap non-tech stocks, dealers said.
While the bellwether electronics sector continued to trend lower, its losses were limited, as contract chipmaker Taiwan Semiconductor Manufacturing Co.(TSMC) and United Microelectronics Corp. (UMC) managed to buck the downturn to end in positive territory, the dealers said.
The Taiex, the weighted index on the Taiwan Stock Exchange (TWSE), ended down 288.57 points, or 1.68 percent, at 16,933.78, after moving between 16,647.61 and 17,328.55. Turnover hit a new high of NT$664.2 billion (US$23.77 billion).
The market opened up 0.16 percent and soon rose to the day's high on a mild technical rebound from the previous day, when the Taiex plunged 1.96 percent, before selling emerged and escalated in the late morning session, the dealers said.
With the Taiex falling and breaching the 17,000-point mark, however, some bargain hunters picked up TSMC and UMC shares, which helped the broader market curtail their losses, while sell-off continued to be seen among old economy stocks, in particular in the shipping and steel sectors, they said.
"Investors simply seized the concerns over a rising number of local domestic COVID-19 cases as an excuse to dump their stocks," MaterLink Securities analyst Tom Tang said.
"But the real reason for the sell-off was that investors wanted to lock in their earlier gains built up in recent sessions," he said.
After a 22.8 percent surge in the Taiex in 2020, the main board continued to move higher by about 19.2 percent in the first four months of this year.
"Yesterday's losses paved the way for today's dive, as many investors just wanted to pocket more of their earlier significant gains. The move pushed down the Taiex below the technical support level of the 20-day moving average of 17,150 points, which made the main board even more technically fragile," Tang said.
Tang said that Tuesday's selling focused on non-tech stocks after the tech sector had been battered a session earlier.
"The shipping sector was highlighted today as foreign institutional investors cut their holdings yesterday. Today's selling could have come from local investors," Tang said.
Evergreen Marine Corp., the largest container cargo shipping company in Taiwan, fell 10 percent, the maximum daily decline, to close at NT$78.00 after foreign institutional investors sold a net 50 million shares a session earlier, according to Tang.
Yang Ming Marine Transport Corp. lost 8.78 percent to end at NT$80.00 and Wan Hai Lines Ltd. plunged 10 percent to close at NT$91.40 in the shipping sector, which dropped 8.48 percent.
Tang said the steel sector was also the target of the latest sell-off, down 6.65 percent, with China Steel Corp., the largest steel maker in Taiwan, down 5.97 percent to end at NT$36.25, Tung Ho Steel Enterprise Corp. down 7.96 percent to close at NT$53.50, and Yieh Shing Enterprise Co. down 10 percent to end at NT$14.50.
Elsewhere in the old economy sector, China Petrochemical Development Corp. lost 9.39 percent to close at NT$14.95 and Taita Chemical Co. fell 7.19 percent to end at NT$44.50.
"Fortunately, TSMC and UMC appeared resilient, particularly after getting a boost from late-session buying, so the Taiex recouped part of its earlier 500 plus-point losses," Tang said.
"I guess government-led funds were among the bargain hunters buying into the two stocks in a bid to prevent the Taiex from falling further," he said.
TSMC, the most heavily weighted stock in the local market, rose 0.51 percent to close at NT$591.00, off a low of NT$582.00. UMC gained 3.02 percent to end at NT$54.60 after coming off a low of NT$51.00.
Supported by the two tech giants, the semiconductor sub-index fell only 0.05 percent, while the electronics sector lost 1.01 percent but still outperformed the broader market.
Also in the electronics sector, integrated circuit designer MediaTek Inc. lost 1.81 percent to close at NT$1,085.00 and IC packaging and testing services provider ASE Technology Holding Co. lost 1.00 percent to end at NT$111.50.
Flat panel makers suffered more selling, with AU Optronics Corp. down 8.21 percent to close at NT$27.40 and rival Innolux Corp. down 7.38 percent to end at NT$25.10.
In the financial sector, which fell 1.64 percent, Fubon Financial Holding Co. lost 2.03 percent to close at NT$67.40 and Cathay Financial Holding Co. dropped 1.71 percent to end at NT$51.70.
"In the current technically unstable market, it is possible that selling will return to large tech stocks, which could push down the Taiex further," Tang said. "The main board is unlikely to see strong technical support until it moves closer to 16,450 points, the 60-day moving average."
Despite the fall in the Taiex, foreign institutional investors bought a net NT$88.85 million-worth of shares on the main board Tuesday, according to the TWSE.