Taiwan shares plunge, led by large cap electronics stocks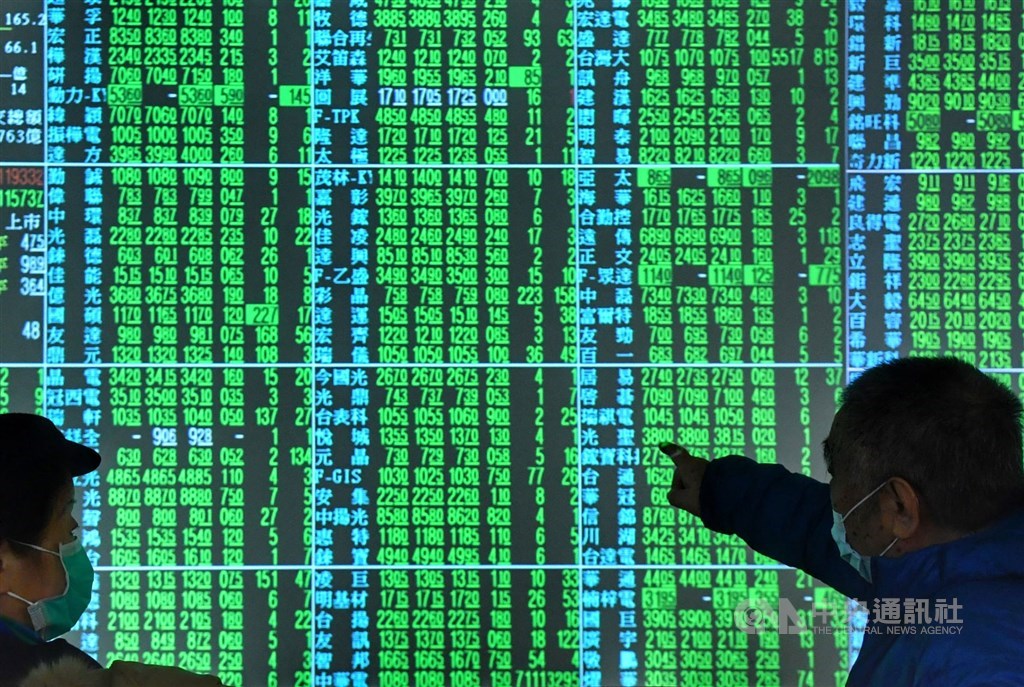 Taipei, May 3 (CNA) Shares in Taiwan took a beating, plunging more than 300 points Monday, as market sentiment was hit by concerns over a growing number of domestic COVID-19 cases, dealers said.
The bellwether electronics sector led the downturn and selling was also seen among old economy heavyweights, which pushed down the main board below 17,300 points to the day's low at the end of the session, the dealers said.
The Taiex, the weighted index on the Taiwan Stock Exchange (TWSE), ended down 344.31 points, or 1.96 percent, at 17,222.35, after coming off a high of 17,546.94. Turnover totaled NT$587.728 billion (US$20.99 billion).
The market opened down 0.35 percent in the wake of losses on the U.S. markets, where the Dow Jones Industrial Average fell 0.54 percent and the tech-heavy Nasdaq index lost 0.85 percent on Friday.
Selling on the main board started to escalate after 9:30 a.m., focusing on tech heavyweights, in particular contract chipmaker Taiwan Semiconductor Manufacturing Co. (TSMC), the most heavily weighted stock in the local market, while select major old economy stocks gave up their earlier gains to add pressure to the broader market, the dealers said.
"An increase in locally infected COVID-19 cases struck many investors' nerves today," Mega International Investment Services Corp. analyst Alex Huang said. "Before the situation becomes even worse, investors simply dumped their stocks to prevent further losses."
According to the Central Epidemic Command Center (CECC), Taiwan recorded two domestic COVID-19 cases on Monday, one of them a subcontractor of the Novotel Taipei Taoyuan International Airport hotel and the other a family member of a China Airlines (CAL) cargo pilot who tested positive for the disease in Australia on April 20.
As of that day, the number of confirmed COVID-19 cases related to CAL and the airport hotel had risen to 26.
"The electronics sector, which had a relatively low valuation after recent solid gains, was targeted by investors who were worried about the rise in local COVID-19 infections," Huang said. "TSMC saw a sell-off today and it was no surprise that the broader market came under grave pressure." TSMC fell 2.00 percent to close at the day's low of NT$588.00. TSMC's losses contributed a more-than 100-point drop to the Taiex, and led the electronics sector and the semiconductor sub-index to fall 2.81 percent and 2.89 percent, respectively.
"After TSMC's investor conference held in mid-April, the stock failed to react positively to its rosy business expectations. The stock could see more losses before moving closer to the nearest technical support level at around NT$570.00," Huang said.
TSMC's selling was also seen among other semiconductor stocks, with smartphone IC designer MediaTek Inc. down 6.75 percent to end at NT$1,105.00, United Microelectronics Corp. -- a smaller contract chipmaker -- down 6.53 percent to close at NT$53.00 and drive IC designer Novatek Microelectronics Corp. down 5.77 percent to end at NT$588.00.
Also in the electronics sector, iPhone assembler Hon Hai Precision Industry Co. lost 3.02 percent to close at NT$112.50 and Largan Precision Co., a supplier of smartphone camera lenses to Apple Inc., fell 3.05 percent to end at NT$3,015.00.
Bucking the downturn, mixed-signal and analog IC designer Silergy Corp. rose 3.59 percent to close at NT$3,030.00, replacing Largan as the most expensive stock in Taiwan.
"COVID-19 worries also took a toll on the old economy sector. Selling increased, in particular after China Steel Corp., one of the indicators of the sector's recent upturn, fell into negative territory from its earlier gains," Huang said.
China Steel, the largest steel maker in Taiwan, lost 1.91 percent to close at NT$38.55 off a high of NT$40.95 and Tung Ho Steel Enterprise Corp. dropped 2.03 percent to end at NT$58.00 after coming off a high of NT$62.00.
Elsewhere in the old economy sector, textile brand Far Eastern New Century Corp. fell 2.71 percent to close at NT$32.35, Wei Chuan Foods Corp. lost 2.65 percent to end at NT$23.90 and Taiwan Cement Corp. dropped 1.73 percent to close at NT$51.20. However, Formosa Plastics Corp. rose 1.42 percent to end at NT$107.50.
The financial sector rose 0.27 percent on the back of gains posted by Fubon Financial Holding Co., which soared 7.17 percent to close at NT$68.80 after the company proposed issuing NT$4 in dividend per share on its 2020 net income, comprised of NT$3 in cash dividend per share and NT$1 in stock dividend per share, the highest payout in the company's history.
"We have to keep a close eye on the COVID-19 development in Taiwan and more losses could follow as the Taiex has turned technically weaker after today's plunge," Huang said. "The nearest technical support level could be seen at around 17,150 points, the 20-day moving average."
According to the TWSE, foreign institutional investors sold a net NT$8.19 billion-worth of shares on the main board Monday.