Taiwan shares end at record high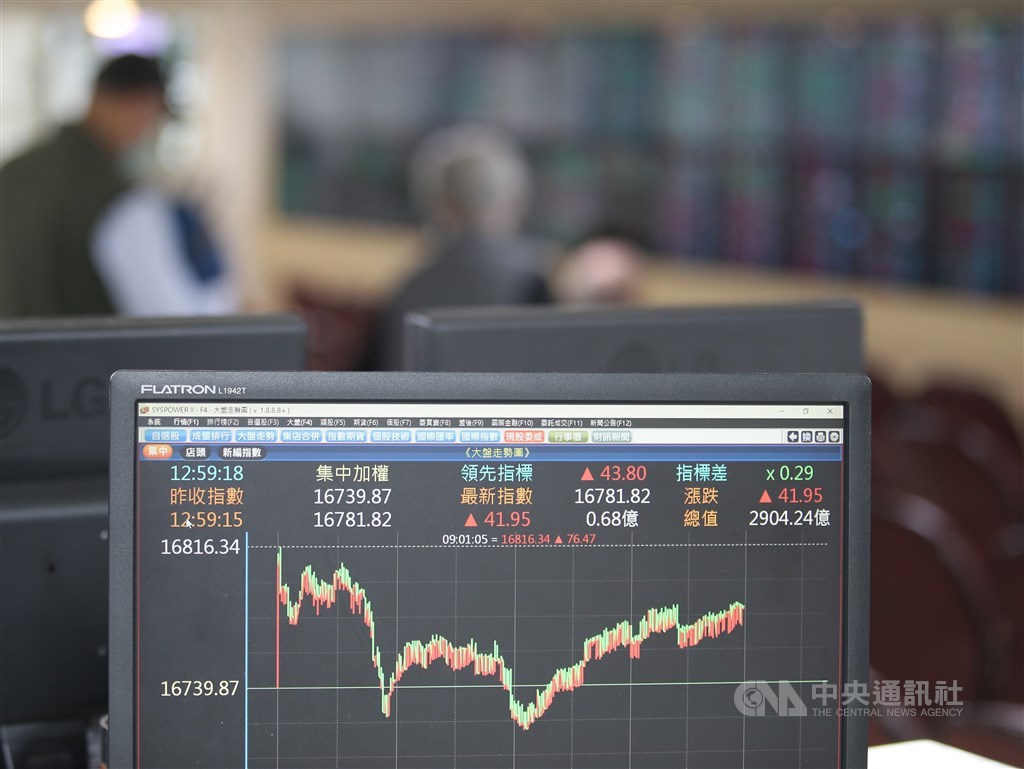 Taipei, April 7 (CNA) Shares in Taiwan extended their momentum from a day earlier to close at another record high Wednesday, helped by the considerable amount of liquidity in the market, dealers said.
While contract chipmaker Taiwan Semiconductor Manufacturing Co. (TSMC) took a pause after Tuesday's strong showing, other large cap semiconductor stocks and select old economy stocks attracted rotational buying to keep the broader market moving higher, they said.
The Taiex, the Taiwan Stock Exchange's (TWSE) weighted index, ended up 75.49 points, or 0.45 percent, at 16,815.36, after moving between 16,715.32 and 16,816.34. Turnover was NT$340 billion (US$11.97 billion).
"It remained a liquidity-driven uptrend today," Mega International Investment Services Corp. analyst Alex Huang said. "While TSMC gave up its earlier gains, investors sitting on large cash holdings sought other targets in which to park their money."
TSMC, the most heavily weighted stock in the local market, closed unchanged at NT$610.00, off a high of NT$614.00. It rose 1.33 percent on Tuesday after announcing it will invest US$300 billion over the next three years to increase capacity and upgrade technologies.
"After recent gains, TSMC has become a bit expensive, even if its fundamentals remain sound," Huang said. "The massive investment commitment also led investors to worry that TSMC could scale back its cash dividends to keep as much cash as possible for future expansion."
Though investors decided to pocket gains in stocks with high valuations, like TSMC, buying rotated to other semiconductor stocks to push the Taiex back into positive territory and set a new high.
Among them, contract chipmaker United Microelectronics Corp. rose 1.58 percent to end at NT$51.50, and smartphone IC designer MediaTek Inc. gained 0.30 percent to close at NT$998.00.
Control IC designer Novatek Microelectronics Corp. soared 2.82 percent to end at NT$619.00.
Also in the electronics sector, which rose 0.41 percent, PC brand Acer Inc. added 0.31 percent to close at NT$31.85, and rival Asustek Computer Inc. rose 0.68 percent to end at NT$371.50, on strong shipments in a booming stay-at-home economy.
The steel sector was also helped by rotational buying, gaining 3.16 percent, as global demand continued to recover.
China Steel Corp., the largest steel maker in Taiwan, rose 3.66 percent to close at NT$26.90, and Tung Ho Steel Enterprise Corp. added 2.06 percent to end at NT$47.15.
Other old economy stocks were mixed. Formosa Plastics Corp. closed 0.50 percent lower at NT$100.50 and Formosa Chemicals & Fibre Corp. ended down 0.34 percent at NT$87.50, while textile maker Far Eastern New Century Corp. rose 0.17 percent to close at NT$30.00.
In the financial sector, which ended up 0.19 percent, Fubon Financial Holding Co. rose 0.35 percent to close at NT$57.50, while Cathay Financial Holding Co. ended unchanged at NT$48.00.
According to the TWSE, foreign institutional investors bought a net NT$6.46 billion in shares Wednesday.
Huang said investors should pay attention to earnings season in Taiwan and the United States, which is fast approaching, and to the release later this month of the minutes of the March policymaking meeting of the U.S. Federal Reserve.