Taiwan shares edge higher as electronics shares mixed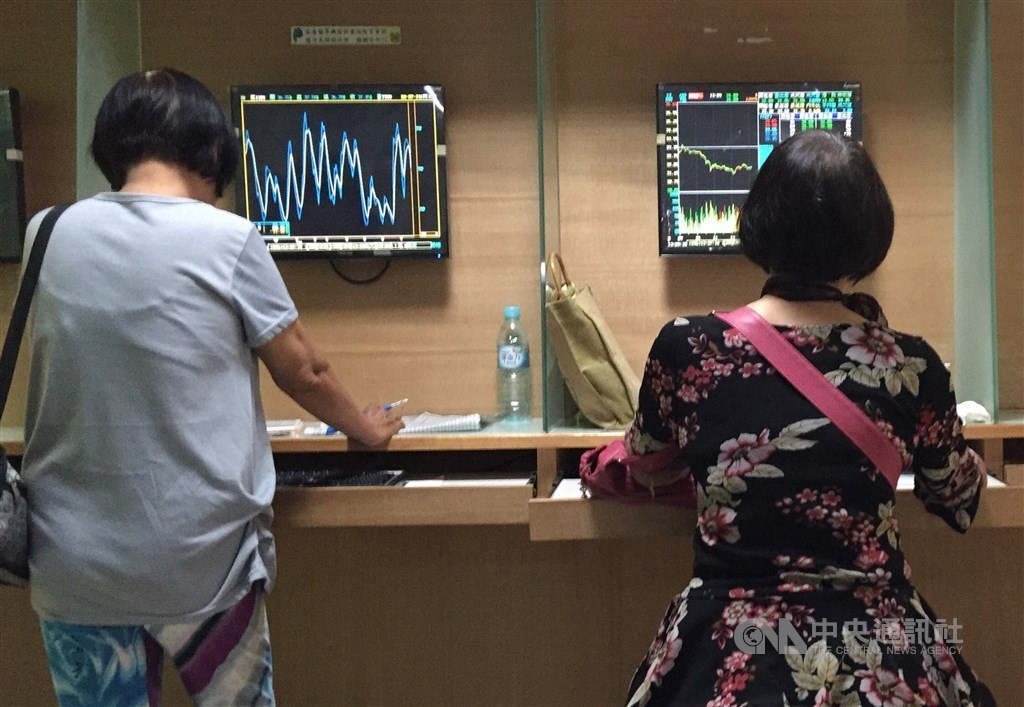 Taipei, Oct. 26 (CNA) Shares in Taiwan closed slightly higher Monday even though the large cap tech stocks that usually drive the market were mixed in reaction to the weak third quarter results for Intel Corp.'s data center group, dealers said.
Select old economy and financial stocks benefited from rotational buying, but turnover remained moderate amid caution ahead of the U.S. presidential election, they said.
The weighted index on the Taiwan Stock Exchange (TWSE), the Taiex, ended up 10.21 points, or 0.08 percent, at 12,909.03, after moving between 12,894.18 and 12,971.58. Turnover was NT$163.56 billion (US$5.72 billion).
The market opened up 0.19 percent on a technical rebound from a session earlier and quickly rose to the day's high, but selling, especially of electronics shares, set in as the Taiex moved closer to 13,000 points to cap the upturn, dealers said.
"Technically speaking, today's movement again showed that investors appear reluctant to chase prices when the Taiex moves closer to 13,000 because they fear a technical pullback," Ta Chan Securities analyst Jerry Chen said.
"Moreover, uncertainty created by the U.S. presidential election continued to affect the market, leading many investors to stay on the sidelines," Chen said.
The latest weakness of the over-the-counter (OTC) market indicated that many local investors are pulling back from the market until non-economic uncertainty is removed. The main index of the OTC market lost 1.04 percent to end at 164.31.
"Investors pocketed gains they had built in large tech stocks recently after Intel's results showed disappointing earnings for its data center group," Chen said.
"The results led many investors to worry about the rosy picture that had been painted for gadgets used in data centers."
Among the electronics heavyweights hurt by the selling, contract chipmaker Taiwan Semiconductor Manufacturing Co. (TSMC), the most heavily weighted stock in the local market, fell 0.44 percent to close at NT$450.00 after hitting a high of NT$455.00.
The selling of TSMC spread to other IC stocks with smartphone IC designer MediaTek Inc. down 0.59 percent to close at NT$674.00, and ASMedia Technology Inc., a controller IC designer for products such as USBs, fell 0.63 percent to end at NT$1,570.00.
Also in the electronics sector, iPhone assembler Hon Hai Precision Industry Co. lost 0.62 percent to close at NT$80.20, while Largan Precision Co., a supplier of smartphone camera lenses to Apple Inc., rose 0.47 percent to end at NT$3,195.00.
Flat panel makers got a boost from a hike in product prices, Chen said. Among them, AU Optronics Corp. soared 2.16 percent to close at NT$11.80, and rival Innolux Corp. gained 0.98 percent to end at NT$10.35.
"The market remained awash in liquidity, so buying shifted away from large tech stocks toward some old economy and financial stocks to lend some support to the broader market," Chen said.
In the old economy sector, Taita Chemical Co. rose 1.94 percent to close at NT$31.50, Formosa Chemicals & Fibre Corp. added 1.44 percent to end at NT$70.30, and China Steel Corp., the largest steel maker in Taiwan, gained 0.98 percent to close at NT$20.70.
Chen said the shipping industry saw rising cargo demand in the fourth quarter, which helped large shipping stocks outperform the broader market.
Evergreen Marine Corp. rose 6.45 percent to close at NT$19.80, and Yang Ming Marine Transport Corp. soared 10 percent, the maximum daily increase, to end at NT$12.10.
In the financial sector, a market laggard, Cathay Financial Holding Co. rose 0.91 percent to close at NT$38.95, E. Sun Financial Holding Co. gained 0.81 percent to end at NT$24.95, and Fubon Financial Holding Co. added 0.72 percent to close at NT$41.70.
"Such a quiet trading pattern is expected to continue before the U.S. vote," Chen said. "But ample liquidity could help the Taiex trade above 12,700 in the short term."
According to the TWSE, foreign institutional investors sold a net NT$1.46 billion in shares on the main board Monday.