Taiwan shares recover earlier losses, end slightly up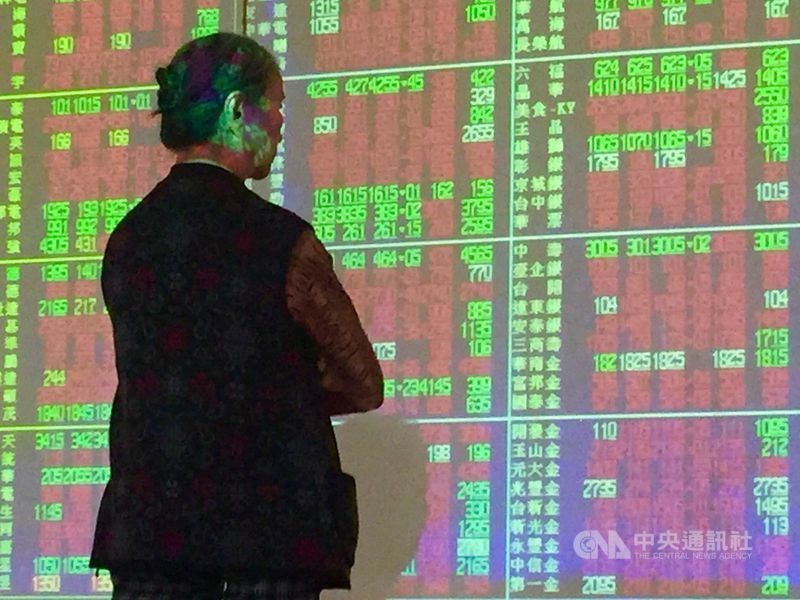 Taipei, Aug. 14 (CNA) Shares in Taiwan recouped earlier losses to close slightly higher Friday amid a mixed performance on U.S. markets as coronavirus stimulus talks between the White House and congressional Democrats came to a halt, dealers said.
While large cap tech stocks largely trended lower on the local main board throughout the session, especially the semiconductor industry, buying rotated to select old economy stocks to lend some support to the broader market, they said.
The weighted index on the Taiwan Stock Exchange (TWSE) or the Taiex ended up 32.33 points, or 0.25 percent, at 12,795.46, after moving between 12,679.19 and 12,801.31, on turnover of NT$212.68 billion (US$7.23 billion).
The market opened down 0.42 percent on a pullback from the previous session, when the Taiex closed up 0.73 percent, and selling increased to push the index below the 12,700 point level, led by semiconductor heavyweights such as contract chipmaker Taiwan Semiconductor Manufacturing Co. (TSMC), dealers said.
However, bargain hunters turned active seeing the index hit the day's low, with rotating buying in old economy stocks in cement, paper and transportation sectors pushing the main board into positive territory at the close of trading, dealers added.
"Thanks to rotational buying in old economy stocks, the Taiex as a whole remained resilient despite a lackluster performance on U.S. markets," Hua Nan Securities analyst Lu Chin-wei said.
In the cement sector, which rose 2.70 percent, Taiwan Cement Corp. rose 4.00 percent to close at NT$42.85, and Asia Cement Corp. gained 0.97 percent to end at NT$41.50.
Among other gaining old economy stocks, Cheng Loong Corp. rose 3.13 percent to close at NT$26.35 on the back of rising product prices, and textile supplier Makalot Industrial Co. added 3.04 percent to end at NT$186.50.
In the wake of rising demand, shares in Evergreen Marine Corp. soared 10 percent, the maximum daily increase, to close at NT$13.55 and rival Yang Ming Marine Transport Co. gained 8.87 percent to end at NT$8.59.
"The bellwether electronics sector remained in the doldrums as investors continued to lock in profits they built in recent sessions," Lu said. "Without a strong showing by TSMC, it was hard for the Taiex to move significantly ahead and perhaps even challenge 13,000, the historical intraday high seen on July 28."
TSMC, the most heavily weighted stock on the local market, fell 0.47 percent to close at NT$427.00 but came off an early low of NT$423.00. Led by TSMC, the semiconductor sub-index ended down 0.32 percent.
"TSMC has sound fundamentals, so even if the stock encounters more profit taking selling, it will see strong technical support ahead of the 20-day moving average of NT$416.00," Lu said.
Among other semiconductor stocks, United Microlectronics Corp., a smaller rival to TSMC, lost 0.84 percent to close at NT$23.55 after hitting a low of NT$23.10, and integrated circuit designer MediaTek Inc. lost 0.58 percent to end at NT$680.00, off a low of NT$670.00.
Bucking the downturn suffered by the semiconductor sector, PC brand Asustek Computer Inc. rose 1.24 percent to close at NT$245.00, and contract notebook computer maker Quanta Computer Inc. soared 8 percent to end at NT$81.00 on the back of improving bottom lines in the second quarter.
In addition, iPhone assembler Hon Hai Precision Industry Co. rose 1.13 percent to close at NT$80.40 on the back of its relatively low valuation, and shares in smartphone camera lens supplier Largan Precision Co. added 0.13 percent to end at NT$3,855.00.
"I expect the Taiex will consolidate for some time before TSMC regains its footing," Lu said. "There could be strong technical support at around 12,500 points."