Taiwan shares drop, led by large-cap tech stocks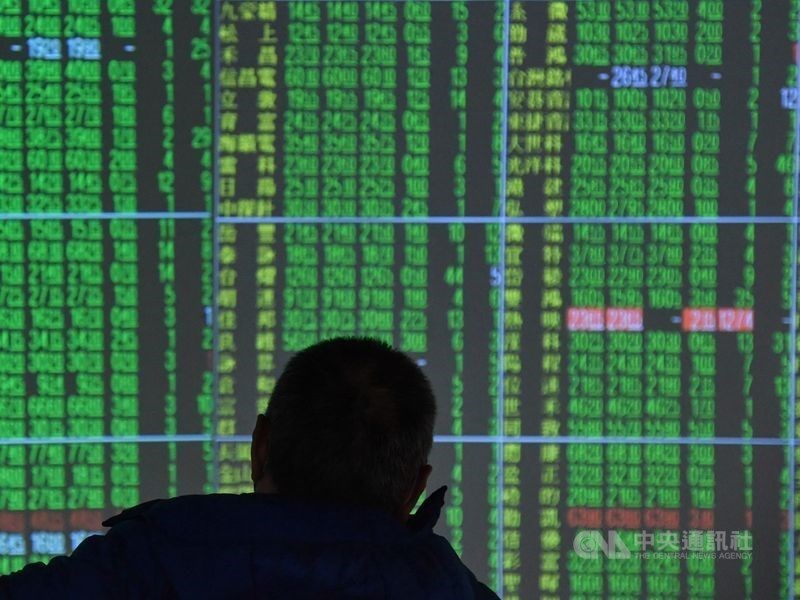 Taipei, Aug. 12 (CNA) Shares in Taiwan fell Wednesday as investors rushed to cut their holdings in electronics heavyweights, following tech stocks' losses on the U.S. markets overnight, dealers said.
Market sentiment about U.S. stocks was cautious amid uncertainty over the fate of additional government stimulus measures for struggling Americans during the COVID-19 pandemic, dealers said.
The weighted index on the Taiwan Stock Exchange (Taiex) ended down 109.84 points, or 0.86 percent, at 12,670.35, after moving between 12,625.54 and 12,730.96. Turnover totaled NT$215.97 billion (US$7.35 billion) during the session.
The Taiex opened down 0.52 percent after a drop Tuesday on the U.S. markets, where the Dow Jones Industrial Average closed down 0.4 percent and the tech-heavy Nasdaq index dropped 1.7 percent, dealers said.
On the Taiex, selling escalated in the bellwether electronics sector Wednesday, led by contract chipmaker Taiwan Semiconductor Manufacturing Co. (TSMC) and other large-cap stocks, dragging the main board below 12,700 points by the close, dealers said.
"Many investors saw the Nasdaq's losses as a reason to sell tech shares," MasterLink Securities analyst Tom Tang said, adding that TSMC was the main focus.
"In the electronics sector, which has been driving the recent upturn of the broader market, tech heavyweights became the targets," he said.
TSMC, the most heavily weighted stock on the local market, fell 2.33 percent to close at the day's low of NT$419.00. The stock's losses contributed to a decline of about 90 points on the Taiex, a drop of 1.15 percent in the electronics sector, and a 2.20 percent fall of the semiconductor sub-index.
"Foreign institutional investors used TSMC to manipulate the index," Tang said. "Due to TSMC's weighting on the Taiex, it was easy to do that."
According to Taiex data, foreign institutional investors sold a net NT$10.61 billion worth of shares on the main board Wednesday.
The selling in TSMC also spread to other semiconductor stocks, with United Microelectronics Corp. dropping 4.20 percent to end at the day's low of NT$23.95, and integrated circuit designer MediaTek Inc. falling 1.88 percent to close at NT$680.00.
Bucking the downturn, iPhone assembler Hon Hai Precision Industry Co. rose 2.01 percent to end at NT$81.40, ahead of the opening of its investor conference later in the day, at which the company was expected to give positive third-quarter guidance, according to dealers.
Throughout Wednesday's session, investors also pocketed their recent gains in old economy stocks, putting additional pressure on the Taiex, dealers said.
Among the falling old economy stocks, Formosa Plastics Corp. dropped 0.98 percent to close at NT$80.70, food brand Uni-President Enterprises Corp. lost 1.17 to end at NT$67.80, and Taiwan Cement Corp. shed 2.15 percent to close at NT$41.00.
In the relatively resilient financial sector, which fell only 0.1 percent, Taishin Financial Holding Co. gained 1.15 percent to end at NT$13.25, after announcing a plan to acquire Prudential Life Insurance Co. Taiwan, and Cathay Financial Holding Co. rose 1.25 percent to close at NT$40.45.
Tang said the Taiex has been in consolidation mode since July 28, when it hit a record intraday high of 13,031.
"Technically, further selling is possible, but I think the main board will see technical support at around the 20-day moving average of 12,500 points in the short term," he said.