CORONAVIRUS
/
Stimulus vouchers to prioritize in-store shopping: premier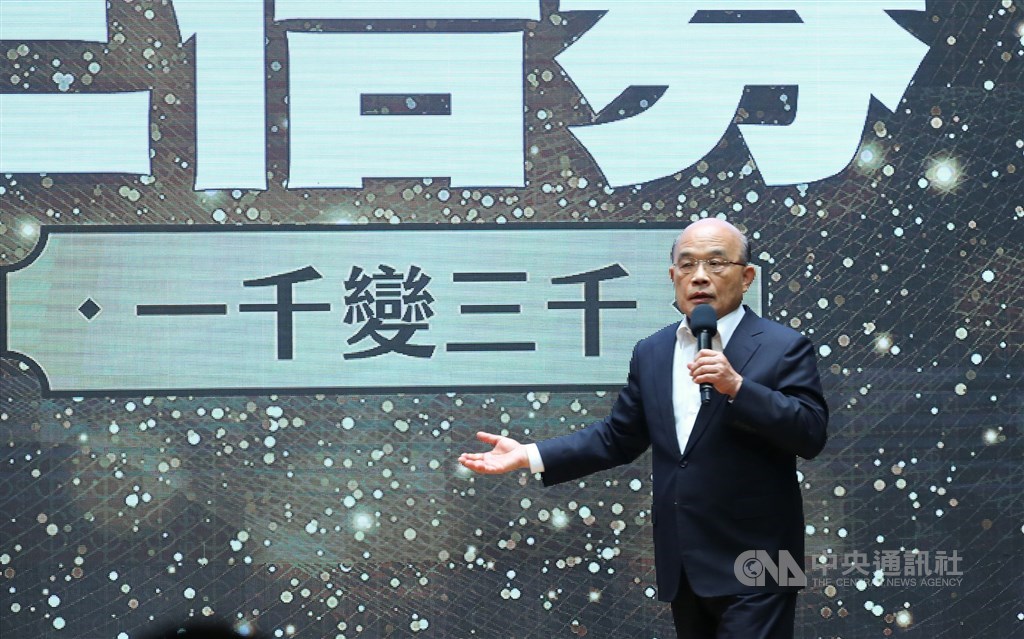 Taipei, June 2 (CNA) The government said Tuesday that a new stimulus voucher program will encourage spending at brick-and-mortar retailers and boost the leisure industry, but will restrict most forms of online shopping, which has suffered less economic impact from the COVID-19 pandemic.
At a press conference Tuesday, Premier Su Tseng-chang (蘇貞昌) announced the "Triple Stimulus Voucher" program, which will allow Taiwanese nationals and their foreign or Chinese spouses to buy NT$3,000-worth of vouchers for NT$1,000.
The paper and digital-format vouchers will be available for pre-sale from July 1 and will be valid from July 15 through the end of the year, Su said.
According to Su, the vouchers can be used for a range of in-store, leisure-oriented purchases, including hair and nail salons, restaurants, department stores, night markets, grocery stores and travel.
They can also be used to purchase lottery tickets, as lottery revenue helps fund social welfare programs, said Cabinet spokesman Ting Yi-ming (丁怡銘).
Restrictions on the vouchers, Su went on, fall into 11 categories: online purchases, tax payments, traffic violation tickets, "various types of fees," tobacco, insurance payments, stocks, national pension insurance, credit card bills, gift cards and card top-ups.
The reason for not allowing the vouchers to be used for online purchases, Su explained, is that brick-and-mortar retailers have been most impacted by the COVID-19 pandemic, often to the benefit of online sellers.
However, the vouchers can be used to make online ticket purchases for events such as concerts and performances, Su said.
The vouchers will be denominated as four NT$500 bills and five NT$200 bills, which cannot be exchanged for cash or used to make payments lower than the denominated value, which means that no change will be given.
According to the Ministry of Economic Affairs (MOEA), the reason for this is both to avoid burdening retailers and to encourage additional spending.
Currently, the government expects use of the vouchers to be split half-and-half between paper and digital, the MOEA said.
The government will also transfer NT$1,000 to the bank accounts of 1.2 million low-income earners so that they can also purchase the vouchers, Su said.
In economic terms, Chu Tzer-ming (朱澤民), who heads the Directorate-General of Budget, Accounting and Statistics, said the price tag for the program will likely run to NT$50 billion, which will be paid for through special budgets passed by the government earlier this year.
At the same time, it could bring benefits worth double that to Taiwan's economy, Chu said.
Factoring in promotions and discounts offered by retailers to boost spending, the effect of the NT$3,000-worth of vouchers could increase to NT$4,600. Multiplying that by the 23 million Taiwan nationals and 150,000 foreign and Chinese spouses, the economic effect could top NT$100 billion, Chu said.
However, some in the opposition Kuomintang (KMT) argue that it would be preferable to simply distribute NT$2,000 cash payments, but Su pointed out that this method would allow people to save, rather than spend, which would negate the economic effect.
View All