Taiwan shares end up over 170 points on US market surge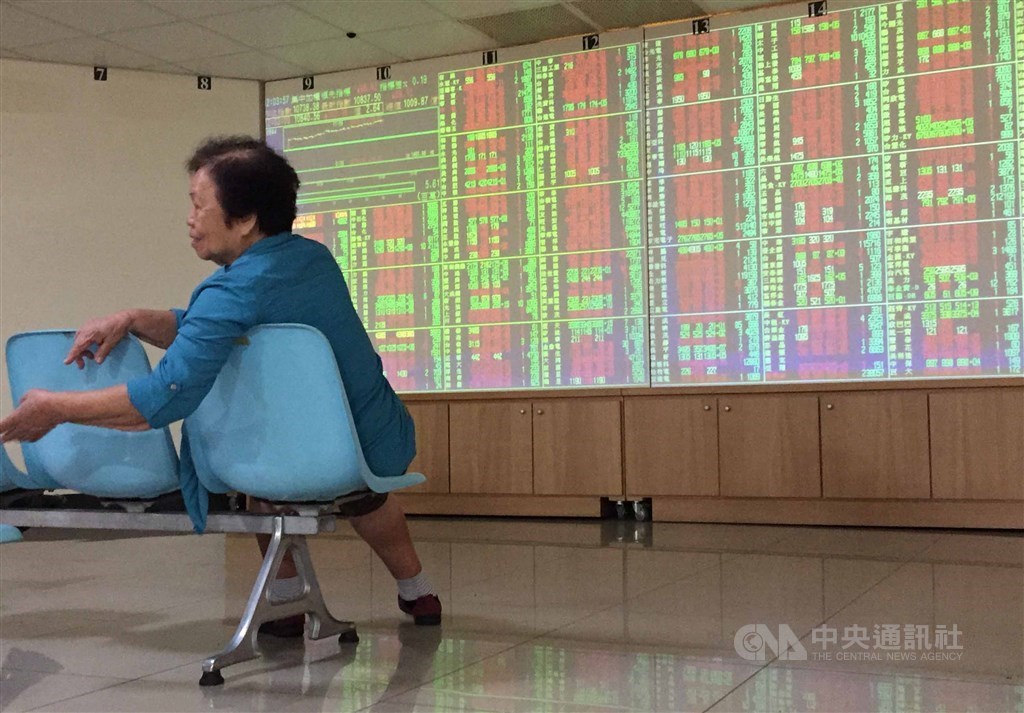 Taipei, April 7 (CNA) Shares in Taiwan moved sharply higher Tuesday, up more than 170 points with investors encouraged by a surge on the Dow Jones Industrial Average on reports that the death rate in some countries severely impacted by COVID-19 is showing signs of slowing, dealers said.
The bellwether electronics sector, once again served as a driver on the local main board, while petrochemical stocks extended their momentum from the previous session, pushing the broader market higher, they said.
The benchmark weighted index on the Taiwan Stock Exchange (TWSE) or Taiex ended up 177.65 points, or 1.81 percent, at 9,996.39, after moving between 9,928.16 and 10,039.15, on turnover of NT$171.21 billion (US$5.67 billion).
The market opened up 1.11 percent in the wake of a more than 1,600 point jump on the Dow overnight and buying accelerated with tech stocks in focus, led by semiconductor suppliers, in particular contract chipmaker Taiwan Semiconductor Manufacturing Co. (TSMC).
Investors took their cue from the substantial gains posted by integrated circuit stocks listed on the U.S. markets overnight, dealers said.
The Taiex breached the 10,000 point mark and moved to the day's high of 10,039.15 at one point in the early morning session before profit taking emerged to erode part of the gains, with the index ending the day below 10,000 points, they said.
"Few are naive enough to think the local main board will quickly overcome the heavy technical resistance ahead of 10,000 points when the Taiex remains concerned by the spread of COVID-19 worldwide," Mega International Investment Services Corp. analyst Alex Huang said.
"Despite the positive reports on a fall in the death toll caused by the virus in some countries, the global financial markets still need more evidence showing a real downtrend so volatility is possible ahead and it is too early to tell," Huang said.
However, Huang added that as the Taiex is well above the 20-day moving average of 9,788 points after the gains posted Monday and Tuesday, "the local main board has become technically healthier." On Monday, the Taiex closed up 1.61 percent.
Thanks to the tech sector, the Taiex steamed ahead as many investors who were sitting on large cash reserves rushed to pick up bargains, Huang said.
Among the gaining electronics stocks, TSMC, the most heavily weighted stock on the local market, rose 2.72 percent to close at NT$283.00 after coming off a high of NT$284.00. The buying of TSMC shares followed a 6.18 percent surge by its American depositary receipts Monday.
Led by TSMC, the electronics sector and the semiconductor sub-index ended up 2.19 percent and 2.86 percent, respectively.
"The electronics sector continued to dominate the main board throughout the session," Huang said, referring to data that showed the tech sector accounted for almost 70 percent of total turnover.
Buying in TSMC spread to other semiconductor stocks with memory makers Nanya Technology Corp. and Macronix International Co. soaring 10 percent, the maximum daily increase, to close at NT$62.00 and NT$29.45, respectively, as their relatively low valuations attracted bargain hunters, dealers said.
iPhone assembler Hon Hai Precision Industry Co., second to TSMC in terms of market capitalization, rose 1.42 percent to close at NT$71.20 after the world's largest contract electronics maker reported a day earlier an almost 60 percent month-on-month rise in sales for March.
Largan Precision Co., a supplier of smartphone camera lenses to Apple Inc., added 0.78 percent to close at NT$3,890.00, while PC brand Asustek Computer Inc. bucked the upturn on the broader market, falling 0.51 percent to end at NT$196.00.
The petrochemical and textile sectors attracted strong buying on hopes that Saudi Arabia and Russia will soon make a deal to cut production in a bid to bolster international crude oil prices, dealers said.
Among them, Formosa Plastics Corp. rose 2.84 percent to close at NT$79.80, Formosa Chemicals & Fibre Corp. added 2.79 percent to end at NT$69.90 and textile maker Far Eastern New Century Corp. grew 2.17 percent to close at NT$23.55.
"Interest in these large cap stocks indicates foreign institutional investors stood on the buy side," Huang said. According to the TWSE, foreign institutional investors bought a net NT$3.41 billion worth of shares on the main board Tuesday.
The financial sector underperformed the broader market, up 0.81 percent, amid worries over losses incurred by banks and issuers from their equity investments, Huang said.
In the sector, Cathay Financial Holding Co. rose 0.86 percent to close at NT$35.35, but Fubon Financial Holding Co. fell 0.13 percent to end at NT$37.25.