Taiwan shares rise, close above 9,700 points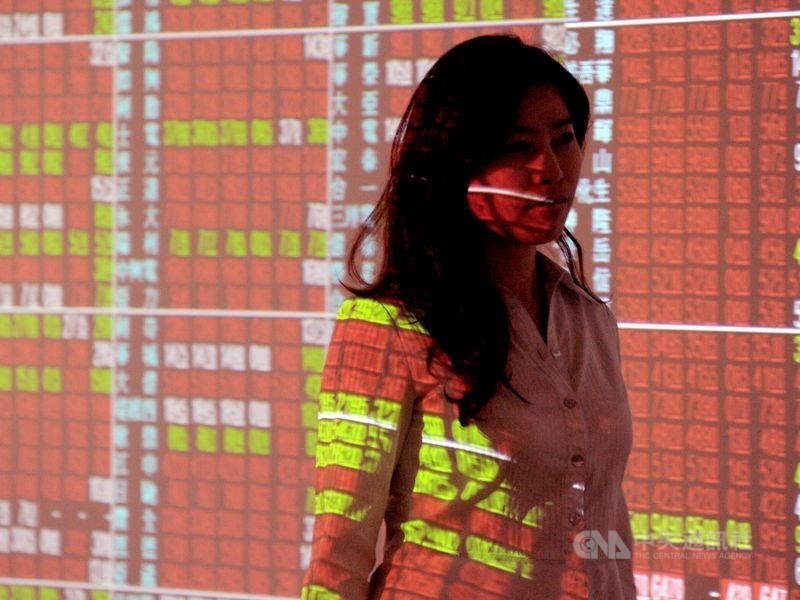 Taipei, March 26 (CNA) Taiwan shares finished above 9,700 points on the local stock market Thursday after the Dow Jones Industrial Average rose for the second day in a row.
Led by computer-related shares, the weighted index, the key barometer of the Taiwan Stock Exchange, ended the day 91.61 points higher, or 0.95 percent, at 9,736.36. Turnover totaled NT$152.79 billion (US$5.04 billion).
Taiwan Semiconductor Manufacture Co. (TSMC), the world's largest contract chipmaker and most heavily weighted stock on the local market, climbed 1.08 percent to NT$280.
Largan Precision Co., a supplier of smartphone camera lenses to Apple Inc., soared 2.7 percent to NT$3,995, while iPhone assembler Hon Hai Precision Industry Co. lost 0.56 percent to finish at NT$71.
Capital Securities Corp. analyst Liao Chien-yu (廖健佑) said the local stock market will run into consolidation mode after two days of recovery and should encounter strong selling pressure around the 10,000-point mark.
He forecast that the local market will fall in the short term but gradually move higher in April, with the Chinese stock market already stabilizing and the United States starting to adopt drastic measures to curb the virus.
With increased demand for working from home and distance learning amid the accelerating COVID-19 coronavirus disease outbreak, stocks in related equipment makers, such as personal and notebook computers and PADs, outperformed the broader market.
Shares in Simplo Co. and DynaPack International Technology Corp., two portable battery packs makers, surged 6.35 percent and 1.1 percent, to NT$276.5 and NT$62.8 respectively. Shin Zu Shing Co., the world's largest provider of notebook computer hinges, soared 9.71 percent to NT$113.
Shares in keyboard maker Chicony Electronics Co., and Auras Technology Co., a thermal solution provider, also performed well, rising up 3.18 percent and 6.28 percent to NT$74.6 and NT$127, respectively.
Given that orders have poured in for many component suppliers operating in China following the resumption of business after the slowdown of the COVID-19 crisis there, local computer makers are expected to see a surge in orders through April and May, analysts estimated.
Delta Electronics Inc., a global manufacturer of power supply units, said a great deal of demand has been suppressed because of the COVID-19 pandemic, and forecast that consumption will rebound quickly in the second quarter with disrupted supply returning to normal.
Since late March, many customers have actively started increasing their inventories, resulting in large numbers of orders with manufacturers of PADs, cellphones, personal computers and peripheral components, Simplo said.
The company estimates that production will return to full scale in April and orders are expected to greatly increase in May, with performance in June depending on how the COVID-19 crisis evolves in the U.S. and Europe.
According to Auras, the need to work long distance has boosted demand for servers and business notebooks.
To the surprise of many, Chinese cellphone makers have emptied their inventories accumulated during the Chinese New Year at the height of the COVID-19 crisis, thanks to booming demand for 4G smart phones from India and African countries, the company said.
With Chinese smartphone makers gearing up to roll out 5G devices, it is anticipated they will continue to place major orders with Taiwanese companies through the second quarter, it said.