Taiwan manufacturing sector to improve in 2020: think tank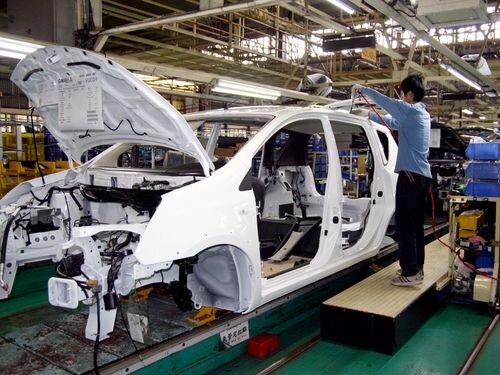 Taipei, Dec. 3 (CNA) The local manufacturing sector is expected to perform better in 2020 as Taiwanese companies continue to divert production of goods for export to the United States to Taiwan amid the U.S.-China trade war, an economic think tank said Tuesday.
The Taiwan Institute of Economic Research (TIER) said Taiwan's manufacturing sector should flash a "yellow-blue" light in 2020, pointing to sluggish growth, which would be an improvement over the "blue" light, signaling contraction, seen for much of this year.
The think tank uses a five-color system to describe economic activity, with red indicating overheating, yellow-red showing fast growth, green representing stable growth, yellow-blue signaling sluggish growth and blue reflecting contraction.
In October, the TIER's composite index for the manufacturing sector rose 0.07 points from a month earlier to 9.86, but the figure was still in the "blue" light range, which is below 10.5.
It was the fourth consecutive month in which the index moved higher, the TIER said.
Taiwan's manufacturing sector flashed a blue light for the first nine months of 2019 amid the trade dispute between Washington and Beijing, and a yellow-blue light is forecast for the fourth quarter.
Even with the improvement expected in the final sector, the manufacturing sector will flash a blue light for 2019 as a whole, according to the think tank.
Conditions are expected to change for the better in 2020, however, on the back of the continued diversion of production from China back to Taiwan and an improvement in the local economy helped by more manufacturing investment at home.
In November, the TIER forecast Taiwan's gross domestic product (GDP) growth for 2020 at 2.45 percent, which would beat 2.40 percent growth estimated for 2019.
The think tank's latest forecasts echoed the government's projections, as the Directorate General of Budget, Accounting and Statistics (DGBAS) said in November that Taiwan's 2020 GDP will grow 2.72 percent, compared with projected 2.64 percent growth in 2019.
The recovery of the global semiconductor industry in 2020 after bottoming out in 2019 and the intensification of 5G technology development efforts are also expected to boost Taiwanese manufacturers' outbound sales, the TIER said.
As for the October composite index for the manufacturing sector, TIER said that of the index's five factors, two moved higher, two moved lower, and the sub-index on purchases of raw materials remained unchanged.
In October, the sub-indexes on the general business climate and costs rose 0.53 and 0.07, respectively, from a month earlier, while the sub-indexes on pricing and demand fell 0.47 and 0.05, respectively, TIER said.
Meanwhile, 52.56 percent of manufacturers in the TIER's monthly survey said their businesses flashed a blue light in October, down from 57.33 percent in a similar poll in September, while 31.16 percent flashed a yellow-blue light, down from 31.67 percent.
Some 16.29 percent of businesses flashed a green light in October, up from 11.0 percent in September, while none flashed a yellow-red or a red light in the month, the survey showed.
The semiconductor industry benefited from solid demand for 5G applications and high performance computing devices during the month and flashed a green light, improving from a yellow-blue light a month earlier, TIER said.
But rubber and plastics product suppliers continued to flash a blue light in October, reflecting falling international crude oil prices amid weaker demand, and the base metal sector also flashed a blue light because of a fall in orders, the TIER said.