Formosa 2 offshore wind farm breaks ground in Miaoli County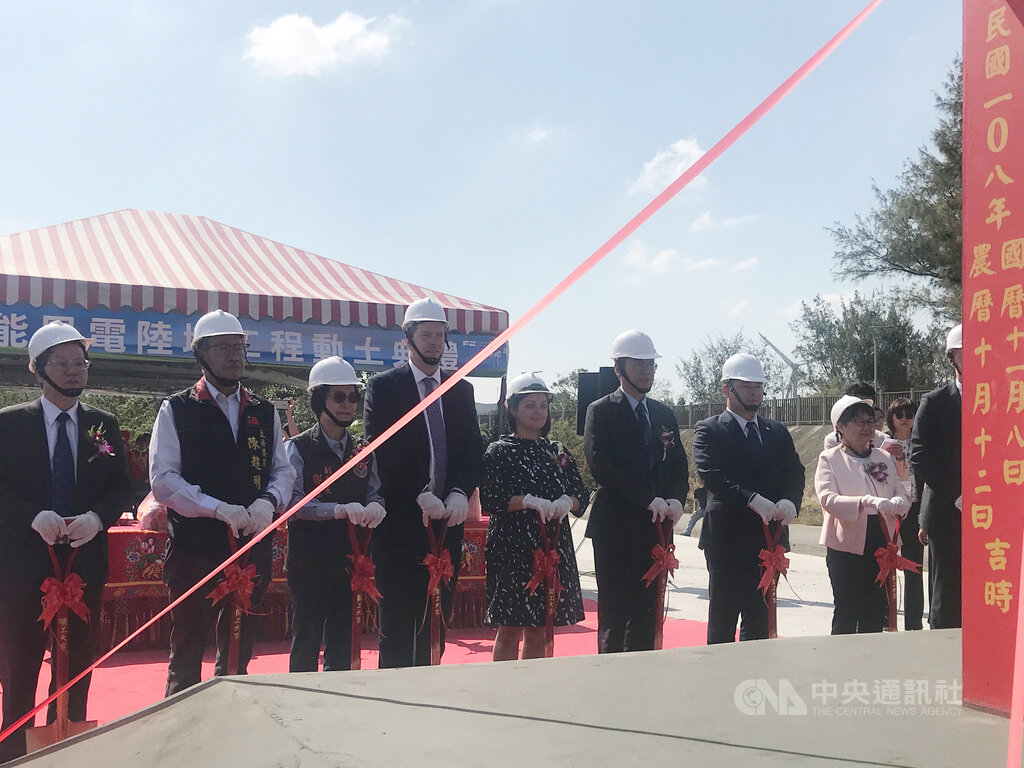 Taipei, Nov. 8 (CNA) Construction of Taiwan's Formosa 2, an offshore wind power development project, officially broke ground in Miaoli County on Friday.
Formosa 2, which is comprised of 47 8-megawatt (MW) turbines, is located roughly four to 10 kilometers off the county's coast, according to joint developers Macquarie Capital of Australia and Taiwan-based Swancor Renewable Energy.
Once the farm becomes operational, its installed capacity of 376MW of green electricity is expected to supply power to approximately 380,000 households per year.
Taoyuan-based Fortune Electric has been contracted to deliver the onshore infrastructure required to connect the project to Taiwan Power Co.'s (Taipower) electricity grid, and its general manager, Hsu Yi-te (許逸德), said its project is scheduled to be completed in 2021.
According to the project's developers, Belgian firm Jan De Nul will carry out the installation of Formosa 2's underwater foundations and undersea cables, while Siemens Gamesa will supply the offshore wind turbines.
The onshore construction will begin soon, while work on the offshore site will proceed in the spring of 2020, they said.
Speaking at the groundbreaking ceremony, Kimberly Cram, project director of Formosa 2 for Macquarie Capital, said her company has worked on 16 offshore wind farm projects in different countries to date, and she felt the Taiwan project has been a fine example of joint collaboration between Taiwanese and foreign corporations.
Also on Friday, a groundbreaking ceremony was held in Changhua County for work on the onshore substations being built for an offshore wind farm in the county.
The project by Danish firm Orsted A/S is being developed in collaboration with Taipei-based Taiwan Cogeneration Corp. (TCC), which has been contracted to deliver the farm's land-based infrastructure.
The construction work will be done by Star Energy Power Corp. (SEC), a subsidiary of TCC.
Matthias Bausenwein, president of Orsted Asia Pacific and chairman of Orsted Taiwan, pledged at the groundbreaking event that the projects would follow the highest global quality standards at the onshore construction site.
They will also comply with environmental impact assessment commitments, including sending archaeological experts to the site and controlling air pollution and noise, he said.
According to Orsted, it is planning to build four offshore wind farms located 35-50 kilometers off the coast of Changhua, and have a total grid capacity of 900MW.