Tsai details two tasks for Taiwan APEC Summit representative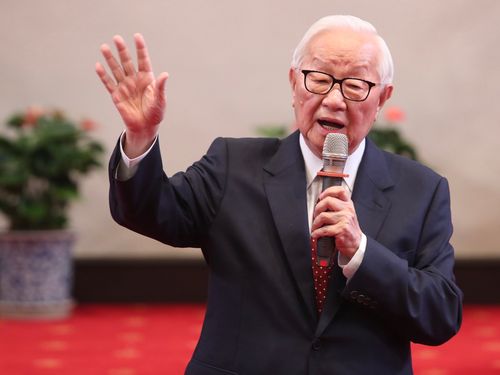 Taipei, Oct. 14 (CNA) Retired Taiwanese entrepreneur Morris Chang (張忠謀) was presented with two missions by President Tsai Ing-wen (蔡英文) on Monday as Taiwan's representative to the leaders' meeting of the Asia Pacific Economic Cooperation (APEC) in mid-November.
The 2019 APEC Leaders Summit is scheduled to be held from Nov. 16-17 in Chile.
At a press conference, Tsai said she designated Chang her representative to the gathering because of his respected status in the international arena and in-depth knowledge of the evolution and development of Taiwan's technology sector.
Tsai gave Chang and Taiwan's APEC delegation two major tasks, the first being to share Taiwan's views on how to strengthen cross-nation economic integration in the digital era.
On this point, Tsai also wants Chang to present Taiwan's resolve and accomplishments in promoting digital society and smart nation policies in recent years to other attendees at the gathering.
The second task detailed by Tsai, is to make Taiwan's dedication to promoting inclusive and sustainable growth known to international partners and to join other economies in enhancing economic growth for the Asia-Pacific region in an inclusive and sustainable way.
Meanwhile, Chang pointed out at the press event that APEC is celebrating its 30th anniversary this year and the emergence of the internet has drastically changed the economy and people's way of life over the past three decades.
The 88-year-old tycoon said he will discuss with leaders from other economies how to fully utilize the digital economy to advance people's welfare and solve problems, as the digital economy has also brought negative impacts to society, such as more serious unemployment problem and inequality of wealth distribution.
This is Chang's second consecutive appointment as Tsai's representative to the annual APEC leaders' gathering, and his third overall as he first attended the summit on behalf of then-President Chen Shui-bian (陳水扁) in 2006.
Chang is the founder of Taiwan Semiconductor Manufacturing Co., the world's largest semiconductor foundry. He officially retired after more than three decades as company chairman and CEO on June 5, 2018.
Taiwan joined the regional economic forum in 1991, two years after it was established. As a practice, Taiwan's president does not attend the APEC Leaders Summit due to its "one China" position.