Taiwan shares close higher led by Apple concept stocks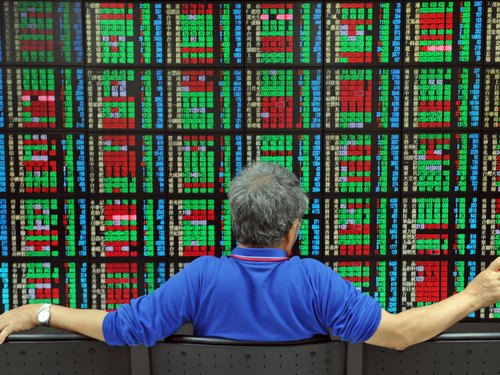 Taipei, Sept. 11 (CNA) Shares in Taiwan posted moderate gains Wednesday as major Taiwanese suppliers to Apple Inc. moved higher in the wake of the launch of the next-generation iPhones overnight, dealers said.
However, turnover was capped with many investors sidelined, as market sentiment continued to be cautious about trade tension between the United States and China, although the two countries have agreed to resume talks in October, the dealers said.
The weighted index on the Taiwan Stock Exchange (TWSE), or Taiex, ended up 36.77 points, or 0.34 percent, at 10,790.35 after moving between 10,746.87 and 10,815.59, on turnover of NT$119.20 billion (US$3.82 billion).
The market opened up 0.32 percent on a technical rebound from a session earlier, when the Taiex closed down 0.44 percent, and momentum continued to push up the index to the day's high with Apple concept stocks in focus after the U.S. consumer electronics giant introduced its newest iPhones overnight, the dealers said.
But with the main board breaching the 10,800-point mark, some selling set in to limit the upturn and drag down the Taiex below that level by the end of the session, they added.
"Technically speaking, there has been heavy technical resistance ahead of 10,800 points," Concord Securities analyst Kerry Huang said. "Since turnover was moderate today, it was unlikely for the main board to make a breakthrough after fluctuating in a narrow range throughout the session."
Huang said the bellwether electronics sector continued to serve as a driver to the gains on the broader market Wednesday.
"Thanks to the introduction of the new iPhones by Apple overnight, investors rushed to pick up major Taiwanese suppliers today amid hopes that the peak-season effect will boost their shipments," Huang said.
Apple unveiled two high-end iPhones -- the iPhone 11 Pro and 11 Pro Max -- along with the cheaper iPhone 11 to replace the previous models of the iPhone XS, XS Max and XR, respectively. Global sales are scheduled to begin Sept. 20 and Taiwan is one of the markets to sell the new devices in the first round of sales worldwide.
The bellwether electronics sector ended up 0.55 percent.
Among the gaining suppliers to Apple, contract chipmaker Taiwan Semiconductor Manufacturing Co. (TSMC), which is said to supply processors for the new iPhones, rose 0.57 percent to close at NT$263.00, with 36.17 million shares changing hands.
On Tuesday, TSMC reported that its consolidated sales for August hit a new high of NT$106.12 billion, with analysts attributing the growth largely to an increase in orders placed by Apple.
Other major Apple concept stocks also moved higher on the new iPhone debut, with iPhone assembler Hon Hai Precision Industry Co. up 0.54 percent to end at NT$74.50, metal casing maker Catcher Technology Co. up 2.86 percent to close at NT$233.50 and smartphone camera lens supplier Largan Precision Co. up 3.31 percent to end at NT$3,900.00.
"Foreign institutional investors kept buying into local equities to push up the Taiex, although the gains were limited," Huang said. According to the TWSE, foreign institutional investors bought a net NT$6.42 billion-worth of shares on the main board Wednesday after a net buy of NT$2.27 billion the previous day.
Huang said that with the tech sector dominating Wednesday's session, old economy stocks were largely in the doldrums throughout the session.
Among the old economy stocks, food brand Uni-President Enterprises Corp. fell 0.26 percent to close at NT$76.80 and Formosa Petrochemical Corp. lost 0.52 percent to end at NT$96.50.
In the financial sector, which closed up 0.16 percent on rotational buying, Shanghai Commercial & Savings Bank rose 1.48 percent to end at NT$54.80 and Fubon Financial Holding Co. added 0.11 percent to close at NT$44.95, while Cathay Financial Holding Co. ended unchanged at NT$41.40.
"The trade dispute between Washington and Beijing remained a major concern to investors at home," Huang said. "But the silver lining is that the local equity market has been awash in liquidity, so any major pullback is unlikely for now."