Taiwan shares end higher as electronics stocks rebound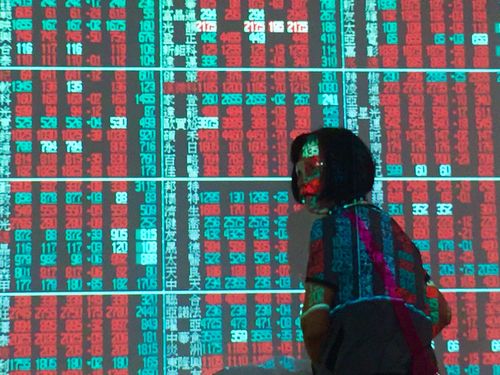 Taipei, July 10 (CNA) Shares in Taiwan moved higher Wednesday as select large cap electronics stocks staged a rebound from a slump seen a session earlier caused by a downgrade of Apple Inc. shares, dealers said.
Buying was triggered by a decision made by the Trump administration to exempt 110 Chinese products from hefty tariffs, which eased concerns over trade friction between Washington and Beijing to some extent, although uncertainty over the trade war remained, the dealers said.
Market attention focused on the current earnings season at home and on Wall Street, prompting some investors to lock in their earlier gains to lead the broader market, not to maintaining strength above the 10,800-point mark by the end of the session, the dealers said.
The weighted index on the Taiwan Stock (TWSE), or Taiex, was up 95.70 points, or 0.89 percent, at 10,798.48, after moving between 10,723.23 and 10,810.16, on turnover of NT$102.82 billion (US$3.3 billion).
The market opened up 0.19 percent as investors were encouraged by a decision in Washington to waive some China-made goods, from medical equipment to key capacitors, from a punitive 25 percent tariff, the dealers said.
Buying accelerated in tech heavyweights, in particular, select Apple concept stocks such as smartphone lens supplier Largan Precision Co. and contract chipmaker Taiwan Semiconductor Manufacturing Co. (TSMC), to help the Taiex breach 10,800 points at one point as they bounced back from the losses resulting from Apple's downgrade, they said.
"Although the tariff exemption is limited, the decision seemed to boost the market mood for the moment," Taishin Securities Investment Advisory analyst Tony Huang said. "The eased concerns led buying to re-emerge in tech stocks today."
"However, investors had better stay cautious, since trade talks between the U.S. and China are still underway and uncertainty remains in place, which could continue to move the global financial markets," Huang said.
Huang said tech heavyweights in the Apple supply chain got a boost from the impact resulting from Apple's downgrading to "sell" from "neutral" by an analyst at Rosenblatt Securities, who said Apple is likely to "face fundamental deterioration over the next six to 12 months" amid disappointing iPhone sales and slow sales growth in other products.
Among the rebounding Apple concept stocks, TSMC, the most heavily weighted stock in the local market, gained 2.07 percent to close at the day's high of NT$247.00, with 23.78 million shares changing hands.
TSMC's gains pushed the bellwether electronics sector up 1.36 percent and contributed to an increase of about 50 points in the Taiex.
Also in the Apple supply chain, Largan added 3.36 percent to close at NT$4,155.00 and metal casing maker Catcher Technology Co. rose 3.08 percent to end at NT$234.00, while iPhone assembler Hon Hai Precision Industry Co. closed unchanged at NT$77.90.
"I prefer to say that the gains enjoyed by these Apple concept stocks today were technical in nature," Huang said. "Hopes about shipments of the next generation of iPhones have been dampened, as few in the market have anticipated that the new models will be attractive enough for consumers in terms of their specifications."
Apple is expected to introduce new iPhones to the market in September.
Huang said the improved sentiment toward the Washington-Beijing trade dispute also prompted investors here to buy into financial stocks, which had been lagging behind the electronics sector.
In the financial sector, which gained 0.56 percent, Shanghai Commercial and Savings Bank rose 1.78 percent to close at NT$57.20, E. Sun Financial Holding Co. added 1.15 percent to end at NT$26.50, and Cathay Financial Holding Co. rose 0.84 percent to close at NT$42.20.
Among the old economy stocks, Formosa Plastics Corp. rose 0.98 percent to close at NT$103.00 from a plunge seen a session earlier when a Texas-based subsidiary of Formosa Plastics was found by a Texas court to be in violation of state-issued permits and the federal Clean Water Act.
In addition, China Steel Corp., the largest steel maker in Taiwan, added 0.81 percent to NT$24.85.
"Largan will hold an investor conference tomorrow and TSMC will have its own next Thursday, and their guidance for the third quarter is expected to move share prices, so investors should keep alert over that," Huang said.
According to the TWSE, foreign institutional investors bought a net NT$1.18 billion-worth of shares on the main board Wednesday.