Association set up to facilitate offshore wind power development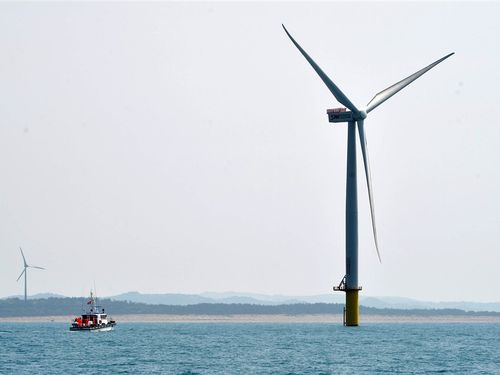 Taipei, June 14 (CNA) An association comprising major stakeholders in Taiwan's offshore wind energy development was set up Thursday to facilitate the long-term development of the industry.
The Taiwan Offshore Wind Industry Association, initiated by global semiconductor trade association SEMI, consists of both Taiwanese and foreign companies involved in the field in Taiwan. The foreign members include Swancor, Ørsted, Northland Power, Copenhagen Infrastructure Partners (CIP), wpd offshore solutions, Macquarie Group, and the Japanese utility JERA.
SEMI Chief Marketing Officer Terry Tsao (曹世綸) said it is hoped that the association can represent the joint interests of offshore wind energy providers in Taiwan, as well as serve as a communications platform for the government, industry, academia and the public.
Also attending the inauguration ceremony was Minister without Portfolio Kung Ming-hsin (龔明鑫), who said the development of offshore wind power, which has set a goal of reaching 5.5 gigawatts (GW) of installed capacity by 2025, could boost economic growth in Taiwan.
The projected capacity, which could result in 19.8 billion kilowatt-hours (kWh) of electricity per year (about 8.5 percent of total power generated in Taiwan in 2017), is expected to create investment of NT$1 trillion (US$32 billion) and 20,000 job opportunities in Taiwan, he said.
Minister of Economic Affairs Shen Jong-chin (沈榮津) said offshore wind power development was important to Taiwan to diversify its energy portfolio and reach energy independence, especially with the government pledging that 20 percent of Taiwan's power will come from renewable energy by 2025.
According to the ministry, offshore wind power development could help reduce air pollution from thermal power plants and cut carbon emissions by 10 million metric tons per year by 2025.
Some founding members, however, voiced their concerns about Taiwan's commitment to renewable energy development and urged the government to maintain a consistent roadmap.
"We need a stable framework, we need to make sure that we can rely on the law and the regulation, and that there is broad support across party boundaries," said Matthias Bausenwein, general manager Asia Pacific Ørsted and chairman of Ørsted Taiwan.
The Danish company, which operates five wind farms in Taiwan, including the country's first offshore wind project -- Formosa 1 -- in waters off Miaoli County, nearly withdrew from the local market earlier this year due to a cut in the wind power rate in January.
Taiwan reduced the feed-in tariff (FIT) rate for offshore projects that sign power purchasing agreements with state-owned utility Taiwan Power Co. (Taipower) this year to NT$5.516 per kWh, a 5.71 percent reduction from the 2018 rate of NT$5.8498 per unit.
That cut drew the ire of wind power developers, many of which are founding members of the association and currently involved in the 5.5 gigawatt-project.
The ministry intends to issue tenders for other deep-water wind farms to be developed from 2026 to 2030 with a combined capacity of 5GW by the end of 2019. It said it will thoroughly discuss bidding criteria with interested investors in the third quarter and issue tender documents in the fourth quarter.