Taiwan should remove 'irritants' to trade agreement with U.S.: AmCham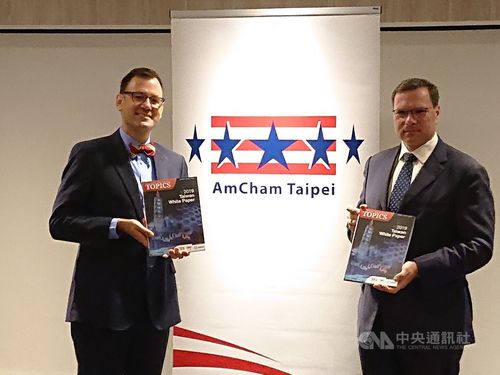 Taipei, May 29 (CNA) Taiwan should remove any "existing irritants" in the U.S.-Taiwan trade relationship and push for a bilateral trade agreement (BTA) with the U.S. particularly as the U.S.-China trade war squeezes the profits of many Taiwanese enterprises, the American Chamber of Commerce (AmCham) in Taipei said Wednesday.
The trade war is threatening potential shifts in global supply chains, and "Taiwan is at a severe disadvantage in its lack of bilateral or multilateral trade agreements with major trading partners," the chamber's annual white paper pointed out.
Taiwan's restrictions on imports of pork and beef from the U.S. remain a major barrier to trade between the two sides, said AmCham Taipei Chairman Leo Seewald.
"The large issues as you know, we still have this pork and beef issue," Seewald said. "But I think if we can resolve that issue, and I don't think it should be that big of an issue, we can move ahead."
Taiwan should demonstrate its deep commitment to international standards, respect scientific evidence, and dedication to a fair and open international trading system, AmCham said.
Resolving major outstanding issues with the U.S. would necessarily involve some sacrifices, but the rewards could be immeasurable, both economically and strategically, it said.
Despite the challenges, AmCham said, Taiwan's relationship with the U.S. appears better than it has been in decades, as numerous U.S. government visitors to Taipei have attested.
The recent opening of a new US$255.6 million complex to house the American Institute in Taiwan, which takes the place of an embassy in representing U.S. interests in Taiwan, is perhaps the most concrete expression of the continuing American commitment to Taiwan, according to AmCham.
The strengthening Taiwan-U.S. ties are partly a result of the deterioration in American relations with China, while Washington also appreciates Taiwan as a source of stability and cooperation in the Indo-Pacific region, it said.
While AmCham pointed out that eight of the 71 issues raised in its 2018 white paper have been resolved, building on progress in 2017 when a record number of issues were solved, Seewald urged the government to sustain its reform momentum.
"There's a great risk that the current momentum will stall if 'election paralysis' grips the nation during the presidential campaign," Seewald said. "It is important that the reform process continue nonetheless."
Taiwan is to elect its president in January, and the chamber is worried that public attention will almost entirely be monopolized by the election and that the workings of government will slow down.
The eight resolved issues included those relating to cosmetics, Agro-chemicals, Capital Markets, Human Resources and Telecommunications and Media sectors, according to AmCham.