Taiwan shares end little changed ahead of 10,400 points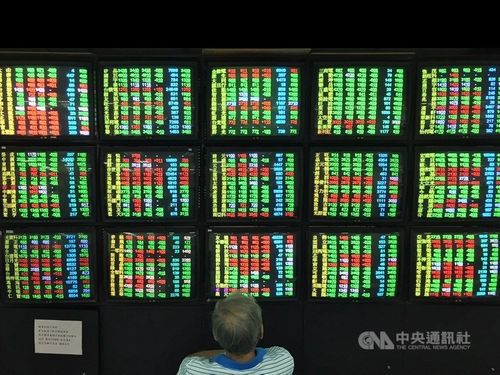 Taipei, May 27 (CNA) Shares in Taiwan closed little changed Monday on reduced turnover as investors remained cautious amid lingering concerns over trade friction between the United States and China, dealers said.
Selling later in the session dissolved the market's early gains, especially among electronics stocks, which are considered the major victims of the Washington-Beijing trade dispute because of their extensive production bases in China, they said.
But buying in old economy stocks prevented the market from falling into negative territory by the end of the session.
The weighted index on the Taiwan Stock Exchange (TWSE), the Taiex, ended up 5.85 points or 0.06 percent, at 10,334.13, after moving between 10,305.28 and 10,365.44.
Turnover was NT$91.88 billion (US$2.92 billion), down from Friday's already low turnover of NT$103.06 billion.
The market opened up 0.15 percent and rose to the day's high early in the session as investors were encouraged by market gains posted on Friday in the U.S., including a 0.37 percent rise in the Dow Jones Industrial Average, dealers said.
With the Taiex moving closer to the nearest point of technical resistance at around 10,400 points, however, selling emerged, especially in the bellwether electronics sector, to cap the upturn, while the non-high-tech sector appeared more resilient.
"Look at the lower turnover. We had a quiet trading session today as many investors appeared reluctant to chase prices for the time being," Concord Securities analyst Kerry Huang said.
"Although the market tried to get out of its recent doldrums by taking advantage of a higher Dow, the strength was limited by stiff technical resistance ahead of 10,400 points," Huang said.
Beyond 10,400 points, the next technical hurdle could come at the 10-day moving average of 10,423 points as the U.S. and China continue to scuffle over trade.
"The electronics sector generally remained weak, and investors might want to pocket gains when tech stocks stage a rebound," Huang said.
Among the falling tech stocks, contract chipmaker Taiwan Semiconductor Manufacturing Co. (TSMC), the most heavily weighted stock in the local market, fell 0.86 percent to close at NT$231.50 after hitting a high of NT$235.00, with 35.48 million shares changing hands.
Led by TSMC's losses, the electronics sector ended down 0.56 percent.
Also in the electronics sector, Largan Precision Co., a supplier of smartphone camera lenses to Apple Inc., shed 2.25 percent to close at NT$3,690.00, off an early high of NT$3,780.00, while iPhone assembler Hon Hai Precision Industry Co. ended unchanged at NT$71.40, off a high of NT$71.90.
"Fortunately, non-high-tech stocks, in particular in the auto and property sectors, appeared resilient on the back of rotational buying," Huang said.
"The buying indicated that many investors have shifted their attention to these domestic demand-oriented stocks and are avoiding export-oriented tech stocks right now."
In the auto sector, which closed up 3.01 percent, Hotai Motor Co., the local sales agent for Japan's Toyota Motor Corp., rose 2.69 percent to end at NT$496.50. Yulon Nissan Motor Co., which sells models under the Nissan brand, jumped 10 percent, the maximum daily increase, to close at NT$23.95.
Among the gaining property developers, Cathay Real Estate Development Co. added 7.45 percent to end at NT$27.40, and Huaku Development Co. rose 5.68 percent to end at NT$85.60.
"As for the global trade dispute, investors should pay close attention to a congressional hearing scheduled for June 17 to see whether Washington will implement punitive tariffs on an additional US$300 billion worth of Chinese goods," Huang said.
"In addition, a G20 summit at the end of June, when U.S. President Donald Trump and Chinese President Xi Jinping will meet, is also worth watching."
According to the TWSE, foreign institutional investors sold a net NT$4.68 billion worth of shares on the market Monday. So far this month, foreign institutional investors have been net sellers of more than NT$130 billion in shares.