Taiwan shares end up but gains limited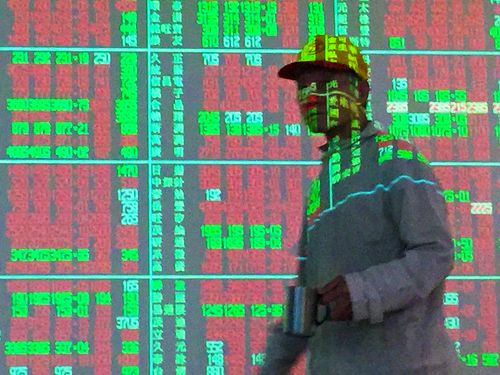 Taipei, May 20 (CNA) Shares in Taiwan closed higher Monday but the upturn was limited because of technical resistance and lingering concerns over trade friction between the United States and China, dealers said.
Investors sold off large cap stocks in the bellwether electronics sector later in the session, forcing the broader market to give up most of its early gains, but interest in old economy and financial stocks helped offset some of the late tech weakness, they said.
The weighted index on the Taiwan Stock Exchange, the Taiex, ended up 14.30 points, or 0.14 percent, at 10,398.41, after moving between 10,385.18 and 10,465.84, on turnover of NT$106.00 billion (US$3.40 billion).
The market opened up 0.20 percent on a technical rebound from the Taiex's 0.86 percent fall Friday, and hit the day's high just before 10 a.m.
The early buying momentum came despite a 0.38 percent fall in the Dow Jones Industrial Average and a 1.04 percent fall in the tech-heavy Nasdaq on Friday, dealers said.
After the Taiex surpassed the 10,400-point level, some investors started to pocket profits by cutting their holdings in tech heavyweights, including contract chipmaker Taiwan Semiconductor Manufacturing Co. (TSMC), eliminating some of the early gains.
"Technically speaking, there were high technical hurdles ahead of 10,400 points, so when the Taiex breached that level, it was no surprise that investors cashed in some of their holdings amid fears over a possible pullback," Dayu International Securities Investment Consulting analyst Chang Chih-cheng said.
"Moreover, many investors remain cautious about the Washington-Beijing trade dispute after trade talks stalled earlier this month," Chang said.
"In particular, after a ban was imposed by the U.S. to sell goods to or buy goods from Chinese telecom equipment supplier Huawei Technologies, investors here disposed of their tech stocks as many local tech companies are in Huawei's supply chain."
On May 15, U.S. President Donald Trump issued an executive order and declared a national economic emergency that empowers the government to ban the technology and services of "foreign adversaries," which apparently targeted Huawei.
Among Huawei's suppliers in Taiwan, TSMC, the most heavily weighted stock in the local market, fell 1.45 percent to close at NT$238.00 after hitting a high of NT$243.00, with 39.11 million shares changing hands.
TSMC's losses alone pulled down the Taiex by about 35 points, and led to a 0.56 percent fall in the electronics sub-index.
Also in Huawei's supply chain, integrated circuit designer MediaTek Inc. lost 0.34 percent to close at NT$290.00, off a high of NT$293.00, and IC packaging and testing services provider ASE Technology Holding Co. shed 1.68 percent to end at NT$64.50, off an early high of NT$65.60.
Bucking the downtrend in the electronics sector, smartphone camera lens supplier Largan Precision Co. gained 3.51 percent to close at NT$3,985.00 after hitting a high of NT$4,045.00, and Hon Hai Precision Industry Co., the world's largest contract electronics maker, rose 0.40 percent to end at NT$75.00, off a high of NT$76.10.
"Judging from the losses suffered by TSMC and other tech heavyweights, I suspect foreign institutional investors remained on the sell side today," Chang said.
According to the TWSE, foreign institutional investors sold a net NT$4.36 billion in shares Monday after a net sell of NT$10.45 billion on Friday.
Chang said the silver lining was that the non-tech sector attracted buying to keep the Taiex from falling into negative territory.
"I think the buying largely came from government-led funds in a bid to allow the Taiex to close higher," Chang said.
In the financial sector, which closed up 1 percent, Mega Financial Holding Co. rose 1.33 percent to end at NT$30.40, and First Financial Holding Co. added 1.39 percent to close at NT$21.85, while Fubon Financial Holding Co. ended unchanged at NT$41.90.
Among the gaining old economy stocks, Formosa Plastics Corp. rose 1.38 percent to close at NT$110.00, food brand Uni-President Enterprises Corp. added 1.52 percent to end at NT$80.00, and textile maker Far Eastern New Century Corp. gained 2.68 percent to close at NT$32.60.
"I expect the global trade issue will continue to affect local tech stocks, and the Taiex could test the next nearest technical support at around 10,300 points soon," Chang said.