Delta Electronics plans to hire 7,000 employees over next 3-5 years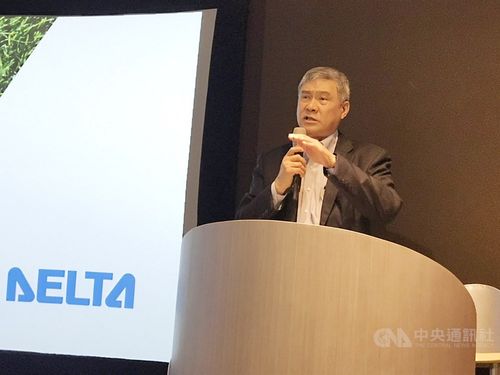 Taipei, May 10 (CNA) Delta Electronics Inc., a leading power management solutions provider in Taiwan, is planning to hire more than 7,000 employees over the next three to five years in the local market as the company increases its local investment.
Delta is expanding its production capacity in Taiwan at a time when many Taiwanese firms are shifting part of their investment back from China in response to increased trade tensions between Washington and Beijing.
As part of the new recruitment plan, the workforce in Taiwan is expected to increase by 1,800 in 2019, the largest annual hiring increase in the company's history, Delta said, adding that the focus will mainly be research and development engineers as Taiwan is an important R&D hub for the firm.
Since 2018, Delta Electronics has launched a massive investment program in the country by setting up production lines in northern, central and southern Taiwan, an investment that is expected to hit NT$13.2 billion (US$427 million) over the following three years, the company said.
The investment program has been initiated amid concerns over trade friction between the United States and China, Delta Electronics said, adding that careful study indicates similar trade disputes are expected to continue to impact global demand so it needs to reallocate its resources for future expansion.
The NT$13.2 billion investment will be largely spent on land purchases for new factories in Taipei's Neihu, Taoyuan's Chungli, the Central Taiwan Science Park and the Southern Taiwan Science Park, as well as on construction of new production sites in those areas, the firm said.
Delta said it will spend more on purchases of production equipment and installation of software for future operations, though that figure has not yet been finalized.
According to company chairman Yancey Hai (海英俊), new investment in Neihu aims to expand its headquarters and R&D center in Taiwan, while the plant in Chungli will be used to roll out components for power management systems and automotive electronics products.
In Taichung, Delta Electronics will largely use the new investment to expand production of robotic arms, while in Tainan the company will expand production capacity in passive components and electric motors, it said.
Although Delta has committed to an increase in investment in Taiwan, its capital expenditure for 2019 is expected to be little changed from previous few years at around NT$10 billion, Hai said.
Delta Electronics said while it has decided to increase investment in Taiwan, it will also expand production capacity in China as the mainland market remains one of the most important in the world, but the company will lower the weighting of China in its global production portfolio.
In addition to Taiwan, Delta Electronics said it has expanded production in Thailand and India. Construction of a new plant in Thailand, which will focus on communications devices and power management items, is expected to be completed in one year and products from the new plant will cater to the U.S. market.