Export orders fall for 5th straight month in March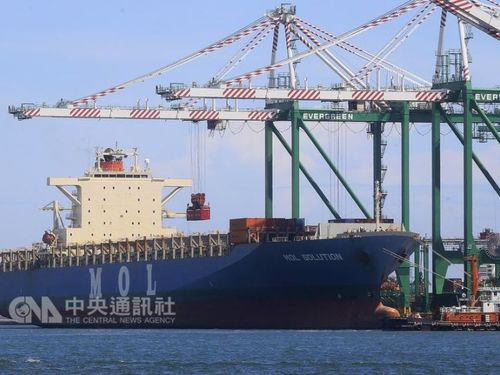 Taipei, April 22 (CNA) Hurt by a slower pace of global economic growth and weakness in the electronics sector, Taiwan's export orders fell for the fifth consecutive month in March, the Ministry of Economic Affairs (MOEA) said Monday.
Export orders received by Taiwan-based companies in March fell 9.0 percent from a year earlier to US$38.59 billion, after a 10.9 percent year-on-year fall in February, according to data compiled by the MOEA.
In the first three months of the year, export orders were down 8.4 percent from a year earlier and down 22.9 percent from the previous quarter to US$107.98 billion, the data showed.
The 8.4 percent fall was the biggest decline in export orders in Q1 since the first quarter of 2009, when orders fell 29.7 percent amid the global financial crisis, the MOEA said.
The MOEA attributed the decline to continuing trade friction between the United States and China, falling global demand, and signs of an economic slowdown in the U.S., affecting Taiwan's export-oriented economy.
Lin Li-chen (林麗貞), director of the ministry's Department of Statistics, said it was unlikely that the export order picture will turn around until the second half of the year, when international consumer electronics brands unveil new devices.
Major semiconductor companies, in particular Taiwan Semiconductor Manufacturing Co., have also been saying their inventories could fall to healthy levels starting the middle of the year, also indicating that orders could start picking up then, Lin said.
In March, orders given to local electronics component makers fell 11.1 percent from a year earlier to US$10.06 billion at a time of inventory adjustments and slumping demand for mining devices used for cryptocurrency transactions in the semiconductor industry, the MOEA said.
The information/communication devices industry suffered a 0.1 percent year-on-year fall in export orders to US$10.79 billion in March as orders for servers and mining devices made by Taiwanese companies fell.
That fall was offset to some extent, however, by a rise in orders for smartphones and internet-related gadgets, the MOEA said.
Exports received by optoelectronics makers fell 7.7 percent from a year earlier to US$1.94 billion in March on falling flat panel prices, which have been hurt by increases in capacity by Chinese competitors, according to the MOEA.
In March, export orders for base metals fell 20.3 percent from a year earlier to US$2.22 billion because of higher tariffs imposed by the U.S. and the European Union, while export orders for Taiwan's machinery dropped 22.5 percent to US$1.82 billion on weaker demand from China, the MOEA said.
Export orders received by Taiwan's plastics/rubber firms and chemical firms fell 12.8 percent and 15.4 percent, respectively, to US$1.97 billion and US$1.84 billion amid the U.S.-China trade dispute.