Foreign brokerage raises target price on Hon Hai shares after Q1 sales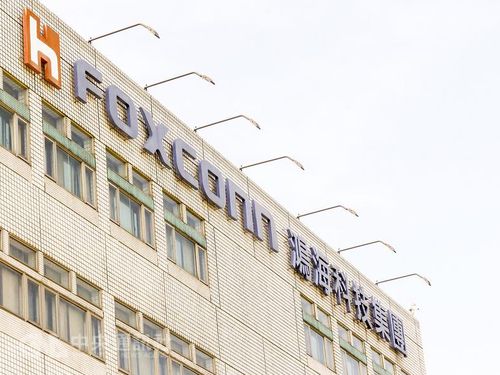 Taipei, April 13 (CNA) A U.S.-based brokerage has raised its target price on shares of Taiwan's manufacturing giant Hon Hai Precision Industry Co. after the company reported better sales for the first quarter of this year.
In a research note, the U.S. securities house said it expects that Hon Hai, an iPhone assembler as well as the world's largest contract electronics maker, will report an improvement in gross margin, which reflects the difference between revenue and cost of goods sold, on the back of the stronger sales for the first quarter.
Judging from the first-quarter sales, the brokerage said that Hon Hai has climbed from recent stagnation, so it has upgraded its target price on Hon Hai shares sharply to NT$105 (US$3.41) from NT$76.
In addition, the brokerage has also upgraded a recommendation on Hon Hai to "buy" from "neutral."
On Friday, Hon Hai shares gained 3.22 percent to close at NT$86.50 on the Taiwan Stock Exchange, where the weighted index ended down 0.03 percent at 10,805.30 points.
The stock got a boost in recent sessions amid rising optimism toward its operations. Hon Hai shares have risen more than 22 percent since the beginning of this year.
In the first quarter, Hon Hai posted about NT$1.06 trillion (US$34.42 billion) in consolidated sales, up 2.8 percent from a year earlier. The figure was the highest-ever first-quarter level.
In March, Hon Hai's consolidated sales rose 41.78 percent from a month earlier and also grew 7.86 percent from a year earlier to NT$376.62 billion. The sales were the highest level for March.
In the month, consumer electronics device operations enjoyed the highest growth in sales compared with the previous month, ahead of its communication device business and its computing device operations.
The brokerage said Apple has offered new incentives in the huge China market in a bid to push up sales of its latest iPhones that were unveiled in September 2018, which is expected to further strengthen Hon Hai's shipments. The brokerage said it expects that the iPhone XR, one of the three newest iPhones, will enjoy stable growth in China in the first half of this year.
In addition, the brokerage said that Hon Hai has made efforts in controlling its operating costs, and its Hong Kong-listed subsidiary, FIH Mobile Ltd. is expected to cut losses this year, which is expected to benefit the parent company.
CNA cannot identify the brokerages because media outlets in Taiwan are not allowed to report the names of foreign brokerages when they give price-moving forecasts for specific stocks or the wider market.