U.K., Taiwan sign MOU on offshore wind industry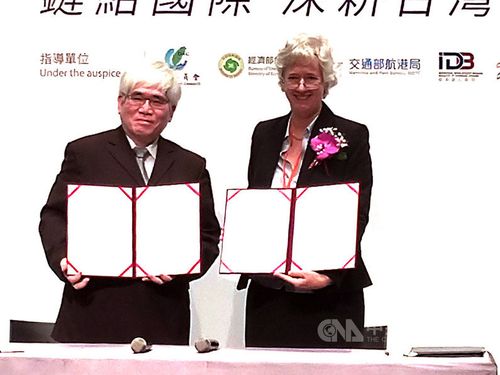 Taipei, March 13 (CNA) The United Kingdom's de facto embassy in Taiwan and state-owned Taiwan International Ports Corp. (TIPC) signed a Memorandum of Understanding (MOU) Wednesday to facilitate bilateral cooperation on Taiwan's offshore wind development.
The MOU was signed by Catherine Nettleton, representative of the British Office Taipei, and Chung Ying-feng (鍾英鳳), head of TIPC's Taichung branch, during the Asia-Pacific Wind Energy Expo in Kaohsiung.
"I hope that our collaboration will make a significant contribution to the development of Taiwan's port infrastructure during the construction, operation and management phases of Taiwan's offshore wind farms," said Nettleton during the signing ceremony.
The envoy said the MOU coincides with a recent announcement by the U.K. government of a new offshore wind sector deal in the U.K., which commits more government resources to technology innovation.
"The U.K. has the biggest offshore wind capacity in the world and through this, we have built up a great deal of experience and expertise that we look forward to sharing with TIPC and other offshore wind partners in Taiwan," she added.
For his part, Chung said TIPC's Taichung branch, which operates the Port of Taichung, will welcome the pre-assembly operation of Taiwan's first pilot wind farm later this month as part of a government plan for the development of offshore wind farms.
"The signing of the MOU with the British Office Taipei is aimed at borrowing the U.K.'s forward-looking development experience in offshore wind farms in order to broaden our global horizon as a green energy port and enhance the performance of related port facilities and services," Chung said.
According to the British Office Taipei, under the terms of the MOU, further exchanges in the areas of policy, strategy, technology, operations and maintenance to promote the offshore wind port and marine sector will be accelerated, as the two parties have agreed to increase information-sharing and cooperation.