Taiwan shares soar over 200 points after U.S. market gains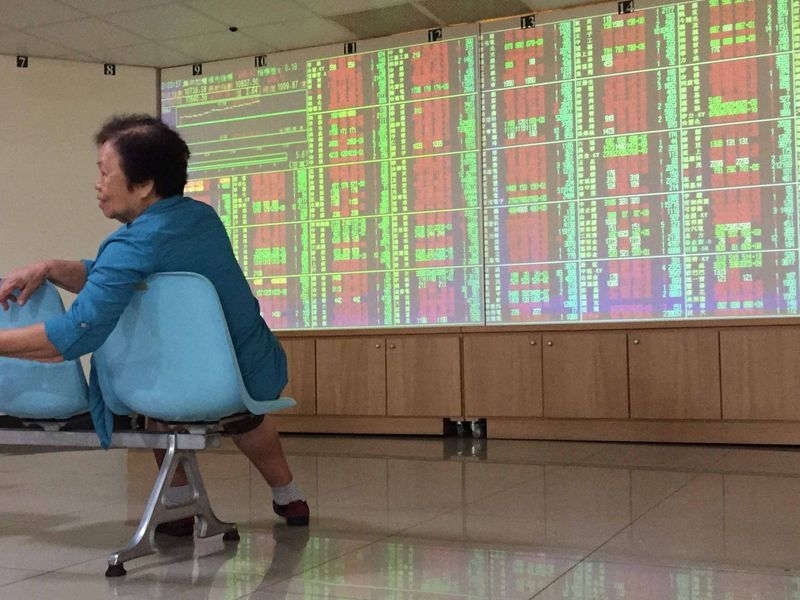 Taipei, Jan. 7 (CNA) Shares in Taiwan rose more than 200 points Monday as investors were encouraged by developments in the U.S. at the end of last week on the back of a better than expected jobs report in Washington and the U.S. Federal Reserve's dovish attitude toward monetary policy, dealers said.
Buying focused on large cap stocks across the board, led by the bellwether electronics sector, where contract chipmaker Taiwan Semiconductor Manufacturing Co. (TSMC) attracted strong bargain hunting, pushing up the broader market sharply, they said.
The weighted index on the Taiwan Stock Exchange (TWSE) or the Taiex ended up 207.79 points, or 2.21 percent, at 9,590.30, after moving between 9,460.20 and 9,596.35, on turnover of NT$91.87 billion (US$2.98 billion).
The market opened up 0.83 percent on the back of the gains posted by U.S. markets, where the Dow Jones Industrial Average rose 746.94 points or 3.3 percent, and the tech-savvy Nasdaq index grew 4.62 percent after the U.S. economy created 312,000 jobs in December, beating an earlier market expectation of 176,000 jobs, dealers said.
The local main board was also boosted by favorable comments from Fed Chair Jerome Powell, who said the central bank will be patient in raising rates, which eased market concerns over a quick pace to tighten the Fed's monetary market, they said.
The Taiex climbed further as local investors took their cue from the strong upturn in other regional markets such as Tokyo and Seoul, helping the Taiex overcome technical resistance ahead of 9,500 points by the end of the sessions, dealers said.
"The local equity market had been hammered by recent volatility in the U.S. market so as American shares rebounded, it was certain local counterparts would follow suit," Concord Securities analyst Kerry Huang said.
Before Monday's gains, the local main board had shed 3.55 percent since the beginning of this year.
"Market sentiment was also boosted by Powell's remarks, hinting the Fed will take a pause in its rate hike cycle," Huang said.
With inflation weak, Powell said Friday at the American Economic Association's annual meeting, that the Fed will be "patient" as the central bank watches how the economy evolves.
"Buying was sparked in market heavyweights with TSMC, and other 'Apple concept stocks' as well as old economy and financial stocks, rebounding from their recent consolidation, giving a significant boost to the broader market," Huang said.
TSMC, the most heavily weighted stock on the local market, rose 2.40 percent to close at NT$213.00 with 35.41 million shares changing hands. TSMC's gains boosted the Taiex by about 50 points and led the bellwether electronics sector to close up 2.23 percent.
In addition to TSMC, a processor provider to Apple Inc. for iPhone production, other local Apple suppliers moved sharply higher after shares in the American tech giant soared more than 4 percent Friday.
Among them, Largan Precision Co., a smartphone camera lens supplier to Apple gained 6.85 percent to close at NT$3,105.00, and iPhone assembler Hon Hai Precision Industry Co. rose 2.51 percent to end at NT$69.30.
Also in the tech sector, PC brand Asustek Computer Inc. rose 3.10 percent to close at NT$216.00, and United Microelectronics Corp. (UMC), a smaller rival to TSMC, gained 2.80 percent to end at NT$11.00.
"I think buying in these big cap stocks largely came from foreign institutional investors, who are rebuilding their portfolios after sell-offs prior to the New Year holiday," Huang said.
According to the TWSE, foreign institutional investors bought a net NT$8.23 billion worth of shares on the local market.
Buying also spread to non-tech stocks with shares in Formosa Plastics Corp. up 4.41 percent to close at NT$99.50, and Formosa Petrochemical Corp. up 4.31 percent to end at NT$109.00 after international crude prices rebounded last week.
In the financial sector, which closed up 1.68 percent, Cathay Financial Holding Co. rose 1.46 percent to close at NT$45.20, and Fubon Financial Holding Co. gained 1.43 percent to end at NT$45.95.
"Despite today's gains, investors had better keep alert over possible volatility in U.S. markets as earnings season will start soon," Huang said. "In addition, heavyweights such as Largan and TSMC will report their results this week and next week, which could move the market."