Manufacturing sector sentiment weakens in October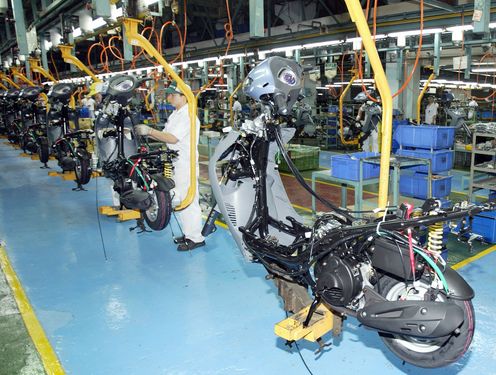 Taipei, Nov. 26 (CNA) The business climate outlook of the local manufacturing sector weakened in October, with sentiment undermined by continued trade tension between the United States and China, the Taiwan Institute of Economic Research (TIER) said Monday.
Many local manufacturers also remain wary of a fall in international crude oil prices which drags down raw material prices, and weaker than expected shipments of tech devices in the global market, TIER said.
According to TIER, one of the leading economic think tanks in Taiwan, the October composite index for the manufacturing sector fell 5.11 points from a month earlier to 88.35, the lowest level since June 2012, when the index stood at 87.70.
The think tank said the global economy could faces a slowdown at a time when trade disputes between Washington and Beijing are impacting demand, which has hurt many manufacturers' confidence in the business outlook.
The think tank added that while raw material prices are affected by the weakening oil market, cutting the sales value of many Taiwanese exporters, the manufacturing sector also has concerns over falling global demand for tech gadgets.
Bucking the downturn, the sub-index for the local property sector rose 2.04 points from a month earlier to 97.19 in October, which was part of the year-end peak season for property developers, TIER said.
As for the local service sector, the composite index for October fell 4.75 from a month earlier to 90.80, the lowest since November 2017, when the index stood at 89.80., TIER said.
The weakening sentiment of the local service sector is due to a plunge in the local equity market amid volatility on the global financial markets, the think tank said.
In October, the weighted index on the Taiwan Stock Exchange shed about 1,200 points or 10.94 percent from a month earlier, in the wake of a drop on Wall Street amid escalating trade tensions between the U.S. and China.
In a single trading session on Oct. 11, the Taiex plunged 660 points. That day, the local main board closed below the 10,000-point mark for the first time since the Taiex ended above that level in May 2017.