AIDC, Martin-Baker sign ejection seat system agreement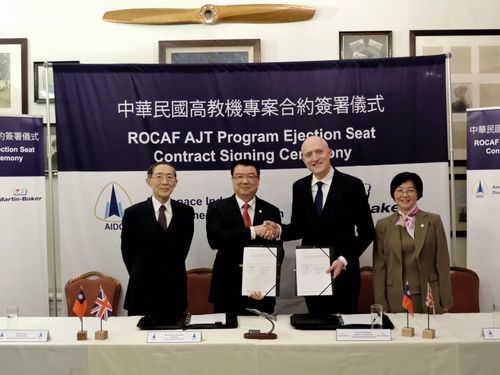 London, Dec. 13 (CNA) Taiwan-based aircraft designer and manufacturer Aerospace Industrial Development Corp. (AIDC) signed an agreement with Martin-Baker Aircraft Co. on Tuesday to purchase ejection seat systems from the British company.
Martin-Baker's ejection seats will be used in AIDC's production of advanced jet trainers (AJT) for Taiwan's Air Force, the Taiwanese manufacturer said.
AIDC Chairman Anson Liao (廖榮鑫), who led a delegation to London to ink the accord, said in a statement that the agreement symbolized a new milestone for Taiwan's national defense supply chain.
AIDC and its supply chain have been commissioned by the Defense Ministry to design and manufacture 66 advanced jet trainers, with the first prototype trainer aircraft scheduled to be rolled out in 2019 and flight tests expected to be conducted starting in 2020.
The 66 advanced trainers are scheduled to be delivered by 2026 and will replace the military's AT-3 trainer aircraft and F-5 fighter jets, which are over 30 years old.
"The contract between AIDC and Martin-Baker facilitates cooperation opportunities and also represents a major milestone in the launch of the AJT systems," AIDC said in the statement.
"Both parties will work together not only to achieve the goal of making the AJT a successful program but to also extend future collaboration in such areas as ejection seats, pilot personal equipment, parachutes," and other equipment, AIDC said.
The two partners did not disclose any financial terms for the purchase agreement.
David Lin (林永樂), Taiwan's representative to the U.K., who witnessed the signing of the agreement, said Taiwan values exchanges between Taiwanese enterprises and their U.K. counterparts, and Martin-Baker's support for Taiwan's AJT development is appreciated.
Through the agreement between AIDC and Martin-Baker, Lin said, Taiwan and the U.K. will strengthen cooperation in aviation development to create a safer environment.
Liao said the agreement with Martin-Baker will further integrate its supply chain, which will help AIDC deliver the 66 jet trainers on schedule.
"We also expect through building the AJT aircraft to provide a chance to foster the talents of the aerospace industry and strengthen the links between industries in Taiwan, which can be a great support and infrastructure to the future development of the early jet trainer and the fighter of the next generation," Liao said in the statement.
In Taipei, shares of AIDC rose 2.30 percent to close at NT$37.75 (US$1.26) on the Taiwan Stock Exchange on Wednesday, outperforming the weighted index, which ended up 0.26 percent.